Claim, renew, manage & more
Login
Hurry Up!
Save upto ₹75,000 on taxes in 80D. Buy a health insurance now!
View Plans
Corona Kavach Policy
Corona Kavach Policy offers financial protection to the insured in case he/she is diagnosed COVID-19 positive. It comes with a short waiting period, and offers coverage for in-patient hospitalisation expenses, pre-hospitalisation and post-hospitalisation expenses, ambulance expenses, etc.

5 Lac coverage starting from only ₹257/Month*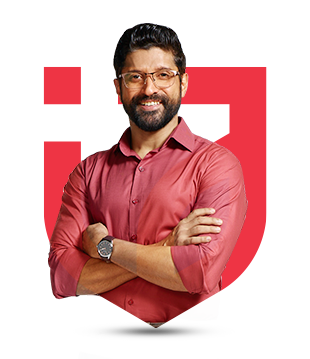 Tax Benefit

Up to 75000**

Claim Support

Everyday 10AM-7PM

45 Lacs+

Happy Customers
*Standard Terms and Conditions Apply.
**Tax benefits are subject to changes in Income Tax Act.
Find
the right health insurance for you
What Is Corona Kavach Policy?
Corona Kavach Policy is an affordable standard health insurance policy designed to offer protection against medical expenses arising due to pandemic declared coronavirus (COVID-19). Launched by the Insurance Regulatory and Development Authority of India (IRDAI) on July 12th, 2020, the policy is offered by both general and health insurers.
It is a short-term indemnity-based policy that protects both individuals and families. Apart from hospitalisation costs, the policy aims to cover the insured for homecare, AYUSH, pre-hospitalisation, and post-hospitalisation expenses, etc. The policy promises wide coverage and prompt and quality medical treatment to the insured.
Why Do You Need a Corona Kavach Health Insurance Policy ?
COVID-19 disease has affected our lives drastically within a year and pushed our limits in the worst ways possible be it physically, mentally or financially. However, it has made one thing certain that one cannot ignore their health at any point in life. Purchasing health insurance is one way to financially protect our loved ones in times of emergency. Some of the reasons why buying a Corona Kavach Health Insurance Policy is a good idea are explained as follows:
Minimum Waiting Period: One of the key benefits of purchasing a Corona Kavach policy is that it has a 15-day minimum waiting period.
Secures Individuals Without Medicare: For the individuals who currently do not have a health insurance plan, buying a COVID-19 specific health plan is an excellent idea, after considering the benefits offered under it at an affordable premium and with a shorter waiting period.
Single Payment: When buying a COVID-19 health insurance plan, you are not required to deal with the inconveniences of annual, quarterly, or monthly payments. This one-time purchase ensures that you have medical coverage and that you are covered during times of emergency.
Key Features of Corona Kavach Policy
The key features of Corona Kavach Policy are as follows:
The Corona Kavach Plan offers coverage against hospitalisation expenses including room rent, ICU and nursing expenses, commodities, consultation fee of the doctor, etc.
Pre hospitalisation and post hospitalisation costs are covered up to a specific time period.
When buying the Corona Kavach Plan, the policyholder is required to pay the entire premium amount at once.
The insurance plan comes with no capping on the room rent.
Coverage offered for AYUSH treatment including Ayurveda, Unani, Sidha, etc
This plan would meet the expenses related to standard health cases of Coronavirus.
Corona Kavach Policy Benefits
Corona Kavach Policy comes with certain benefits which are mentioned below:
Short Waiting Period: Corona Kavach Policy comes with a waiting period of only 15 days, which means that the insured can start availing of the policy benefits sooner.
Affordable Premium: Since the Insurance Regulatory and Development Authority of India (IRDAI) launched the Corona Kavach Policy to reduce cost burden during the coronaVirus outbreak, it is offered at a reasonable health insurance premium.
One-Time Payment: To be covered under Corona Kavach Policy, the policyholder has to pay the health insurance premium only once, unlike regular health insurance plans. This keeps him/her at ease.
Optional Cover for Hospital Daily Cash: The policy includes an optional Hospital Daily Cash cover that can be purchased by paying an extra premium as required.With this cover, the policyholder can avail cash benefit of 0.5% of the sum insured for every completed day of continuous hospitalisation for up to 15 days.
Tax Benefits: The policyholder can avail tax benefits in the premium paid for this policy under Section 80D of the Income Tax Act, 1961. Note that the benefit can be availed if the premium is paid in any mode other than cash.
Corona Kavach Health Insurance Policy Coverage
Highlighted below are key inclusions under the Corona Kavach Policy:
Hospitalisation Expenses: Corona Kavach Policy covers the insured for hospitalisation expenses (including the treatment of comorbid conditions) arising due to a minimum of 24 hours of hospitalisation for treatment of COVID-19. Intensive Care Unit (ICU), anaesthesia, blood, oxygen, PPE kit, room rent, nursing, boarding, fees of Consultant/Specialist, and other expenses can be claimed from respective insurance providers.
Pre-Hospitalisation Expenses: The policy covers the insured for up to 15 days of pre-hospitalisation expenses if related to the treatment and care required due to a positive diagnosis of COVID-19.
Post-Hospitalisation Expenses: The policy covers the insured for up to 30 days of post-hospitalisation expenses if arising due to positive diagnosis of COVID-19.
Road Ambulance Expenses: The Corona Kavach Policy covers the insured for up to Rs. 2,000 in road ambulance fees for transportation to the hospital in the case of a COVID-19-related emergency.
AYUSH Treatment Expenses: The policy covers medical expenses arising due to in-patient care and treatment required due to COVID-19 under AYUSH systems of medicines like Ayurveda, Naturopathy, Unani, Siddha, and Homeopathy. The benefits can be availed for up to sum insured limit.
Home Care Treatment:The policy may cover the insured for up to 14 days of home care treatment, depending on the severity of the sickness. Under the home care treatment cover, the insured can receive a variety of benefits, including the cost of medicines prescribed in writing, consultation fees, oxygen cylinders, nursing expenses, diagnostic tests done at home or at a diagnostic centre, and the cost of a pulse oximeter, etc.
ICU Expense Cover: Generally, majority of the time, a COVID-19 patient requires to be admitted in the ICU. The expenses arising from the treatment are without a doubt on a higher end. However, no need to worry as the policy covers these expenses too.
No Deductible: The sum insured that can be availed ranges between Rs. 50,000 to Rs. 5,00,000. But, there are no deductibles.
What Is Not Covered Under Corona Kavach Health Insurance Policy?
Although the Corona Kavach Policy offers comprehensive coverage to the policyholder, yet there are certain things which are not possible to cover. The key exclusions under Corona Kavach policy are as follows:
OPD And Daycare Procedures: Corona Kavach Policy does not cover any expenses incurred due to OPD and daycare procedures.
Investigation And Evaluation:The insured is not covered for any treatment that is performed primarily for diagnostic and evaluation purposes. Also, it does not cover any diagnostic expenses that are not related or incidental to the current diagnosis and treatment.
Rest Cure, Rehabilitation, And Respite Care: The policy does not cover expenses involved with hospitalisations for the purposes of rest, rehabilitation, or respite care. This also includes costs for custodial care and services to satisfy the patient's medical, social, emotional, and spiritual requirements.
Testing at Unauthorized Hospital: Claim for Coronavirus prior to policy initiation is not covered or needing hospitalisation for less than 24 hours is also excluded. Moreover, in case the testing is done at any unauthorized hospital or health centre, then the claim arising from it will also not be entertained. Also claims arising because of any unproven healthcare treatment, lacking any adequate medical documents to support the claim is excluded from policy benefits.
Outside India: Availing treatment for COVID-19 out of India is also not covered under the Corona Kavach Policy.
Corona Kavach Plan for the Entire Family
An individual can cover their entire family with the Corona Kavach Policy for Families for a single sum insured of Rs. 5 lakh. This simply means that the policyholder just has to pay a single premium to cover the entire family under a single plan.Any individual who is aged between 18 years to 65 years can purchase a Corona Kavach Family Floater plan for themselves, their spouse, dependent children (aged between 1 day to 25 years), and parents/parents-in-law.
Corona Kavach Plan for Individual
Each individual has their own preferences and healthcare requirements. The Corona Kavach Plan takes care of these needs and offers the policyholders a sum insured of up to Rs. 5 Lakhs. Moreover, the elderly individuals are at a higher risk of contracting coronaVirus. As a result, it is only advisable to insure one's parents and elders under a Corona Kavach Plan for Individuals based on their specific preferences and needs.
Corona Kavach Plan V/S Standard Health Insurance Plan
The key differences between the two health insurance plans are stated as follows:
Coverage: Corona Kavach Plan extends coverage only towards the medical costs related to the treatment of Coronavirus. A standard health insurance plan, on the other hand, covers the policyholder against a wide range of diseases as well as offering compensation for COVID-19 treatment.
Floater Advantage: Another significant benefit of a Corona Kavach Plan is that it acts as an indemnity policy that bears the cost associated towards the treatment of COVID-19 for you as well as your family members.
Choose Alternate Treatments: One of the main benefits of buying a Corona Kavach Plan is that the policyholder can get alternate treatment expenses such as Ayurveda, Unani, Sidha, Homeopathy, etc. In a standard health insurance plan, provision for AYUSH is available under certain health policies. The majority of the health plans do not offer coverage for alternate treatments.
Minimum Waiting Period: There is a lesser waiting period for Corona Kavach Policy in comparison to other health insurance plans.Within 15 days, an individual is eligible to use their COVID-19 insurance benefit. In general, depending on the terms and conditions of a given health plan, a normal health insurance plan has a waiting time of around 30 days or more.
How to Purchase Corona Kavach Policy Online?
To buy a Corona Kavach Policy online, you can follow the below given simple steps:
Step 1: Go to InsuranceDekho's official website and from the displayed web page choose the 'Health' tab.
Step 2: Enter details like phone number, name and gender. Afterward, you will get a One time password or OTP, enter it.
Step 3: Let us know when you wish to buy the policy by choosing the option from the displayed drop-down menu. Then, select 'View Quotes'.
Step 4: Choose all the family members whom you wish to include under the policy. Thereafter, choose the 'Continue' option. Then, select the family members' age.
Step 5: Enter information regarding your city and email ID. Afterward, select the 'Submit and View Quotes' option. All the policies from different insurance providers will get displayed on the screen. Select the one that you wish to buy and also choose the term for the same.
Step 6: After entering the necessary details make online payment through a secured payment channel.
Why You Must Buy Corona Kavach Health Insurance Plan Online?
You must buy a Corona Kavach Health Insurance Plan online due to the following benefits:
Swift and Easy Processing: One of the most significant advantages of buying a Corona Kavach health insurance plan online is that you can get the coverage you want in no time.Moreover, after the plan is issued, you would receive your policy documents immediately at your registered email-id.
Social Distancing: By deciding to buy your Corona Kavach Plan online, you can protect your family and yourself against infection by following social distancing guidelines.Also, buying a Corona Kavach health insurance plan online is hassle-free and does not involve standing in long queues.
24/7 Accessibility: If you decide to purchase your Corona Kavach Plan online, you can do that from the comfort of your home at any time you want. At the InsuranceDekho website, you can avail any of our digital services 24/7.
How to Select the Right Coverage Under Corona Kavach Health Insurance Plan?
Purchasing a health insurance plan is an important task, which at times can be overwhelming for you. To make sure that you get the right plan coverage under the Corona Kavach Policy, we have listed below a few points that you must keep in mind:
Select the Right Amount of Coverage: Ensure that the sum insured you choose is sufficient to cover all family members covered by the insurance policy. In addition, you must consider increasing medical costs because of inflation and select the amount of coverage accordingly.
Coverage for All the Family Members: In case you are planning to purchase a family floater policy, then ensure that you have included all your family members under the insurance plan after keeping up with the terms and conditions mentioned under the policy.
Check Affordability of Premium:It is important that the final premium amount calculated is one that you can easily afford by paying from your pocket. However, you must also consider the claim settlement ratio of the insurance company and select an insurance plan that offers maximum coverage alongside being affordable.
How to File Claim for Corona Kavach Policy?
The entire claim procedure of the Corona Kavach Policy is the same as the normal health insurance plan with no major difference. The policy can be claimed either for reimbursement or cashless benefit. The steps for claim process are explained below:
The primary step is to intimate the insurance company regarding the claim whenever it arises. The claim initiation window is determined by the type of hospitalisation, and it is 24 hours or 72 hours for emergency and planned hospitalisation, respectively.
When it comes to cashless claims, a pre-authorisation letter needs to be submitted seeking cashless claim permission from the insurance company. While, when talking about reimbursement options, the hospital expenses are paid by the policyholder initially from their own pocket and later register for the claim.
Once the claim is approved, the insurance company will either pay the hospital bills immediately or the expenses get reimbursed up to an admissible amount.
How Can I Cancel Corona Kavach Policy?
A policyholder can cancel their corona kavach policy within 15 days of purchasing it if the policy does not meet certain requirements or in case it is disappointing in terms of coverage. The amount of the paid premium would be changed according to the Insurance Regulatory and Development Authority of India (IRDAI) guidelines.The reason behind extending this option was to make the policy more flexible for the policy proposers.
Alternatively, the insurance provider has the right to cancel the policy at any time for reasons such as misrepresentation, failure to disclose material information about one's health or medical history, or any fraudulent act when claiming the policy by submitting fake documents etc. However, if any fraud or misrepresentation is found, then the insurance company is not entitled to pay even a single penny to the user.
Will Health Insurance Policies Cover Omicron Variant?
The rising number of COVID-19 infections in South Africa has generated worldwide concern. A new coronavirus variant named Omicron is likely to be responsible for the huge increase in cases.This casts doubt on COVID-19 vaccinations' effectiveness against the novel omicron strain. Whereas the omicron virus has spread to over 150 nations, the globe is still working to limit the spread of this potentially extremely contagious coronavirus strain.
Coronaviruses have discovered new ways to infect both neighbouring and host species. Although there is currently insufficient knowledge on Omicron to establish precise predictions about its unique nature, we do understand enough about this to grasp its enormous implications. Omicron is sending a powerful message to the rest of the world, demonstrating that this virus is able of far more changes and diversity than most people think.To find out and know more about omicron virus coverage under health insurance, read on.
Omicron Virus Coverage Under Health Insurance
The treatment costs associated with being diagnosed with the omicron variation of coronavirus are covered by health insurance for the omicron COVID variant. If the insured is found to be infected with the omicron virus, it refers to a coronavirus health insurance plan that pays for medical expenses incurred during hospitalisation or home treatment. Despite the fact that omicron is a COVID variant, all Indian health insurance policies cover it in the same way that coronavirus does.
Once the first waiting time is finished, a health insurance policy again for omicron variety gives extensive coverage to the insured. Also, because coronavirus is not a pre-existing disease, it will cover the cost of omicron virus treatment right away.
Does Our Existing Health Insurance Policy Cover Omicron Virus Under It?
Yes. Because the omicron virus is a coronavirus variant and not a novel illness, many existing Indian health insurance policies would cover treatment costs. COVID-19 is an infectious disease, hence the Insurance Regulatory and Development Authority of India (IRDAI) has required that all existing health insurance policies cover it, regardless of its type.y.As a result, all COVID-19-covered insurance will automatically pay the omicron variant's treatment costs.
If a person has health insurance before being tested for the omicron virus, the insurer will cover all of the costs related to treatment. If a person does not have health insurance and then buys it after testing positive for the omicron variety, however, his or her coverage will not cover the cost of treatment.
Furthermore, existing health insurance policies do not impose any additional waiting periods for reimbursement of omicron treatment expenditures. However, if a person is treated with the omicron variant of coronavirus within the first waiting period of their health insurance plan, their medical bills for treatment will not be paid.
Comprehensive Policy Coverage For Omicron
The previous two years, however, have educated us to be cautious. COVID opens the door to a slew of additional disorders, including hypertension, diabetes, obesity, and heart disease, to name a few.
These lifestyle disorders are most commonly found in those who are in their later years of life. Unfortunately, even after you have been treated, if you get COVID, people become more susceptible to these ailments. In comparison to 2015-16, the newest statistics of the National Family Health Survey show that Indians have gotten more obese, hypertensive, and at a higher risk of acquiring diabetes.
Aside from that, there are other issues to be aware of, such as black fungus. The consequences of these behaviours could be severe, requiring hospitalisation. You should choose comprehensive health coverage to protect yourself from a number of conditions covered by COVID while further information about Omicron becomes available.
Following are the factors that one should be aware of while getting health insurance policy with omicron cover -
1. To ensure that you are protected in the event of hospitalisation, choose a higher sum insured.
You will need a plan that covers the majority of illnesses, and you will need to stay on top of rising healthcare costs year after year. The second wave serves as a sobering reminder of the importance of planning ahead of time.During this period, medical expenses have ranged from Rs 85 lakh to Rs 1 crore. If your sum insured is insufficient, you will be responsible for the balance. These costs, especially in big cities, can eat into your money.You can pick a larger sum insured if your insurance is due for renewal. However, if your policy's renewal is not due for a while, you may always get a super top-up. For example, if you already have a Rs 10 lakh insurance, you may acquire a super top-up of Rs 90 lakh, bringing your total coverage to Rs 1 crore.
2. Domiciliary expenses and additional expenses to be looked into
Even when a patient needs to be hospitalized, domiciliary therapy refers to treating them at home. There are two reasons for this: either there are no available hospital rooms or the patient has a co-morbid or serious condition that has been confirmed by a doctor. Not long ago, a huge proportion of COVID patients were unable to get a hospital bed and were forced to be managed at home. In addition, recommendations for home confinement and COVID patient treatment have been established. At a time when the COVID scare is expected to return with this variety, it is prudent to take advantage of the opportunities for domiciliary therapy.Other costs to consider include doctor consultations, check-ups, testing, the usage of medical assistance products, OPD and ambulance fees, and so on.
3. Claim Settlement
Claim settlement is a watershed moment for both the insurer and the insured. When the dispute is resolved, the coverage genuinely shows to be useful. Before choosing an insurer, be sure to verify the claim settlement ratio. A ratio of more than 95% is usually regarded as desirable. Not only that, but look for any restrictions, limitations, or tiny language that might stymie your claim processing later.
Health Insurance Calculator
Whom do you want the insurance for ?
You
Couple
Family
Father
Mother
Select the age of all members
Choose required Coverage for yourself?
2 Lac
3 Lac
5 Lac
10 Lac
25 Lac
Disclaimer : Actual Premium might vary basis your location, age and number of members
Save Tax upto ₹75000*
Under Section 80D
*Tax benefits are subject to changes in Income Tax Act.
Buy Corona Kavach Policy From
Disclaimer: InsuranceDekho does not endorse, rate or recommend any particular insurance company or insurance plan.
Learn more about corona kavach Health Insurance
Buy Coronavirus Health Insurance Policy
Best Insurance Advisors in Your City.
FAQ About Corona Kavach Policy
Can Corona Kavach Health Insurance Policy be purchased on an individual basis?

Yes, a policyholder can purchase Corona Kavach Policy on both individual basis as well as family floater basis.

How many members can I include under the Corona Kavach Policy on a family floater basis?

In case you are buying Corona Kavach Policy on a family floater basis, then you can include yourself, your spouse, dependent children (who are aged between 18 to 25 years), your parents and your parents-in-law. Also please note that children, who are above 18 years and are financially dependent cannot be included under family floater coverage. Moreover, the policy can offer coverage to maximum 2 adults and 3 independent children under one plan if it is bought on a family floater basis.

What are the terms available for Corona Kavach Policy?

Corona Kavach Policy is available for 3.5 months (105 days), 6.5 months (195 days), and 9.5 months (285 days).

Will home quarantine expenses or hospital quarantine expenses get covered under my Corona Kavach Policy?

The Corona Kavach Policy covers homecare treatment expenses or hospitalisation expenses in case the insured individual is found to be COVID-19 positive. Therefore, just quarantine expenses shall not be covered under the policy.

Can I avail tax benefits if I pay the premium for Corona Kavach Policy in cash?

No. Premiums paid in cash for Corona Kavach Policy are not eligible for tax benefits under Section 80D of the Income Tax Act, 1961.
Insurance Dekho Contact Details
Reach us for help anytime
Insurance Dekho

755 1196 989

Mon to Sun 10:00 AM to 7:00 PM
Health Insurance Companies User Reviews
What users are saying