Claim, renew, manage & more
Login
The Best Clothing Options For Dogs
We, as humans, struggle to choose the perfect woollen attire in the chilled winters and light cotton clothes in the hot sunny days. Right? Just like this, pet parents also find it difficult to find the right dog clothing for their four-pawed kids. Money can help you buy great clothes for a dog, but this article will help you learn about the best dog clothing and accessories options and tips that you can choose for your beloved dogs.

Plans for your furry friend starting from just ₹324/year*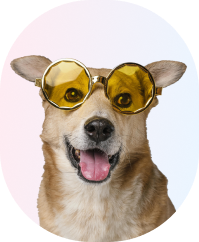 Surgery & Treatment

Hospital Expenses

Third party liability*

Terminal illness
*Standard Terms and Conditions Apply.
Find the right insurance for your Furry Friend
Owner Details
Pet Details
Dog Clothing Tips
If you are having trouble finding the right clothing for your male or female dogs, consider the following dog clothing tips that we especially curated for all the pet parents:
Sweaters And Coats
Dog sweaters are the most appealing fit for pet parents looking for dog's winter clothes. It is best to use dog winter clothes for your four-pawed kids, as some dogs have a more delicate layer of fur and get more clumsy during the chilly season. You can pick a mixture of launderable wool and cotton or acrylic as may be fit for dog clothing.
Dog Rain Coat
During the time of downpour, rain jackets can protect your four-pawed kids, especially short-haired dogs, who commonly have a thin layer of fur. A water-resistant dog raincoat provides great benefits as you won't have to spend hours drying off your dog's fur. From a variety of dog raincoats available, you can thus pick the most comfortable dog raincoat for your four-pawed kid.
Dog Boots
Many dog parents buy boots along with a dog dress to protect the dog's paw from salt and wounds and avert snowballs from forming between the toes. You can choose to pick a boot with a thicker sole for overcoming the scorching summer. On the other hand, you can also buy waterproof boots and protect your furry baby's paw from the snowy winters.

Which Breeds Of Dogs Require Winter Clothing?
Shivering in the chilly winters is prevalent among everyone, including four-pawed babies. While we humans bumble to get out of our blankets, dogs love to kill time outside during the winter season. Mostly, dogs can play their part to keep them warm during the cold weather. The size of a dog, its breed, and the temperature are some of the parameters to be considered while deciding to dress up your dog in warm clothing.
So, let's find out the tips to decide when you should buy a dog jacket for winter and dress up your four-pawed babies.
Little Dogs
The winter season might trouble dog breeds such as Chinese Crested, Chihuahua, and Italian Greyhound. Every little four-pawed baby requires a longer time to conserve body heat. Therefore, they might need dog sweaters and jackets to protect themselves from winter weather.
Furry Dogs
Aren't we pleased with the soft-furry, four-pawed kids? What we use for our pleasure, the dogs use them as their winter clothing. You can avoid dressing up your furry friends with dog sweaters, especially if they have long hair, like Pomeranians, Chow Chows, Huskies, and Great Pyrenees.
Low-Riding Breeds
Low-riders are born with stumpy, tiny legs and are the ones who can stand close to the floor. Most of the low-riding breeds like Corgi, Dachshund, Basset Hound, and a few more have adequate fur to keep them warm. However, the four-pawed babies who come in contact with snow or ice on the ground have a higher risk of being exposed to the cold.
Skinny And Muscular Dogs
A winter jacket would be helpful to keep your skinny four-pawed babies such as Whippet, Afghan Hound, and a few warmer in the cold. As fat retains heat much more efficiently, large breed dogs like greyhounds may also need winter sweaters to keep them warm.
Factors To Consider When Purchasing Dog Clothing
Here are certain factor to consider about while purchasing clothing for your four-pawed babies:
Examine The Clothing Quality
Finding high-quality clothes made of a soft material is a challenge while dressing up four-pawed babies. Buying a dog dress and t-shirts of premium grade can detour the risk of skin rashes and irritation. Cotton collars and belts are great choices for scorching summers, while fleece or high-quality wool can be the best fit for winters.
Choose The Proper Size
Buying the proper size dog dresses is as crucial as maintaining a quality check. If you buy unfitted clothes for a short-legged dog, they can fall over them or tear them off quickly. Before you purchase the appropriate clothing for your pet, you can take accurate measurements of it and check the label for precise sizes to avoid such mishappenings.
Examine For Wellbeing
While picking the dog's dress for females, always check that no buttons or zippers are attached to them. Zippers can become entangled in the fur and injure your pets. Besides this, metallic buttons and clothing accessories can be chewed and swallowed by dogs. Thus, it is best to double-check these items before purchasing dog clothing, as they could be hazardous to their health.
Comfortable Dog Clothing
When choosing dog clothes, it is crucial to consider the comfort of your four-pawed babies. Buy clothes that are easy to wear so that your pet can jump and play joyfully in them.
Conclusion
Designing a wardrobe for four-pawed kids means choosing the dog dress that will offer warmth, comfort, and safety. Moreover, the type of fabric, quality, etc, are some factors that you should consider while shopping for dog t-shirts, dog sweaters and other forms of dog clothing. So, be informed about the above-mentioned tips before you set out to choose the right clothes for your dogs.
Insurance Dekho Contact Details
Reach us for help anytime
Insurance Dekho

755 1196 989

Mon to Sun 10:00 AM to 7:00 PM