Claim, renew, manage & more
Login
Term Insurance for Family
Term insurance protects policyholders' families against mishaps like death. Many term insurance companies in India provide term plans to financially secure the future needs of your family. But before you buy, ensure that you learn about the features and benefits of term insurance plans for your family in detail!
| | |
| --- | --- |
| Features | Offered or not under Family Term Plans |
| Tax benefits | Offered |
| Maturity benefits | Offered under Family Term Insurance with Return of Premium plans |
| Death benefits | Offered |
| Rider option | Offered |

Get Term Plan Coverage of 1 Crore Starting From Just ₹16/Day*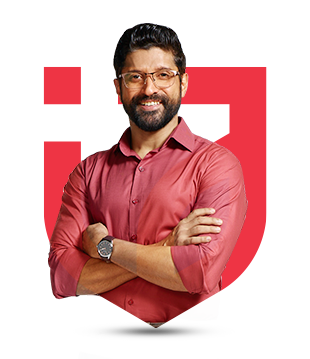 Tax Benefit

Up to 1,50,000**

Claim Support

Everyday 10AM-7PM

45 Lacs+

Happy Customers
*Standard Terms and Conditions Apply.
**Tax benefits are subject to changes in Income Tax Act.
Find
the right term insurance for you
Best Term Insurance Plans
Smart Secure Plus - Base
LIFE COVER

Tax Free

₹1 Cr

CLAIMS SETTLED

₹99.51%
Starting From
₹ 706/Month
24hr Claim Settlement
Key Features:
Special Exit
Terminal Illness
Nominee's Choice payout
Voluntary Top Up
Tax Benefits
IProtect Smart - Base
LIFE COVER

Tax Free

₹1 Cr

CLAIMS SETTLED

₹97.84%
Starting From
₹ 857/Month
24hr Claim Settlement
Key Features:
Waiver of Premium on Disability
Terminal Illness
Life Stage Benefit
Tax Benefits
See More Plans
Term Insurance Premium Calculator
Date of Birth
Do you smoke or chew tobacco?
Choose required coverage to secure your family's future
Disclaimer :

1. Premium has been calculated for coverage till 60 years

2. Eligibility depends on income, occupation and educational qualification
What is Family Term Insurance Plan?
A family term insurance plan is a life insurance policy that financially protects the family in the event of the insured's demise. The policyholders can customize their term plans by purchasing add-on riders such as critical illness benefit riders, accidental death benefit riders, and more.
Term insurance plans provide a death benefit to the nominee if the policyholder dies during the policy's tenure. You can buy the term plans only for a certain time period, say 5 years or 10 years. Term insurance companies also provide policyholders with the option to extend the tenure of their policy. You can opt to switch your regular term insurance plan to a whole life insurance plan. In this type of plan, an insurer provides whole-life coverage to the policyholders.
Human Life Value/Coverage Calculator
Key Features of Family Term Insurance Plans
Term insurance plans offered by different insurance companies provide unique features to policyholders. However, there are some common features that each insurer covers in their term life insurance policies. Some of these features are listed below:
Life Coverage:

The demise of the sole breadwinner of the family can put a financial burden on their dependents. However, by purchasing a family term life insurance policy, you can ensure that your loved ones are financially protected even when you are not around them.

Budget-Friendly:

Anyone who is concerned about the future of their loved ones can buy a term insurance plan at an early age. It is one of the key features of family term insurance plans. Additionally, you can buy term plans at an economical price.

Enhanced Coverage:

Term insurance companies provide add-on benefits to policyholders. You can buy riders with your base term plans by paying an extra premium to the insurer.

Flexible Tenure:

The policyholders of term insurance plans can opt for different policy tenures. You can choose the tenure on the basis of various factors like the policyholder's age, medical history, and others.

High Sum Assured:

You can select a term life insurance policy that provides high coverage. It will ensure that your loved ones continue to get the same type of financial support even after your demise.
Best Term Insurance Plans For Family
The table below highlights some of the best term insurance plans in which you can invest to protect your family:
Term Insurance Plan

Entry Age

(in years)

Maturity Age

(in years)

Sum Assured

(in Rs.)

Policy Tenure

(in years)

LIC e-Term Insurance Plan

18- 60 years

N/A- 70 years

Rs. 25 lakhs- no limit

10- 35 years

HDFC Click2Protect Plan

18- 65 years

28-75 years

Rs. 20 lakhs- no limit

10-30 years

Kotak Life e-Preferred Term Plan

18- 65 years

23- 75 years

Rs. 25 lakhs- no limit

5- 75 years minus the entry age

Bajaj Allianz iSecure Term Plan

18- 65 years

28- 85 years

Rs. 25 lakh- Rs. 50 lakhs

10- 85 years minus the entry age
Benefits of Purchasing Family Term Insurance Plans
Term insurance plans act as a safety net for the family of the policyholders in the event of their demise. Besides this, term plans provide many more benefits that are highlighted in the section below:
Peace of Mind:

Term life insurance plans provide peace of mind to both you and your loved ones. You can live a stress-free life knowing that there is someone who will take care of your family just like you. Additionally, your family can live a peaceful life by receiving continuous financial assistance from an insurance company.

Comprehensive Protection:

Term insurance plans provide comprehensive protection to financially secure the needs of your family.

Hedge Against Financial Contingencies:

Many insurers provide loan facilities to their term insurance policyholders. In case of an urgent need for money, the policyholder can lend a loan against their plan.

Tax Benefits:

The policyholders of term life insurance plans can claim tax benefits on the premium paid under Section 80D of the Income Tax Act.
Process To Buy Term Insurance For Family Online
Here's a step-by-step guide on how to buy a family term insurance plan online:
Documents Required To Buy Term Insurance Plan
ID proof

Income proof

Address proof

Recent passport-size photographs

Age proof
Steps You Need To Follow
Visit the official website of InsuranceDekho.

Go to the term insurance plans page.

Fill in your basic information like gender, date of birth, phone number, and more.

Provide details related to your lifestyle habits, occupation, annual income, and other information.

A list of term life insurance plans will be displayed on your screen.

Select a plan that best suits your needs.

Make a premium payment online to complete the purchase of your term plan.
Factors To Consider When Purchasing Family Term Insurance Plans
It is important to keep some points in mind when you purchase a term insurance plan for your family. Some of these points are highlighted below:
Coverage Amount:

It is one of the most important factors that you need to consider while purchasing a term insurance plan. While choosing the sum assured, assess your monthly expenses, annual income, and the financial needs of your family.

Claim Settlement Ratio:

The claim settlement ratio is the percentage of the number of claims settled per number of claims received by an insurance company. It is wise to buy a policy from a term insurance company that has a high claim settlement ratio.

Riders:

The insurance companies provide additional benefits to the policyholders. Check the type of term insurance riders that the insurer provides to you. It will help you in customizing term plans as per your specific needs.

Claim Settlement Process:

The primary job of term insurance plans is to provide you peace of mind. But, a lot of paperwork and documentation processes can make the term insurance claim settlement process tedious. Therefore, when purchasing a term plan, check the policy ratings and customer reviews for the company.
Types of Term Insurance Plans
Popularly Opted Term Insurance Sum Assured
Best Insurance Advisors in Your City.
Term Insurance Companies User Reviews
What users are saying