Claim, renew, manage & more
Login
Everything You Need To Know About Dog Healthcare
Just like humans, dogs also require utmost care and protection so that they can lead a healthy lifestyle. From giving them the right nutrition to taking them for regular routine check-ups, there is so much that can be done to ensure their well-being.

Plans for your furry friend starting from just ₹324/year*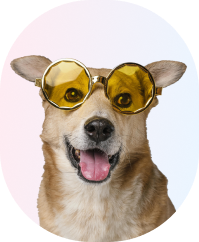 Surgery & Treatment

Hospital Expenses

Third party liability*

Terminal illness
*Standard Terms and Conditions Apply.
Find the right insurance for your Furry Friend
Owner Details
Pet Details
Useful Tips For Dog Healthcare
Listed below are some of the useful ways in which you can protect your four-pawed babies in the most effective way:
Take Your Dog For Vaccination
Timely vaccination can keep your dog protected from different types of diseases such as kennel cough, leptospirosis, rabies, hepatitis, cancer, and more. It is also important that you stick to the schedule of the vaccination to ensure that your dog's immune system remains strengthened and they are protected against different health diseases.
Consult A Veterinarian On A Regular Basis
As a dog parent, you must ensure that your furry babies are taken for regular health checkups. Moreover, if your dog is showing any symptoms of being ill or having a fever, immediately consult a veterinarian to make them feel better sooner than later.
Provide Nutritious Food To Your Dogs
A balanced diet is very important for the well-being of your dogs. Providing the right amount of nutrition to your dog is also helpful to control problems like hair loss so that they are kept away from the intake of dog hair fall medicine. Moreover, you must make sure to never overfeed your dogs and always consult a veterinarian in case you need to know what is the right amount of nutrition that your dog needs.
Proper Grooming
Proper grooming of dogs is as essential for dog healthcare as anything else. If you groom your dog in the right manner on a regular basis, then problems like dog itchiness can be easily tackled. Moreover, you can also adopt some natural remedies like using apple cider vinegar, adding oatmeal to your dog's shampoo, and more to relieve your dog from developing itchy skin.
Provide A Safe Shelter
A safe shelter is what can keep your dog protected against infections as well as predators. You should also make sure to not keep your dogs in an open space for a long period of time as intense heat, as well as cold winds, are not suitable for the well-being of your dog. So, it is better to make a safe space for your dogs so that they can live peacefully.
Pet Exercise
Effective dog healthcare also requires that you pay attention to your dog's exercise routine so that both the mental and physical well-being of your dog remains uncompromised. Regular exercise can ensure that your dog has a healthy sleeping pattern so that there is no possibility of the intake of dog sleeping pills at any time. Moreover, also take your dogs for a walk so that they can breathe in the fresh air as well as get time to interact with other dogs.

Common Types Of Dog Diseases You Should Be Aware Of
Unfortunately, dogs too get affected by different types of diseases which we may not be even aware of. So, to help dog parents, we have compiled a list of common dog diseases or canine diseases that can often affect the well-being of dogs.
Leptospirosis
Leptospirosis is a bacterial disease that is generally spread through an infected animal's urine. This can be spread either directly or indirectly by an infected animal.
Symptoms: The common symptoms of leptospirosis include fever, headache, bleeding, muscle pain, etc. However, the symptoms may vary from one dog to another.
Prevention: Certain antibiotics are suggested by vets for the treatment of leptospirosis. Timely vaccination can also reduce the chances of leptospirosis.
Rabies
Rabies is a type of dog disease that is primarily caused by the bite or saliva of an infected animal. It is a viral disease and thus can be spread from one animal to another and sometimes is even transmissible to humans.
Symptoms: The symptoms of rabies generally range from changes in the natural behavior of dogs, hypersensitivity, fever, weakness, loss of appetite, and a few more.
Prevention: The most important way to prevent rabies is to get your dog vaccinated. Other than this, you can also keep your dogs away from rabies-infected animals to prevent the spread of the infection.
Dog Cancer
Dog terminal illnesses like cancer or tumor result due to an unnecessary increase of cells and may affect different organs. Some of the types of dog cancer are melanoma, osteosarcoma, hemangiosarcoma, and a few more.
Symptoms: Lumps, swelling, abnormal discharge, and difficulty in breathing are some of the symptoms of dog cancer that require immediate medical attention.
Prevention: The only way to prevent your dogs from being diagnosed with cancer is to adopt a healthy lifestyle for them. When it comes to the treatment of dog cancer, it varies depending on the type and stage of cancer. However, surgery, chemotherapy, etc are the common treatments for dog cancer.
Kennel Cough
Kennel cough is a type of respiratory illness that can be either bacterial or viral in nature. Once your dog falls prey to kennel cough, then it may result in the inflammation of the airways. Also, please note that kennel cough is highly contagious.
Symptoms: The most common symptom of kennel cough is a dry cold. Apart from this fever, nasal discharge, discharge of foamy phlegm, etc are other indications of your dog being infected with kennel cough.
Prevention: As kennel cough is highly contagious, the most effective way to prevent your dog from this infection is to keep them away from exposure.
Take Away
With the above-mentioned tips on dog healthcare, you can protect your beloved dog in the best way. So, adopt these useful tips in your daily routine so that your dog can lead a healthy life and stay aloof from the different diseases.
Insurance Dekho Contact Details
Reach us for help anytime
Insurance Dekho

755 1196 989

Mon to Sun 10:00 AM to 7:00 PM