Claim, renew, manage & more
Login
Best Life Insurance Plans in India 2023
There are several types of life insurance plan available in India. Different life insurance plans have different purposes and provide different benefits. Some life insurance plans are investment cum life insurance plans and some are savings plans which provide life cover along with savings opportunities. Before purchasing life insurance you must recognize the type of life insurance plan you require, choose an appropriate coverage amount, choose suitable riders. It is always advised to avoid life insurance plans with cheap premium rates as those life insurance plans may not cover certain things. Before making a purchase it is advised to choose a life insurance plan which is best suitable according to your needs.

1 Crore Life Cover starting from just ₹16/Day*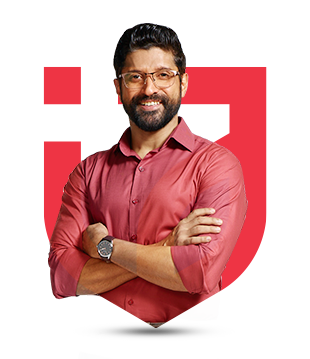 Tax Benefit

Up to 1,50,000**

Claim Support

Everyday 10AM-7PM

45 Lacs+

Happy Customers
*Standard Terms and Conditions Apply.
**Tax benefits are subject to changes in Income Tax Act.
Find
the right life insurance for you
Term Life Insurance Premium Calculator
Date of Birth
Do you smoke or chew tobacco?
Choose required coverage to secure your family's future
Disclaimer :

1. Premium has been calculated for coverage till 60 years

2. Eligibility depends on income, occupation and educational qualification
Human Life Value/Coverage Calculator
Life Insurance Plans
Life insurance is an agreement between an individual and an insurance company under which the insurance company promises to provide a sum assured (death benefit) to the family of the policyholder in the event of the policyholder's unforeseen death. The plan also offers a survival benefit to the insured if he/she survives the policy term. Thus, life insurance provides financial protection to an individual and his/her loved ones against the uncertainties of life.
Types of Life Insurance Plans in India
There are various categories of life insurance plan available in India as discussed below:
1. Term Insurance Plans: In absence of your loved one, this type of term Insurance plan helps your family become financially independent. Term Insurance plans are the basic form of life insurance plans and are also called 'Pure Protection Plan'. These plans offer the sum assured to the family members in an event of the sudden demise of the policyholder during the policy tenure. This policy promises to offer high insurance coverage with a minimum premium amount.
2. Unit-Linked Insurance Plans (ULIPs): A Unit-Linked Insurance Plan is considered both a policy and an investment as well. This policy offers a death benefit i.e. this policy pays an amount on the death of the insured to the nominee and if the policyholder survives the term of the ULIP, he/she can also get the maturity value of the ULIP. This policy provides a combination of benefits of protection and saving in a single plan.
3. Endowment Plans: An Endowment Plan provides life cover as well as an opportunity to the policyholder to invest their money for a specific period of time. It is a type of insurance policy that gives you life insurance protection, maturity benefit, and tax benefit in one package. It is a type of life insurance with the dual purpose of providing a good investment tool and life coverage as well.
4. Whole Life Insurance Plans: Whole Life Insurance plans stay in force till the policyholder passes away. These policies have no expiration date. Whole Life insurance is also considered 'Permanent Life Insurance' as they generally have higher premiums than any other life insurance plan. Premiums for whole life insurance plans are fixed on the basis of age of issue and the premiums do not increase with age.
5. Child Plans: Child plans serve the dual purpose of providing insurance and providing the opportunity for an individual to save for a child's future. This plan provides a lump sum amount at the end of policy tenure that can be utilized as financial support for your child's educational expenses or marriage expenses.
6. Retirement Plans: Retirement plans are one of the insurance plans that provide the policyholder with life cover and helps them to accumulate their savings over a certain period of time. This plan helps to create a regular income post-retirement for any financial requirements post requirement.
7. Money-Back Plans: Money Back plans provide life cover to the policyholder during the policy tenure and also provide maturity benefits in installments as survival benefits provided after certain periods of time. These plans offer to pay the whole sum assured amount at the time of the untimely demise of the policyholder without deducting the amount paid as survival benefits.
How to Choose the Right Life Insurance Plan?

Before investing your money in a life insurance plan, you must choose a plan that fulfils your insurance requirements without bothering your budget. Below mentioned are some tips which can help you choose the right life insurance plan for yourself:

1. Identify the Type of Life Insurance Policy you Need: There are several types of life insurance plans available in the market namely Term Insurance, ULIPs, Endowment, Whole Life Insurance, Child Life, Money-Back and Retirement plans. Whole Life Insurance and Term Insurance plans are pure protection plans which provide financial protection to the family of life assured in case of an untimely demise of the life assured during the policy tenure. Other plans are savings cum insurance plans which provide an investment opportunity and financial protection to the family of the life assured in case of an unforeseen demise of life assured during the policy term. One can choose a life insurance plan as per their insurance requirements and budget.

2. Sum Assured/Coverage Amount: Before purchasing a life insurance policy, you must determine the coverage amount/sum assured for the life insurance policy. It is advised to consider a sum assured which is 10-15 times of your yearly income. Before deciding a sum assured you should consider your current lifestyle, expenses, liabilities, number of financial dependants and their expenditure etc. The sum assured of a life insurance policy should be enough to cover your family's expenses in case of your untimely demise.

3. Incurred Claim Settlement Ratio: Incurred claim settlement ratio is a very crucial factor to be considered before purchasing a life insurance policy. A life insurance provider with a high claim settlement ratio can be fully relied on in difficult times. It is advisable to choose a life insurance policy offered by an insurance provider with a high claim settlement ratio, as high claim settlement ratio depicts credibility of the insurance company. Claim settlement ratio is the total number of claims settled against the total number of claims received.

4. Compare Several Plans: Before purchasing a life insurance policy, compare different plans offered by different insurance providers. It will help you analyse which plan offers what and does it fulfil your requirements under your budget. Comparing plans helps in making an informed decision, and you can choose a plan that suits your requirements within your budget. An ideal life insurance plan can only be bought when a person has compared several plans.

5. Add Suitable Riders: There are several rider options available in the market such as Accidental Death Benefit, Accidental Total and Permanent Disability, Critical Illness, Waiver of Premium, Income Benefit Rider, Term Rider etc. Different riders have different purposes, it is advised to purchase a rider which is suitable for your life insurance policy. It is also advised not to add too many riders to the life insurance policy. Riders are additional coverages that can be purchased with the life insurance policy, these riders enhance the coverage of the policy.

6. Avoid Cheap Premiums: Always avoid life insurance policies with cheap premiums. In case you are purchasing a life insurance policy with cheap premiums, make sure to check the terms and conditions of the policy to ensure what is covered and what is not covered under the policy. Sometimes life insurance policies with cheap premiums do not cover some aspects which may lead to discrepancies while filing or claim settlement. Before purchasing a life insurance plan with relatively cheaper premiums make sure to look through the terms and conditions to avoid purchasing a misleading life insurance plan.

Buy Life Insurance Plans From
Disclaimer: InsuranceDekho does not endorse, rate or recommend any particular insurance company or insurance plan.
Life Insurance Companies User Reviews
What users are saying
Best Insurance Advisors in Your City.
FAQ About Best Life Insurance Plans in India 2023
What are the basic types of life insurance plans?

Listed below are the types of life insurance policies:

Term insurance plans
Unit Linked Insurance Plans
Endowment plans
Whole life insurance plans
Child plans
Retirement plans
Money-back plan

How much does a life insurance plan cost?

The premium of a life insurance plan depends on several factors such as the sum assured, the type of policy you wish to buy, coverage benefits you wish to get at the time of maturity, your age, health conditions, etc.

What happens if I fail to pay the premium for my life insurance policy on time?

Usually, a grace period of up to 30 days is offered under life insurance plans. It is 15 days for monthly mode. In case you are not able to pay a life insurance premium even during the grace period, then your policy gets lapsed and you will not be able to make any claims. But you can revive your policy once you pay all the overdue premiums as per your policy terms and conditions. After paying the premiums, you can again start receiving policy benefits.

Can I still avail of tax benefits if I discontinue my ULIP policy?

You will not receive any tax benefits on the premium paid for the ULIP policy if you stop paying premiums five years from the date of commencement of the policy.

What are the tax benefits in the case of a pension plan?

On the premium paid for pension plans, you can avail tax benefits under Section 80CCC. You will receive a pension from the fund as specified in the Section 10(23AAB). You can receive a deduction of up to Rs. 1 Lakh on your total annual income.
Insurance Dekho Contact Details
Reach us for help anytime
Insurance Dekho

755 1196 989

Mon to Sun 10:00 AM to 7:00 PM