How to Check IFFCO Tokio Policy Status Online?
Updated On Aug 28, 2023
How to Check IFFCO Tokio Policy Status Online?
In today's digital age, accessing important information online has become a norm. Insurance policyholders, too, can now conveniently check their policy status, download documents, and monitor their coverage, all from the comfort of their homes. IFFCO Tokio, one of India's leading insurance providers, allows its customers to track their policy status online. In this comprehensive guide, we'll walk you through the steps to effortlessly check your IFFCO Tokio bike insurance policy status online.
Table of Contents
About IFFCO Tokio Policy
IFFCO Tokio General Insurance Company is a prominent insurance provider in India that offers a wide range of insurance products and services. The company is a joint venture between the Indian Farmers Fertiliser Cooperative (IFFCO) and Tokio Marine Group, a leading Japanese insurance company. Established in 2000, IFFCO Tokio has rapidly grown to become one of the leading players in the Indian insurance market. The company offers various insurance products to cater to the diverse needs of individuals, families, and businesses.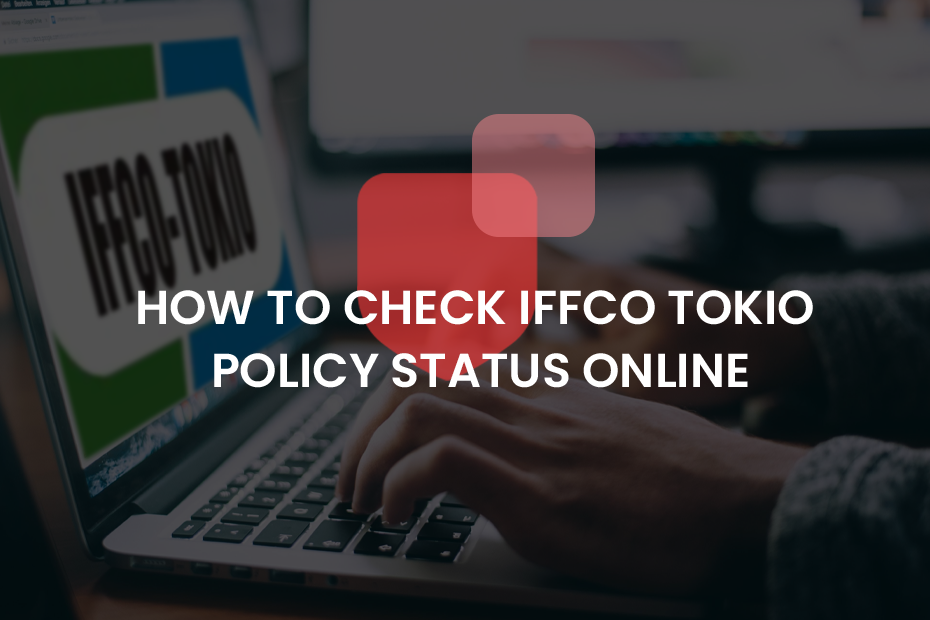 Key Features and Benefits of IFFCO Tokio Policies:
Customisable Plans: IFFCO Tokio offers a variety of insurance plans that can be tailored to meet the specific needs of policyholders. This allows individuals and businesses to choose coverage that aligns with their requirements.
Online Services: The company provides online services that enable policyholders to easily purchase, renew, and manage their policies online. Additionally, customers can check policy status, download policy documents, and make premium payments through the online portal.
Network of Branches: IFFCO Tokio has a wide network of branches and offices across India, making it accessible to a large customer base.
Quick Claim Settlement: The company aims to provide efficient and hassle-free claim settlement processes, ensuring that policyholders receive the benefits they are entitled to in a timely manner.
Customer Support: IFFCO Tokio places a strong emphasis on customer support, offering assistance to policyholders for any inquiries, concerns, or claims-related matters.
Innovative Offerings: The company has been known to introduce innovative insurance products, such as their "Pradhan Mantri Fasal Bima Yojana," a government-supported crop insurance scheme.
How to Check the Policy Status Online?
Step 1: To begin, open your preferred web browser on your computer or mobile device. Ensure you have a stable internet connection.
Step 2: Type "IFFCO Tokio Insurance" into the search bar or directly enter "www.iffcotokio.co.in" into the address bar. Press "Enter" to access the official IFFCO Tokio website.
Step 3: Once on the IFFCO Tokio homepage, look for the "Customer Portal" or "Customer Login" option. This is usually prominently displayed on the top right corner of the website. Click on this option to proceed.
Step 4: If you're an existing user, enter your login credentials – your username and password – to log in to your IFFCO Tokio account. If you haven't registered yet, there should be an option to "Register" or "Sign Up." Click on this option and follow the prompts to create your online account.
Step 5: After successfully logging in, you will be directed to your account dashboard. This is where you can access various features related to your IFFCO Tokio policies.
Step 6: Look for the section specifically dedicated to your policy status. This might be labelled as "Policy Status," "My Policies," or something similar.
Step 7: If you have multiple policies with IFFCO Tokio, they will likely be listed here. Choose the policy for which you want to check the status.
Step 8: Once you've selected the policy, you should be able to see its current status. This could include details like premium payment status, coverage details, maturity date, and any other relevant information.
Step 9: In addition to checking your policy status, the online portal might also offer the option to download policy-related documents such as the policy document itself, premium receipts, and other important papers.
Step 10: If you have any questions or concerns regarding the information displayed or encounter any discrepancies, it's advisable to contact IFFCO Tokio's customer support. They can provide you with accurate information and address any issues you might have.
Tips for a Smooth Experience
Keep Your Policy Details Handy: Ensure you have your policy number and other relevant information readily available. This will make the login and policy selection process faster.

Use a Secure Connection: To protect your personal information, always ensure you use a secure internet connection, especially when logging into sensitive accounts.

Familiarise Yourself with the Portal: Spend some time exploring the online portal. Familiarise yourself with its features so you can make the most out of it.

Regularly Update Your Password: If you're using your IFFCO Tokio account frequently, consider updating your password regularly for added security.
Conclusion
The convenience of checking your IFFCO Tokio policy status online cannot be understated. It saves time, allows you to access crucial information from anywhere, and empowers you to stay on top of your insurance coverage. By following the steps outlined in this comprehensive guide, you can effortlessly navigate the IFFCO Tokio online portal and keep track of your policy's status and other relevant details. Remember, technology is a tool that can greatly simplify your insurance management, but it's important to remain vigilant and prioritise the security of your personal information.
FAQs
What does IFFCO Tokio offer?
IFFCO Tokio offers a range of motor insurance policies, including policies for two-wheelers and four-wheelers. They provide comprehensive coverage that includes protection against damages to the vehicle, liability towards third parties, and personal accident coverage for the owner-driver. Customers can choose from different plans based on their needs, such as third-party liability, standalone own-damage, and comprehensive coverage.
Can I check my policy status online?
Yes, IFFCO Tokio provides an online platform where policyholders can check the status of their claims. After logging into their customer portal account, they can navigate to the claims section to track the progress of their claims, upload necessary documents, and receive updates on the claim settlement process.
How do I renew my policy?
Policyholders can conveniently renew their IFFCO Tokio policies online by logging into their account on the official website and making the premium payment.
What is the "Pradhan Mantri Fasal Bima Yojana" by IFFCO Tokio?
The "Pradhan Mantri Fasal Bima Yojana" (PMFBY) is a government-supported crop insurance scheme in India. IFFCO Tokio and other insurers participate in this scheme to provide farmers with financial protection against crop losses due to various factors. Under PMFBY, farmers can insure their crops at affordable premium rates, and in case of crop failure, they receive compensation for the losses suffered.
How can I contact IFFCO Tokio's customer support?
IFFCO Tokio offers multiple channels for customer support. You can visit their official website to find contact details for their customer care, including phone numbers and email addresses. Additionally, you can visit their local branches or use their online chat support for quick assistance with policy-related queries, claim inquiries, and other concerns.