Claim, renew, manage & more
Login
  Hurry Up!
Save tax in 80D by purchasing a Health Insurance Today.
View Plan
What is a Heart Attack?
A heart attack happens when the flow of blood to the heart is blocked. Its symptoms include tightness or pain in the chest, back or arms, neck, fatigue, lightheadedness, etc. The treatment for heart attacks includes certain lifestyle changes, cardiac rehabilitation, medications, bypass surgery, etc.

5 Lac coverage starting from only ₹257/Month*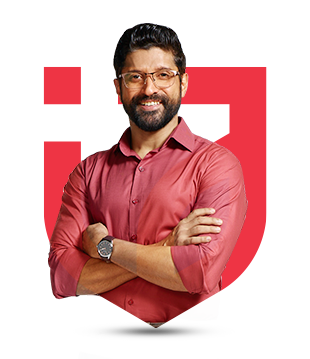 Tax Benefit

Up to 75000**

Claim Support

Everyday 10AM-7PM

45 Lacs+

Happy Customers
*Standard Terms and Conditions Apply.
**Tax benefits are subject to changes in Income Tax Act.
Find
the right health insurance for you
A heart attack or Myocardial Infarction (MI) refers to permanent damage to the heart muscle. Surrounding the heart, there is a group of blood vessels known as coronary arteries that supply the heart with blood. This blood is rich in oxygen and nutrients. Its supply to the heart is essential for the proper functioning of the body and the cardiovascular system. Without this continuous supply, the heart muscle cannot function. A heart attack refers to when one of these vessels gets blocked suddenly and thus the flow of the nutrient and oxygen rich blood to the heart is obstructed. This causes damage to the heart muscle.
Heart Attack/Myocardial Infarction (First Heart Attack)
Risk Factors for Heart Attack
There are several factors that might make someone more at risk for a heart attack or a myocardial infarction. Some of the common risk factors are as follows:
Age: Men over the age of 45 as well as women over the age of 55 have an increased likelihood to have a heart attack than younger individuals.
Smoking: First-hand smoking, as well as long term exposure to secondhand smoke, will increase the likelihood of heart attack.
High Blood Pressure: High blood pressure damages the coronary arteries which lead to the heart muscle. This increases the likelihood of heart attacks. Other conditions such as obesity, high cholesterol, or diabetes, which may occur alongside high blood pressure, will increase the risk even more.
High cholesterol: High cholesterol leads to narrow arteries and can lead to a heightened risk of a heart attack or myocardial infarction.
Metabolic syndrome: This increases the likelihood of getting a heart attack by two times. This syndrome occurs alongside the presence of high blood pressure, high blood sugar, as well as obesity.
Family history: if immediate family such as siblings, grandparents, or parents have had heart attacks by the age of 55 for males and 65 for females, then your risk of having a heart attack is increased.
Physical inactivity: Being physically inactive increases the risk of a heart attack. This is because physical inactivity contributes to high blood cholesterol levels. It also leads to obesity.
Stress: Stress can also lead to a heart attack.

Symptoms of a Heart Attack
The most common symptoms of a heart attack are as follows:
Angina, which is described as chest pain or a tightness or heaviness in the chest
Pain or discomfort in the upper areas of the body including shoulders, jaw, back, stomach
Shortness of breath or difficulty in breathing
Nausea or vomiting
Sweating
Rapid or irregular heartbeats
Lightheadedness
Dizziness
Weakness
Symptoms in women may be different, and are as follows:
Pain that spreads to the arm
Jaw pain or pain spreading to the jaw
Pressure or pain in the center of the chest
Unusual fatigue for several days
Treatment of Heart Attacks
The treatment of heart attacks is of various kinds:
Medication: This can include aspirin, thrombolytics, antiplatelet agents, pain relievers, statins, blood thinning agents, nitroglycerin, ACE inhibitors, or beta blockers.
Surgical procedures: These may include coronary artery bypass surgery (CABG) or coronary angioplasty and stenting.
Cardiac rehabilitation: This can last for several months following initial treatment and focuses on medication and lifestyle changes with a gradual return to normal activities.
Health Insurance Policy for Heart Attacks
There are many health insurance policies in India which cover the critical care required in case of a heart attack. For example, HDFC Life Cardiac Care, and Apollo Munich Health Insurance include cover for surgeries involved in the treatment of heart attacks.
Why Choose InsuranceDekho for an Insurance Plan for Heart Attack?
When it comes to heart attacks or cardiac disease, you will find a wide range of policies with varied coverage at InsuranceDekho. It is extremely easy to buy health insurance that covers critical illnesses like heart attacks. The Process is paperless and quick, saving you valuable time and effort. Other benefits of buying health insurance at InsuranceDekho include:
Post policy purchase assistance
Expert help at the time of purchasing a policy
Online premium calculator available to get an estimate of health insurance premium
Assistance during filing a claim settlement
Health Insurance Calculator
Whom do you want the insurance for ?
You
Couple
Family
Father
Mother
Select the age of all members
Choose required Coverage for yourself?
2 Lac
3 Lac
5 Lac
10 Lac
25 Lac
Disclaimer : Actual Premium might vary basis your location, age and number of members
Health Insurance Coverage Calculator
Who do you want to insured ?
Individual
Couple
Family
Parents
Age of eldest insured member ?
Disclaimer : Actual Coverage might vary basis your location, age and number of members
Save Tax upto ₹75000*
Under Section 80D
*Tax benefits are subject to changes in Income Tax Act.
Health Insurance Companies
Disclaimer: InsuranceDekho does not endorse, rate or recommend any particular insurance company or insurance plan.
Learn more about heart attack-myocardial-infarction Health Insurance
Best Insurance Advisors in Your City.
FAQ About What is a Heart Attack?
What is the critical illness insurance cover for heart attack?

Heart attack critical illness insurance is a benefit based policy that provides you with medical coverage in case of a heart attack and other critical illnesses.

How do critical illness plans for heart attack work?

Critical illness plans for heart attack pay you in lump sum as per the sum insured under the policy on the diagnosis of a heart attack. You can use the amount to pay off debts (if any), recuperation, treatment for heart attack, etc.

How to buy critical illness cover for heart attack?

You can buy critical illness cover for heart attack online at InsuranceDekho by following the steps below:

Visit InsuranceDekho's website that is www.insurancedekho.com. Click on 'Health'.
Select Gender and enter your Name and Mobile Number. You will get an OTP on the same number, kindly enter that.
Tell us the time when you are comfortable buying the plan. Click on 'View Instant Quotes'. You can also add family members if you want to include them along yourself under the policy. Select their age and then click on 'Continue'.
Enter your valid Email ID and City and click on 'Submit and View Quotes'. Choose the most suitable one from different health insurance quotes displayed on your screen.
Select the policy period for the shortlisted policy. Then enter the required details. Lastly, pay the health insurance premium online via any of the flexible modes offered.

Why is a critical illness plan for heart attack important?

Heart attacks can incur more than average medical costs. And critical illness insurance plans cover you against such medical costs where regular health insurance plans may fall short.

Why should I buy a critical illness insurance plan for heart attack?

Critical illness insurance plans for heart attack are highly beneficial. These plans cover you not only against heart attacks but other critical illnesses as well such as kidney failure, cancer, stroke, coma, etc. by paying out a lump sum amount which you can use on the treatment or otherwise. One can buy these plans along with regular health insurance plans too.
Insurance Dekho Contact Details
Reach us for help anytime
Insurance Dekho

755 1196 989

Mon to Sun 10:00 AM to 7:00 PM
Health Insurance Companies User Reviews
What users are saying