Claim, renew, manage & more
Login
  Hurry Up!
Save tax in 80D by purchasing a Health Insurance Today.
View Plan
What is Paralysis?
Paralysis is a critical illness in which the patient is unable to move some of his/her body parts. Some frequent causes of paralysis include head injury, spinal trauma, multiple sclerosis, spinal deformity, transverse myelitis, spinal cord tumour, substance abuse, cerebral palsy, etc. It can be treated with physiotherapy, moveability, and medications.

5 Lac coverage starting from only ₹257/Month*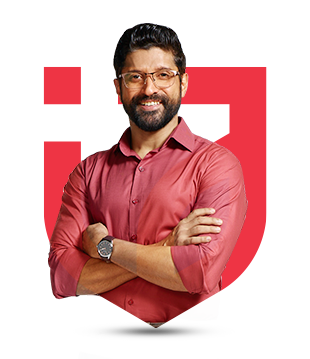 Tax Benefit

Up to 75000**

Claim Support

Everyday 10AM-7PM

45 Lacs+

Happy Customers
*Standard Terms and Conditions Apply.
**Tax benefits are subject to changes in Income Tax Act.
Find
the right health insurance for you
Paralysis is a situation when an individual is not able to move some parts of their body. It occurs when the passing of messages between the brain and the muscles does not happen properly. Paralysis can happen on either side of the body and can be broadly categorized as complete or partial. However, the other paralysis conditions can be as follows-
Permanent
Temporary
Flaccid
Spastic
Causes of Paralysis
Signals that are passed on from the brain are known to control the movement of muscles. When there is damage in any part of the passage system like the brain, nerves, muscles and so on, then as a result of signal not making its way from the nerve to the muscles, paralysis occurs. Damage to the passage system can happen because of multiple ways.
An individual can be born with paralysis owing to a birth defect like Spina Bifida, this condition happens at the time when covering that safeguards the spinal cord, and the brain doesn't form straight away. However, most people get paralysis owing to an accident or medical condition that acts on the working of nerves and muscle function. The frequent causes of paralysis are as follows-
Head Injury
Spinal Trauma
Multiple Sclerosis
Spinal Deformity
Transverse Myelitis
Spinal Cord Tumor
Substance Abuse
Cerebral Palsy
Peripheral neuropathy
Myopathy
Symptoms of Paralysis
Although the symptoms of paralysis vary as per the cause yet they can be spotted easily. The occurrence of paralysis is sudden and generally happens due to an aftereffect of injury to the spinal cord or brain. At times it happens that a cancerous cell or stroke that presses in opposition to the cells of the brain, can be a reason for the occurrence of paralysis. It can be commonly identified by symptoms such as decreased muscle function, inability to talk, loss of sensation in body parts like hands and legs.
Treatment of Paralysis
Presently, no cure for paralysis is available. However, in some of the cases, a number of or almost all muscle control regain sensations itself or post-treatment for a specific type of paralysis. For instance, immediate recovery happens in Bell's Palsy, a type of facial paralysis. Occasionally, treatment is extremely significant to avoid the chances of further aggravating paralysis, like in multiple sclerosis.
To address an issue that happens as a result of paralysis, a rehabilitation method is generally suggested, so that a paralyzed person can get a chance to live an independent and better quality of life as much as possible. Some common treatment methods used for the treatment of paralysis include:
Physiotherapy- This involves treatments like massage and exercises to revive the muscles and nerves.
Medication- Depending upon the type of paralysis, surgery of the brain and spinal cord can be helpful in treating the medical state by the means of a reduction in the size of the swelling. The patient is supposed to complete the whole medication course without any block as these medications can successfully assist in the prevention of an outbreak of bacterial infection or virus.
Moveability- With partial paralysis in the legs and good upper body strength, manual wheelchairs can be utilized in commuting short distances. While individuals who do not have a robust upper body can make use of an electric wheelchair.
Insurance Policies for Paralysis
Whilst, there is still no specific cure for the treatment of Paralysis yet efforts are being made by the scientist to search a way to treat the disease. Therefore, till the time no specific cure gets invented the only way for a patient to live a high-quality life is to take great care of their health and at least have a reliable health insurance policy. With several insurance policies available in India, some of the popular critical illness insurance policies that cover paralysis include Bajaj Allianz Critical Illness Insurance plan, Universal Sompo Critical Health Insurance Plan, Kotak Mahindra Secure Shield Plan, etc.
Buy Critical Illness Insurance Plan for Paralysis from InsuranceDekho
Buying health insurance for paralysis from insuranceDekho is an easy, quick, and transparent procedure. To buy a policy, you just need to visit the official website of InsuranceDekho and enter your personal information to gain access to multiple health insurance quotes as per your unique requirements and budget under a single platform.
Health Insurance Calculator
Whom do you want the insurance for ?
You
Couple
Family
Father
Mother
Select the age of all members
Choose required Coverage for yourself?
2 Lac
3 Lac
5 Lac
10 Lac
25 Lac
Disclaimer : Actual Premium might vary basis your location, age and number of members
Health Insurance Coverage Calculator
Who do you want to insured ?
Individual
Couple
Family
Parents
Age of eldest insured member ?
Disclaimer : Actual Coverage might vary basis your location, age and number of members
Save Tax upto ₹75000*
Under Section 80D
*Tax benefits are subject to changes in Income Tax Act.
Learn more about paralysis Health Insurance
Best Insurance Advisors in Your City.
FAQ About What is Paralysis?
What is the critical illness insurance cover for paralysis?

A critical illness plan for paralysis covers you for medical expenses for the treatment of permanent paralysis and related health conditions.

How do critical illness plans for paralysis work?

On the first diagnosis of paralysis, the critical illness insurance plan pays you a lump sum amount in a single transaction. You can use this amount as per your convenience.

How to buy critical illness cover for paralysis?

You can own a critical illness plan by following the simple steps given below:

Visit www.insurancedekho.com and click on the Health tab.
Select Gender and enter your Name and the Mobile Number. You will receive an OTP (One Time Password) on the same number. Please enter that.
Select the time when you wish to buy the policy. Click on 'View Instant Quotes'. Select family members whom you wish to cover along under the policy and select their age. Click 'Continue'.
Enter your Email ID and City. Click on the 'Submit and View Quotes' button. Select an insurance policy from several quotes displayed on your screen as per your budget and other requirements.
Select the policy term for the shortlisted critical illness insurance policy and enter the required details. Pay the required premium online via any mode of payment suitable.

Why is a critical illness plan for paralysis important?

Treatment of paralysis includes medical management or physical and occupational therapy which costs a lot. So protect your hard-earned money from getting wasted, you must timely get critical illness insurance for paralysis.

Why should I buy a critical illness insurance plan for paralysis?

Being covered under a critical illness plan for paralysis is very beneficial. It keeps you stress-free by offering coverage against several critical illnesses apart from paralysis and pays you in a lump sum which you can use to pay off debts, getting treated outside India, etc.
Insurance Dekho Contact Details
Reach us for help anytime
Insurance Dekho

755 1196 989

Mon to Sun 10:00 AM to 7:00 PM
Health Insurance Companies User Reviews
What users are saying