Claim, renew, manage & more
Login
Bajaj Allianz Travel Insurance
Bajaj Allianz is one of the most trusted general insurance companies in India and was formed by the partnership of Bajaj Finserv Limited and Allianz SE. Founded in the year 2000, the company is based in Pune, Maharashtra. The company has become the most legitimate insurance provider because of its customer-focused insurance products. The company is completely focused on providing excellent coverage, customer support, and claim settlement experiences to its customers.
Though we save for our trip, somehow we can run short of funds while travelling due to mishaps such as medical emergencies, accidents, and more. A travel insurance policy by Bajaj Allianz comes in handy because it provides coverage for people who often travel to different parts of the world. Continue reading to find out more about Bajaj Allianz Travel Insurance.

Buy Best Travel Insurance Plans for your Overseas Journey from Just ₹552 Onwards*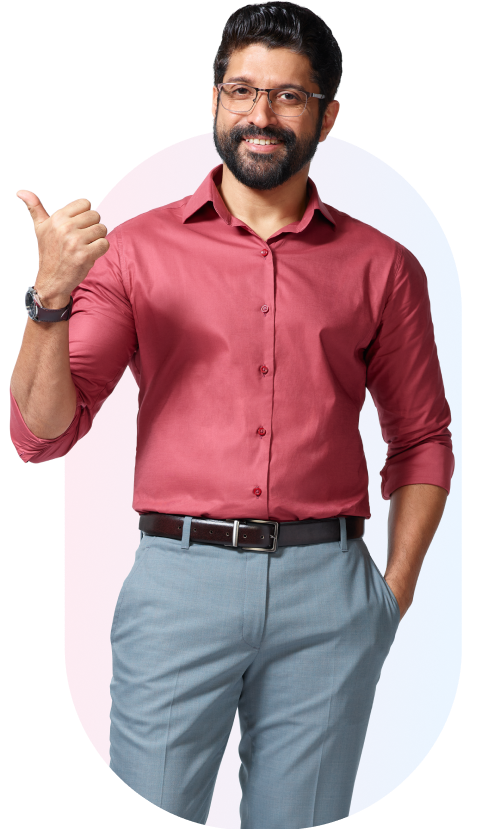 Loss of passport

Emergency Medical cover

Trip delay cover

Loss of baggage cover
*Standard Terms and Conditions Apply.
Why Choose Bajaj Allianz Travel Insurance?
Whether you plan a trip to take a break from your busy lives or for business meetings. Purchasing a travel insurance policy will keep you safeguarded in case of any mishap that may happen while travelling. Bajaj Allianz Travel Insurance will let you enjoy your trip without any worries. Listed below are some of the reasons to purchase travel insurance from Bajaj Allianz.
Comprehensive travel insurance available for individuals, families, and students.
Quick settlement of claims with an automated claim settlement procedure and 24*7 customer support.
Enhance plan coverage with a wide variety of add-on covers such as loss of passport, trip cancellation cover, and more.
Trip-related problems, flight-related adversities, and medical problems are covered.
Get coverage while travelling in 200+ countries across the globe.
Features Of Bajaj Allianz Travel Insurance
Bajaj Allianz General Insurance Company provides cheap travel insurance policies. In addition to the above, there are many other features of Bajaj Allianz Travel Insurance. Some of them are mentioned below-
Easy Claim Settlement Process:
Bajaj Allianz provides a smooth and convenient claim settlement process. Without any paperwork, a policyholder can simply settle their claim online with ease.
Coverage For Flight Delays:
Nothing is more precious than time! Bajaj Allianz Travel Insurance offers coverage for flights that are delayed by four hours or more in light of this.
Under Bajaj Allianz Travel Insurance, you do not need to pay any deductibles. Henceforth, you will not have to spend any money from your own pocket.
Bajaj Allianz provides customized travel insurance policies to cater for the unique requirements of travellers. For instance, the company offers a long-term travel insurance plan for frequent travellers.
Travel Insurance Plans Offered By Bajaj Allianz
Listed below are some types of insurance plans that are offered by Bajaj Allianz.



Individual Travel Insurance:
This plan by Bajaj Allianz provides comprehensive coverage at a cost-effective premium and is most suitable for solo travellers. It is available in 3 variants: Travel Companion Plan, Travel Elite Plan, and Travel Prime Plan, among which you can compare and choose the most suitable for yourself.




Under this plan, coverage is provided for the policyholder, a spouse, and two children. This is best suited for people who are planning a family trip. Some of the expenses covered under this plan include trip cancellation, medical expenses, emergency dental pain, a daily allowance, medical evacuation, trip cancellation, and more.



Student Travel Insurance:
Students aged between 16 and 35 aiming to study abroad can buy Bajaj Allianz travel insurance. Under this plan, high medical coverage is provided to the student. The starting price of the plan is Rs. 624 and includes coverage related to the loss of a passport, misplacing a laptop, medical evacuation, hospitalization allowance, and more.



Inclusions And Exclusions of Bajaj Allianz Travel Insurance
Listed below are some of the inclusions and exclusions of Bajaj Allianz Travel Insurance.



Inclusions

Loss of passport and home burglary
Trip cancellation and delay compensation

Medical evacuation

Loss of passport and luggage




Exclusions

Life-threatening diseases that were not disclosed at the time of purchasing the policy.

Non-allopathic treatment.

Any mental illness, such as stress, depression, or anxiety.

Any injury that has happened due to the influence of alcoholic substances.
How To Buy Bajaj Allianz Travel Insurance?
Listed below are some of the steps you need to follow to buy Bajaj Allianz Travel Insurance.
Visit the official website of Bajaj Allianz. Choose the type of travel insurance from an individual, family, student, and others.
Complete all the details such as name, policy type, date of birth, departure date and time, destination, and more carefully.
After reviewing your details, Bajaj Allianz will share a quote with your registered mobile phone number.
Choose the policy and add-ons that you want from the quote and complete the payment.
Once the p

ayment is completed, policy documents will be shared with your email instantly.
Frequently Asked Questions (FAQ)
Is it possible to buy a Bajaj Allianz Travel Insurance policy on an immigration visa?

Yes, you can buy a travel insurance policy from Bajaj Allianz if you are travelling on an immigration visa.

Can I buy more than one Bajaj Allianz travel insurance policy for the same trip?

No, the insurance company will not issue more than one travel insurance policy, as you can only buy one travel insurance policy for the same trip.

Can I renew my existing Bajaj Allianz travel insurance policy?

If your policy period is equal to or less than 360 days, you can renew your Bajaj Allianz travel insurance policy any number of times.

How can I check the status of my travel insurance policy?

Register yourself on the travel insurance portal and log in with your details, such as username and password, to check the status of your travel insurance policy.

Does a loss of credit cards is covered under the travel insurance policy?

Yes, travel insurance policies provide coverage for the replacement costs of credit cards and compensation for fraud.
Insurance Dekho Contact Details
Reach us for help anytime
Insurance Dekho

755 1196 989

Mon to Sun 10:00 AM to 7:00 PM