Claim, renew, manage & more
Login
Future Generali Travel Insurance
Future Generali, a well-reputed insurance company in India, offers a vast array of insurance products, encompassing everything from health to vehicle and travel insurance. With a strong focus on customer-centric solutions and innovation, Future Generali has established itself as a trustworthy name in the insurance sector. Their travel insurance plans are curated meticulously to meet the diverse needs of travellers, ensuring a wide spectrum of coverage ranging from medical emergencies to trip inconveniences.


The company boasts a straightforward and user-friendly approach to insurance, simplifying the process from purchasing a policy to filing a claim. This emphasis on customer satisfaction, coupled with its comprehensive coverage options, makes Future Generali a compelling choice for those seeking robust travel insurance for their journeys.
Continue reading to learn more about Future Generali Travel Insurance.

Buy Best Travel Insurance Plans for your Overseas Journey from Just ₹552 Onwards*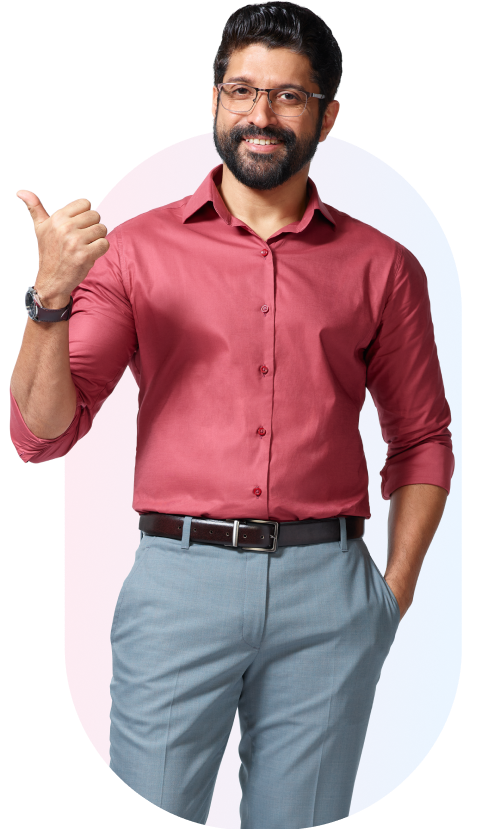 Loss of passport

Emergency Medical cover

Trip delay cover

Loss of baggage cover
*Standard Terms and Conditions Apply.
What is Future Generali Travel Insurance?
Future Generali Travel Insurance is a protective umbrella that comes with a variety of travel insurance plans to safeguard travellers from various unexpected events and emergencies that could affect their travels. The insurance ensures that you are financially covered against uncertainties like medical emergencies, travel inconveniences, trip cancellations, loss of baggage, and more, providing a reassuring layer of security. Tailored to cater to the unique needs of different travellers, Future Generali's travel insurance offers comprehensive coverage to ensure peace of mind during your journey.
Types of travel insurance offered by Future Generali
1. Future Travel Surakhsha
- Description: A comprehensive plan that ensures you're protected against unforeseen troubles, including health issues and travel inconveniences during your journey.
- Suitable For: Ideal for individual travellers and families, ensuring that whether you're travelling alone or with loved ones, your journey is secured.
2. Shubh Yatra
- Description: Customised specifically for trips within Asia, it offers an array of benefits suited to the unique requirements of travelling in Asian countries.
- Suitable For: Ideal for travellers planning a journey within Asia, offering region-specific benefits and coverage.
3. Future Easy Travel Schengen
- Description: A plan designed to meet the visa requirements for travelling to Schengen countries, offering mandatory medical coverages and other travel-related benefits.
- Suitable For: Travellers who are planning a trip to one or more Schengen countries, ensuring that visa requirements are seamlessly met.
4. Future Easy Travel Worldwide
- Description: A global travel insurance plan, designed to offer wide-ranging coverages, ensuring you're protected no matter where in the world you travel.
- Suitable For: Perfect for the global traveller, offering comprehensive protection on an international scale.
5. Future Student Suraksha
- Description: Tailored for students travelling abroad for studies, this plan offers essential coverage to meet the uncertainties students might face abroad.
- Suitable For: Students travelling overseas for educational purposes, ensuring a secure and protected educational journey.
Every plan has its own special features and advantages, so travellers can select the one that best suits their needs and trip goals. You can discover particular coverages and perks that are most pertinent to your trip with Future Generali's diverse selection of travel insurance policies, guaranteeing a safer and more pleasurable journey.
Eligibility Criteria for Travel Insurance Policy in India
Before applying for Future Generali Travel Insurance, it is crucial to understand the eligibility criteria to ensure that you can avail of the benefits without any hassles. Here are the general eligibility criteria for obtaining travel insurance from Future Generali:
- Age Limit: The age limit varies based on the specific travel insurance plan chosen. Children, as young as one day old, can be insured, and there is also coverage available for senior citizens.



- Type of Travel: The insurance plan should align with the purpose of your travel, whether it is for tourism, business, or education.




- Destination: Ensure that the destination you are travelling to is covered under the chosen travel insurance policy.




- Duration of the Trip: The policy should cover the entire duration of your trip, from the departure date to the return date.




- Health: Pre-existing medical conditions might impact the eligibility or the coverage of the travel insurance policy. Ensure to check and declare such conditions if any.


Here are some of the travel insurance plans provided by the Future Generali Insurance Company.
Things To Consider While Buying Future Generali's Travel Insurance
Buying travel insurance that fits all your needs may seem a daunting task as there are a number of factors that need to be considered during the process. So, to help you out, we have created a list of factors that should be taken into account when buying travel insurance.
Like any other factor, the destination has an equal role to play in buying travel insurance. For instance, if you are heading out to perform adventure activities in a foreign land, then it is vital that you buy additional coverage for such activities. So, buy travel insurance based on the destination you are travelling to.
If you are a frequent traveller, then it makes sense to buy a multi-trip travel insurance plan to save both time and money. Furthermore, if you often travel with your family, it is better to buy group plans instead of individual travel insurance plans.
The cost of the premium for travel insurance also varies depending on the duration of your trip.
While buying any travel insurance plan, you must always keep the sum insured in mind. The sum insured in travel insurance refers to the maximum amount paid by the insurance company in case any mishaps take place during your journey. It is important to note that the higher the sum insured, the higher will be the travel insurance costs.
You can include a number of add-ons in your travel insurance plan to further enhance its benefits. Some of the add-ons available are Adventure Sports Cover, Emergency Hotel Accommodation Cover, Baggage Loss, Trip Delay, etc. Moreover, it is important for the insured to declare in advance if they suffer from any pre-medical condition. Doing so helps to evaluate the premium and if in any case, you fail to inform about your pre-existing medical condition, then there will be a difficulty at the time of claim settlement.
Compare The Different Travel Insurance Plans
There are a plethora of other insurance companies that are now offering travel insurance plans and there are different offerings in these plans. Identify what services are provided, whether they provide cashless hospitalisation, how their claim settlement process works and more when comparing travel insurance plans. Only after comparing the available travel insurance plans, purchase the one that best suits your needs.
Understand The Exclusions
Before buying any type of travel insurance, always enquire about the exclusions along with what is being offered under the policy. As the exclusions vary from insurer to insurer, it is always better to keep a check on the same beforehand.
In addition to those listed above, there are certain things that you need to consider while buying a travel insurance plan online such as the following:
It is very important that the policyholder completes the KYC process. Please note that the KYC has to be completed only for 1 proposer, even if there are multiple travellers.

Policyholders also need to fill out the proposal form and enter details like name, address, nominee details, and others
How to buy Future Generali Travel Insurance online?
Purchasing Future Generali Travel Insurance online is a convenient process that saves time and effort. Here's a step-by-step guide to help you through the online purchase:
1. Visit the Official Website: Go to the official website of InsuranceDekho.com or Future Generali Insurance.
2. Choose Your Plan: Navigate to the travel insurance section and explore the various plans available. Select a plan that suits your travel needs.
3. Get a Quote: Enter the necessary details such as your travel destination, duration, and personal information to get a quote for the selected insurance plan.
4. Customise Your Plan: Opt for add-ons or customisations available, if any, to tailor the plan to your specific needs.
5. Payment: Once you have finalised your plan and coverage, proceed to make the payment through the secure payment gateway available on the website.
6. Policy Document: After the payment is successfully processed, the policy document will be sent to your registered email. You can download and print the policy for your records and future use.
7. Customer Support: In case of any queries or assistance required during the purchase process, Future Generali's customer support is available to guide and help you.
Ensuring that you meet the eligibility criteria and understand the buying process will help in making an informed and hassle-free purchase of Future Generali Travel Insurance, leading to a protected and worry-free travel experience.
How to file a travel insurance claim with Future Generali?
Filing a travel insurance claim with Future Generali is streamlined to ensure customers have a hassle-free experience during emergencies. Here's a detailed walkthrough of the claim process:
1. Immediate Notification: Inform Future Generali as soon as possible. Utilise the helpline number or email to provide initial information regarding the claim.
2. Documentation: Prepare and collect all necessary documents that are relevant to your claim. These could include medical reports, bills, police reports, or any other relevant documents that support your claim.
3. Claim Form: Download the claim form from the Future Generali website. Fill in the required details accurately and attach the necessary documents.
4. Submission: Submit the duly filled claim form along with the necessary documents. You can do this through email or by sending them to the respective office.
5. Claim Processing: Future Generali will assess your claim, which may include verifications and evaluations based on the nature of the claim.
6. Settlement: After the claim is processed and approved, the settlement will be done as per the policy terms and conditions.
How to buy the right travel insurance for your needs?
Choosing the right travel insurance can be a crucial aspect of planning your travel. Here's how you can select a travel insurance plan that meets your requirements:
1. Evaluate Your Needs: Consider the nature of your trip, destinations, duration, and activities you plan to undertake.
2. Research the Plans: Explore the different plans offered by Future Generali. Look at the coverage, benefits, and exclusions of each plan.
3. Consider the Coverage: Ensure the plan covers medical emergencies, trip cancellations, loss of belongings, and other potential risks relevant to your trip.
4. Look for Customisation Options: Check if the plan allows for any add-ons or customisations that can enhance your coverage based on your specific needs.
5. Compare Premiums: Consider the cost of the insurance plan. Ensure it offers value for the coverage provided and fits within your budget.
6. Check Reviews and Ratings: Look for customer reviews and ratings to understand the satisfaction level of other customers and the company's service quality.
7. Consult Customer Service: Don't hesitate to reach out to customer service for queries or clarifications. Their responses can provide insights into the policy and the company's customer-centricity.
8. Read Policy Terms: Ensure that you thoroughly read and understand the terms and conditions, inclusions, and exclusions of the policy before purchasing.
By carefully considering these aspects, you can select a Future Generali Travel Insurance plan that provides comprehensive coverage and peace of mind during your travels.
Final Thoughts
Understanding the world of travel insurance can seem like a huge task, but with careful consideration and thorough research, it becomes a straightforward task. Future Generali offers a spectrum of travel insurance policies tailored to meet various travel needs, whether it's for a leisure trip, a business voyage, or a student's journey abroad. Their diversified plans, coupled with comprehensive coverage options, make them a considerable choice for securing your travels against unforeseen adversities.
In a dynamic travel landscape where uncertainties are the only certainty, having a reliable travel insurance policy like those offered by Future Generali becomes an indispensable part of your travel itinerary. So, as you plan your next journey, ensure that you're safeguarded with a robust travel insurance plan, allowing you to explore, experience, and enjoy your travels with utmost peace and confidence.
Frequently Asked Questions (FAQ)
Can I get a Future Generali Travel Insurance policy online?

Yes, you can buy a Future Generali Travel Insurance policy online through the company's official website.

Can I buy a travel insurance policy after the commencement of the trip?

No, you cannot buy a travel insurance policy after the commencement of your international trip.

What factors should I consider to buy the best travel insurance policy?

While choosing the best travel insurance policy for yourself, you should consider factors such as features and benefits, exclusions and inclusions, price, and more.

Can I get coverage for injury and emergency evacuation from Future Generali travel insurance?

If you are injured during your journey, the insurance company will provide coverage for your transportation and medical treatment. Future Generali Company will make sure that you reach back to your home safely.

How can I claim my travel insurance policy while travelling abroad?

You can contact Europ Assistance by calling the number listed in your Future Generali Travel Insurance documents.
Insurance Dekho Contact Details
Reach us for help anytime
Insurance Dekho

755 1196 989

Mon to Sun 10:00 AM to 7:00 PM