Claim, renew, manage & more
Login
SBI Travel Insurance
Planning a trip is always an exciting endeavour. The anticipation of exploring new horizons, immersing oneself in diverse cultures, and creating cherished memories is unparalleled. However, it's also intertwined with uncertainties and risks, from health emergencies to unexpected cancellations. Amidst these unpredictabilities, having a travel insurance policy acts as a safeguard, ensuring your journey remains smooth and secure.
In this context, SBI Travel Insurance emerges as a robust and reliable companion for your travels. Providing comprehensive coverage against various travel contingencies, it ensures that your adventure remains unhindered by unexpected hurdles. So, let's delve into the world of SBI Travel Insurance, exploring its features, benefits, and why it could be a worthy choice for your next trip!

Buy Best Travel Insurance Plans for your Overseas Journey from Just ₹552 Onwards*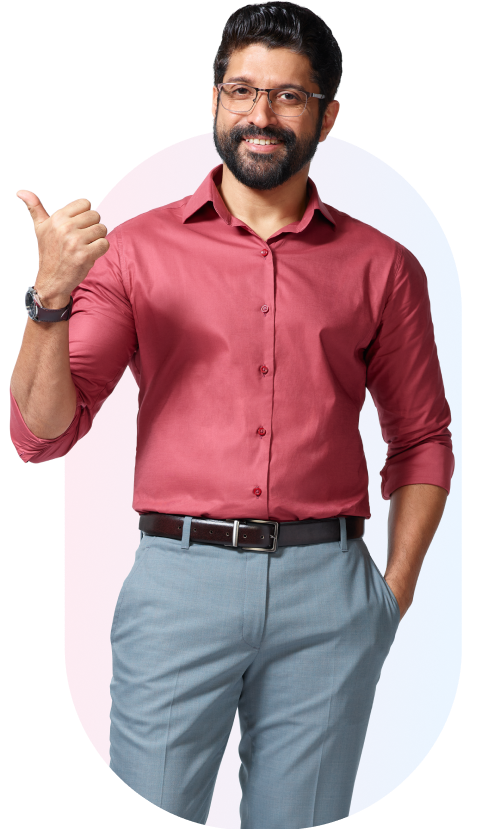 Loss of passport

Emergency Medical cover

Trip delay cover

Loss of baggage cover
*Standard Terms and Conditions Apply.
Overview of SBI
State Bank of India (SBI), a Fortune Global 500 company, stands as a paragon of trust and reliability in the Indian banking sector. With a vast network spanning the country and overseas, SBI has seamlessly blended tradition with innovation, offering a multitude of services catered to diverse needs.
SBI's travel insurance policy mirrors the bank's commitment to customer-centric services. Designed with a detailed understanding of a traveller's needs and challenges, the policy aims to offer comprehensive protection against potential travel risks. From health emergencies to loss of belongings, SBI Travel Insurance is curated to equip you with a safety net, allowing you to traverse the world with enhanced peace of mind and assurance.
Types of Travel Insurance Offered by SBI
Embarking on different types of journeys requires specific protections to suit your travel needs. Recognising this, SBI presents an array of travel insurance plans, meticulously designed to cater to diverse travelling styles and requirements. Here's a look into the distinct types of travel insurance policies offered by SBI:
1. Single Trip Travel Insurance
A single-trip travel insurance plan is perfect for those planning a one-off holiday or business trip. Whether it's a solo adventure, a family holiday, or a quick business jaunt, this policy ensures you're well-covered for the duration of your trip.
Features:
- Comprehensive Coverage: From medical emergencies to baggage loss, the policy offers all-encompassing protection against various travel-related risks.
- Flexible Policy Duration: Tailored to suit the length of your trip, ensuring you are covered from the moment you step out, till you safely return.
- Wide Age Bracket: Catering to a broad age group, this plan is accessible to both the young and the elderly.
2. Multi-Trip Travel Insurance
For frequent flyers and travel enthusiasts who find themselves often in transit, the multi-trip travel insurance is a boon. It ensures that you're perpetually covered without having to take a new policy for each journey.
Features:
- Annual Coverage: An umbrella of protection that spans a year, ensuring all your trips within this period are safeguarded.
- Saves Time and Effort: Eliminates the hassle of purchasing insurance multiple times, providing a convenient one-time solution.
- Uniform Protection: Assures consistent coverage across various trips, securing you against diverse travel-related uncertainties.
Choosing between a single or multi-trip insurance plan depends on the nature and frequency of your travels. SBI's offerings are customised with flexibility and comprehensiveness at their core, ensuring that you find a plan that resonates with your unique travel patterns and requirements.
Countries That Need International Travel Insurance
Travel insurance is a universal necessity, providing a safety net against unforeseen adversities during your trips. However, there are certain countries where possessing travel insurance is not just a recommendation but a mandatory entry requirement. Such stipulations underscore the significance of having a protective shield in the form of travel insurance when you venture across international borders.
Essential Points to Consider:
- Schengen Countries: When travelling to any of the 26 European countries in the Schengen Area, possessing travel insurance with specific coverage amounts for medical emergencies is mandatory.
- United Arab Emirates (UAE): Entering the UAE, particularly Dubai, necessitates travel insurance that covers COVID-19-related medical and quarantine costs.
- Thailand: A popular tourist destination, Thailand mandates travellers to have insurance policies covering COVID-19 treatment.
- Other Countries: Various other nations emphasise travel insurance as part of their entry regulations, reflecting the global importance attached to travel insurance.
What is Covered by Travel Insurance?
Navigating through the intricacies of travel insurance coverage is crucial to understanding the extent of protection available during your travels. Here's a breakdown of the quintessential coverage offered by SBI Travel Insurance:
1. Medical Emergencies:
- Hospitalisation Costs: Coverage for expenses incurred due to sudden illness or accidents during the trip.
- Medical Evacuation: Costs related to medical repatriation or transportation to a medical facility are covered.
2. Trip-Related Coverages
- Trip Cancellation or Curtailment: Reimbursement for non-refundable expenses if the trip is cancelled or shortened due to emergencies.
- Missed Connection or Delay: Coverage for additional expenses due to missed flights or delayed departures.
3. Baggage and Personal Belongings:
- Loss or Delay: Compensation for loss of, or delay in receiving checked-in baggage.
- Passport Loss: Costs related to obtaining a new or temporary passport are covered.
4. Personal Liability:
- Legal Liability: Coverage for legal liabilities due to causing harm to a third party or their property.
Understanding the coverage nuances is instrumental in leveraging the benefits of your SBI Travel Insurance. With comprehensive protection against a spectrum of travel-related adversities, the insurance ensures that uncertainties don't hamper the tranquillity and joy of your travel experiences.
What is Not Covered by Travel Insurance?
While travel insurance acts as a powerful ally, safeguarding you against various uncertainties, it's essential to understand its limitations. Knowledge of the exclusions is crucial, ensuring that you are well-prepared and not caught off guard during stressful situations. Let's elucidate the general exclusions from the SBI Travel Insurance coverage:
1. Pre-existing Medical Conditions:
- Non-disclosure: Lack of disclosure or misrepresentation of pre-existing medical conditions usually leads to non-coverage.
2. Adventure Sports and Hazardous Activities:
- High-risk Activities: Injuries or accidents resulting from participating in adventure sports or hazardous activities are typically not covered.
3. Alcohol or Drug Influence:
- Self-inflicted Risks: Issues arising due to the consumption of alcohol or drugs, leading to self-harm or accidents, are not included.
4. Travel Against Medical Advice:
- Ignoring Health Warnings: Travelling against the advice of a medical practitioner usually invalidates the coverage.
5. War and Civil Disturbance:
- Political Unrest: Damages or losses due to war, civil unrest, or similar conflicts are usually outside the coverage purview.
6. Unattended Baggage:
- Negligence: Losses due to leaving baggage unattended or not exercising reasonable care in protecting belongings are not covered.
7. Delay Beyond Control:
- Common Delays: Coverage does not extend to common delays like traffic jams or regular check-ins.
Navigating through the exclusions allows for a comprehensive understanding of your travel insurance policy. It fosters a realm of clarity and ensures that you are in sync with the terms and conditions, leveraging the policy's benefits optimally while being mindful of its limitations. So, with an informed approach, steer through your travels with enhanced confidence and assurance.
How to Buy SBI Travel Insurance?
Purchasing SBI Travel Insurance is a straightforward process, streamlined to ensure ease and convenience. Whether you prefer the digital route or a more traditional approach, SBI offers multiple avenues to secure your travel insurance. Here's a guide on how to navigate through the buying process:
1. Online Method:
Navigating the digital landscape is a breeze with SBI's user-friendly online portal. Here's a step-by-step guide on how to purchase your travel insurance online:
- Visit the Official Website: Commence your journey at SBI's official website or you can go to comparative websites such as InsuranceDekho.com. Navigate to the travel insurance section to explore the available plans.
- Choose Your Plan: Based on your travel needs and destinations, select a plan that resonates with your requirements.
- Fill in the Details: Complete the application by entering requisite details such as travel dates, destinations, and traveller information.
- Review and Pay: After reviewing the entered information and policy details, proceed to make the payment securely online.
- Policy Issuance: Upon successful payment, your travel insurance policy will be issued and sent to your registered email.
2. Offline Method:
For those who prefer a personal touch, the offline method offers the opportunity to interact and purchase the policy in person.
- Visit the Branch: Walk into your nearest SBI branch where trained personnel await to assist you.
- Consultation: Engage in a consultation to understand and choose a plan that aligns with your travel needs.
- Document Submission: Provide necessary documents and details as required for policy processing.
- Payment: Make the payment through acceptable offline payment methods as per the branch's provisions.
- Policy Issuance: The policy document will be provided to you once the process is completed successfully.
Equipped with flexible purchasing options, acquiring SBI Travel Insurance is tailored to suit your convenience and preference. Both online and offline methods are designed to facilitate a smooth, efficient, and secure transaction process, ensuring that your journey towards obtaining travel insurance is as pleasant as your actual travels.
Benefits of Buying SBI Travel Insurance
The choice of travel insurance is a pivotal one, and SBI Travel Insurance emerges as a formidable option, brimming with a multitude of benefits designed to enhance your travel security. Here are some compelling advantages of choosing SBI Travel Insurance:
1. Comprehensive Coverage:
- Wide-Ranging Protection: From medical emergencies to trip inconveniences, SBI's travel insurance ensures a broad spectrum of coverages, ensuring all-round protection.
2. Global Assistance:
- 24/7 Support: Travellers can access global assistance around the clock, ensuring help is always at hand in case of emergencies.
3. Flexibility:
- Tailored Plans: SBI offers a variety of plans that can be customised to cater to individual travel needs and preferences.
4. Reliable Network:
- Global Network of Hospitals: With a robust network of hospitals worldwide, accessing quality healthcare becomes seamless.
5. Hassle-free Claim Process:
- Simplified Claims: The claim process is simplified and user-friendly, facilitating ease of access and quick resolutions.
Factors to Consider When Buying Travel Insurance
When navigating the pathway to choosing travel insurance, several crucial factors demand careful consideration to ensure you make an informed and beneficial choice. Here are key factors to contemplate:



1. Coverage Spectrum:
- Evaluate the Inclusives: Review the scope of coverage, ensuring it aligns with your travel needs and potential risks.



2. Medical Coverage:
- Healthcare Priorities: Ensure the policy offers substantial medical coverage, including hospitalisation, emergency services, and evacuation.



3. Destination-Specifics:
- Adapt to Locations: Tailor the insurance based on your destination, aligning it with the specific risks and requirements of the location.



4. Premium and Benefits:
- Cost-Benefit Analysis: Conduct a thorough evaluation to ensure the premiums are justified by the benefits and coverages offered.



5. Exclusions and Limitations:
- Knowledge of Boundaries: Be well-versed with the policy's exclusions and limitations to avoid surprises during claims.




Embarking on your travels with SBI Travel Insurance invites a host of benefits and a reassuring sense of security. Armed with comprehensive coverage, global assistance, and a flexible approach, it stands as a strong pillar of support, allowing you to explore the world with enhanced peace of mind and confidence.




Documents Needed to Buy SBI Travel Insurance
Before you venture into the vibrant landscapes of your destination, ensure your journey is fortified with the necessary documentation for SBI Travel Insurance. Here's a checklist of key documents that you will need:
1. Completed Application Form:
- Details in Full: An accurately filled application form, capturing all essential information.
2. Proof of Travel:
- Itinerary Insights: Copies of your flight tickets, hotel bookings, or any proof of itinerary.
3. Identity Proof:
- Authentication: Government-issued identity proofs like Aadhar card, passport, or voter ID.
4. Address Proof:
- Verification: Documents like utility bills or bank statements to validate your address.
5. Passport and Visa:
- Travel Essentials: Valid copies of your passport and visa for international travel destinations.
How to File a Claim for SBI Travel Insurance?
The pathway to filing a claim with SBI Travel Insurance is simplified, ensuring that you find support promptly in times of need. Here's a step-by-step walkthrough of the process:
1. Immediate Intimation:
- Quick Contact: In case of an incident, contact the insurance provider immediately, following the contact details provided in your policy.
2. Provide Essential Information:
- Detailing the Incident: Furnish all necessary details related to the incident, such as the nature of the emergency, policy details, and any other required information.
3. Documentation:
- Compile Necessary Documents: Ensure all necessary documents, such as medical reports, bills, or any relevant proofs, are collected and kept ready for submission.
4. Submission:
- Initiate the Claim: Submit the claim form along with necessary documents as per the insurance company's instructions.
5. Follow-up and Assistance:
- Stay Updated: Keep in touch with the customer service team for updates and further assistance during the claim processing period.
Being well-prepared with essential documents facilitates a smoother, more efficient experience in purchasing and leveraging the benefits of SBI Travel Insurance. Additionally, a well-informed approach to the claim-filing process ensures that support and assistance flow seamlessly in times of emergencies, allowing you to navigate unforeseen situations with added ease and assurance.
Final Thoughts
Embarking on a journey, whether for leisure or work, signifies a tapestry of experiences waiting to unfold. SBI Travel Insurance acts as a steadfast companion on these journeys, ensuring that your travels are imbued with a sense of security and tranquillity. From comprehensive coverage options to a reliable support network and a simplified claim process, it is intricately designed to cater to the diverse facets of a traveller's needs.
Armed with all the essential knowledge—from the inception of the policy purchase, understanding its breadth of coverage, to the culmination in the claim process—you're now prepared to make an informed decision. May your travels be as smooth and secure as the process of securing your SBI Travel Insurance.
Frequently Asked Questions (FAQ)
Who is eligible for buying SBI Travel Insurance Plan?

Any individual who is of the age between 6 months to 70 years is eligible for buying SBI Travel Insurance Plan.

What are the two types of SBI Travel Insurance Plans?

The two types of SBI Travel Insurance Plans are Single-trip Travel Insurance Plans and Multi-trip Insurance Plans.

What details do I need to enter while buying SBI Travel Insurance Plan?

For buying a SBI Travel Insurance Plan, you need to provide details like date of birth, date of travelling, destination, full name, and a few more details.

Is injury caused due to an adventurous sport covered in SBI Travel Insurance Plans?

No, injury caused due to an adventurous sport is not covered in SBI Travel Insurance Plans.

Is dental illness covered in SBI Travel Insurance Plans?

Yes, dental illness is covered in SBI Travel Insurance Plans.
Insurance Dekho Contact Details
Reach us for help anytime
Insurance Dekho

755 1196 989

Mon to Sun 10:00 AM to 7:00 PM