Claim, renew, manage & more
Login
HDFC ERGO Travel Insurance

HDFC ERGO General Insurance Company is a powerhouse in India's insurance landscape, exuding a significant presence with a vast array of insurance products that cater to diverse needs. A joint venture between HDFC Ltd. and ERGO International AG, the company embodies a rich blend of HDFC's deep market understanding and ERGO's global expertise in insurance.

Buy Best Travel Insurance Plans for your Overseas Journey from Just ₹552 Onwards*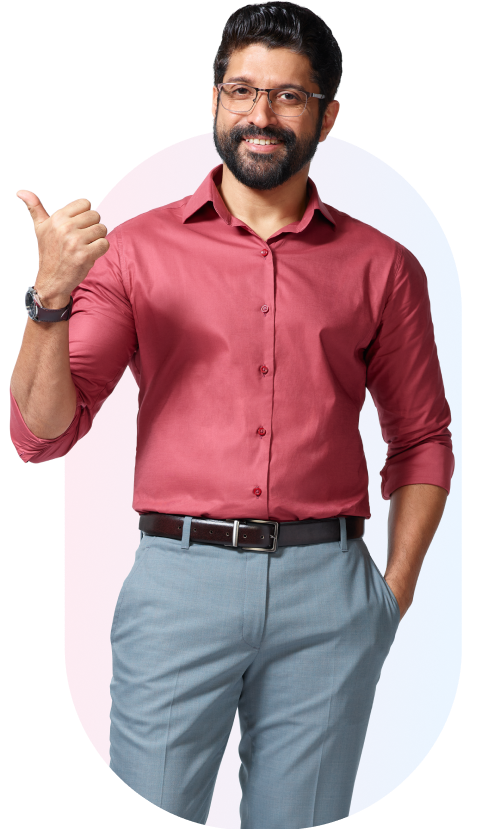 Loss of passport

Emergency Medical cover

Trip delay cover

Loss of baggage cover
*Standard Terms and Conditions Apply.
What is HDFC ERGO Travel Insurance?
HDFC ERGO Travel Insurance is a robust travel insurance product offered by HDFC ERGO General Insurance Company, a well-renowned name in the insurance sector in India. With a strong legacy and reputation, HDFC ERGO's travel insurance plans are meticulously crafted, covering a broad spectrum of risks and uncertainties that one might face during their travels.
Whether you're travelling domestically or venturing internationally, HDFC ERGO offers many travel insurance plans that cater to various travel needs and preferences. From covering medical emergencies, trip cancellations, and loss of baggage, to offering assistance in case of passport loss, HDFC ERGO ensures that your trip is secure from multiple fronts, allowing travellers to explore the world with confidence and peace of mind.



The company aims to provide travellers with a safety net, ensuring that unexpected hurdles don't dampen your journey's spirit. Tailored to meet the needs of every kind of traveller, be it a solo adventurer, a family on vacation, or a business traveller, HDFC ERGO Travel Insurance equips you with the necessary cover to tackle unforeseen challenges effectively. The insurance plans are easy to comprehend, purchase, and claim, thereby simplifying the overall insurance experience for travellers.




In the subsequent sections, we will delve deeper into the diverse range of travel insurance plans offered by HDFC ERGO, explaining their features, benefits, and suitability to help you make an informed choice for a worry-free travel experience.
Why Do You Need HDFC ERGO's Travel Insurance?
Travelling is an adventure, but it also comes with its fair share of uncertainties and risks. HDFC ERGO's travel insurance acts as a safety net that catches you when unexpected events try to disrupt your journey. Here's why you need HDFC ERGO's travel insurance:
- Comprehensive Coverage: From medical emergencies to trip cancellations, HDFC ERGO's travel insurance offers extensive coverage, ensuring that unexpected expenses do not throw your travel budget off track.
- Global Assistance: HDFC ERGO provides 24/7 global assistance, ensuring that help is always available during medical or travel-related emergencies, no matter where you are.
- Customised Plans: With a variety of plans on offer, you can choose one that perfectly fits your travel needs, whether you're travelling solo, with family, or for study purposes.
- Quick and Hassle-free Claim Process: In the event of an unfortunate incident, HDFC ERGO ensures a swift and straightforward claim process, reducing additional stress during challenging times.
- Quality Healthcare: Access to a wide network of hospitals and healthcare providers globally, ensuring that quality medical care is readily available during emergencies.
- Visa Assistance: While travelling to any country, one of the key requirements for getting a visa is having a valid travel insurance document. Hence it is advised to always buy international travel insurance for ease of visa processing and travel.
Key Features of HDFC ERGO Travel Insurance



HDFC ERGO Travel Insurance is designed to cater to the diverse needs of travellers, ensuring they can enjoy their travels with peace of mind. Here are some of the key features that make HDFC ERGO Travel Insurance a popular choice:




1. Comprehensive Coverage

HDFC ERGO offers a broad range of coverage including emergency medical expenses, personal accident, baggage loss, and trip delays, ensuring that most aspects of your travel are secure.




2. Emergency Medical Expenses

The policy covers medical treatment costs incurred due to accidents or illnesses during the trip, including medical evacuation if necessary.




3. 24/7 Support

Policyholders have access to a 24/7 support hotline for assistance services, which is invaluable in the event of an emergency.




4. Easy Online Process

From purchasing the policy to making claims, everything can be done online with a user-friendly interface, providing convenience and ease of use.




5. No Health Check-ups

There are no mandatory health check-ups required up to a certain age for purchasing the insurance, making the application process quicker and hassle-free.




6. Baggage Cover

HDFC ERGO provides cover for lost checked-in baggage, giving you peace of mind in case of mishandled or lost luggage during your travels.




7. Trip Cancellation and Interruption

The insurance also covers financial losses if your trip is cancelled or interrupted due to unforeseen events.




8. Personal Liability Cover

In the event that you become legally liable for accidental bodily injury or property damage to a third party, the policy provides personal liability cover.




9. Customisable Plans

You can tailor your travel insurance plan with various add-ons to suit your travel needs, be it for leisure, business, or education.




10. Cashless Hospitalisation

The policy facilitates cashless hospitalisation at a wide network of hospitals worldwide, easing the burden of medical expenses while travelling.




11. Home Insurance Benefit

An additional benefit of home insurance is provided to protect your home against fire and burglary while you are travelling.




12. Multi-Trip Coverage

For frequent travellers, there is an annual multi-trip policy that covers multiple trips throughout the year, saving the hassle of purchasing separate policies.




13. Passport Loss Assistance

The policy covers expenses for obtaining a new or duplicate passport if yours is lost during your travels.




14. Global Presence

HDFC ERGO has a vast global network, providing assistance and support services in many countries across the world.




15. Automated Claims Processing

The claims process is automated for ease and efficiency, ensuring quick resolution and settlement of valid claims.




Benefits of HDFC ERGO Travel Insurance
HDFC ERGO Travel Insurance is designed to alleviate the concerns of travellers by offering numerous benefits that ensure a safe and worry-free journey. Below are some of the key benefits that policyholders can enjoy:




1. Wide-Ranging Medical Coverage

HDFC ERGO Travel Insurance provides extensive medical coverage that includes hospitalisation expenses, outpatient treatment, and even the cost of transporting the insured back to India for medical treatment if necessary.




2. Emergency Assistance Services

In the event of an emergency, the policy includes services such as emergency medical evacuation, repatriation of remains, and assistance in case of loss of passport or travel documents.




3. 24/7 Customer Support

Customers have access to 24/7 customer support to assist with any inquiries or issues that may arise during their trip, from policy questions to emergency assistance.




4. Convenience of Cashless Transactions

The policy offers the convenience of cashless transactions for medical treatments, allowing travellers to receive necessary care without the immediate burden of payment.




5. Personal Accident Coverage

The insurance provides a lump sum payment in the unfortunate event of death or permanent disability due to an accident during the trip.




6. Baggage and Personal Effects Coverage

Compensation for lost, stolen, or damaged baggage and personal effects ensures that travellers are not left without essentials or face financial loss.




7. Trip Delay and Cancellation Reimbursement

Reimbursement for trip delays, cancellations, and interruptions due to covered events, such as illness or natural disasters, helps to mitigate the financial impact on the traveller.




8. Home Burglary Insurance

A unique benefit of home burglary insurance offers protection for the policyholder's home against burglary while they are travelling.




9. Pre-Existing Disease Cover

The policy can cover emergency medical expenses arising from pre-existing conditions under life-threatening situations, providing an additional safety net.




10. Automatic Extension of Policy

In certain cases, such as a medical emergency or flight delay, the policy can be automatically extended, providing continued coverage without additional charges.




11. Global Safety Net

With a presence in numerous countries, the policy acts as a global safety net, offering protection no matter where you are.




12. Quick and Easy Claims Settlement

The claims process is designed for quick and easy settlement, ensuring that valid claims are processed and resolved without unnecessary delay.




13. No Medical Check-Ups

For individuals up to a certain age, there are no medical check-ups required to avail of the insurance, making the process swift and hassle-free.




14. Legal Liability Coverage

The policy covers legal liability in case of accidental damage or bodily injury caused to a third party, providing legal and financial assistance.




15. Optional Cover Enhancements

Policyholders have the option to enhance their coverage with add-ons like adventure sports cover, increased accidental death and disability cover, and more for an additional premium.
Different Travel Plans offered by HDFC ERGO
1. HDFC ERGO Individual Travel Insurance
- Overview: Tailored for the individual traveller, this plan provides comprehensive coverage to safeguard against unexpected mishaps and inconveniences during the journey.
- Who It's Suitable For: Ideal for business travellers, solo adventurers, and individuals travelling for leisure or work.
- Key Features:
- Medical emergency coverage
- Trip delays and cancellations
- Loss of baggage and travel documents
- Personal accident cover
- Customizability: Options available to tailor the policy based on the specific needs and itinerary of the traveller.
2. HDFC ERGO Family Travel Insurance
- Overview: A plan designed to cover the entire family under a single policy, ensuring that all members are protected against unforeseen events during travel.
- Who It's Suitable For: Families travelling together for vacations, visits, or any other purposes.
- Key Features:
- Comprehensive medical cover for all family members
- Coverage for trip-related inconveniences
- Loss of belongings and travel documents
- Flexibility: Allows inclusion of all family members, providing collective coverage and benefits.
3. HDFC ERGO Annual Multi-Trip Insurance
- Overview: Perfect for frequent travellers, this plan offers annual coverage for multiple trips undertaken throughout the year.
- Who It's Suitable For: Business travellers, corporates, and individuals who travel frequently.
- Key Features:
- Continuous coverage for multiple trips
- Medical emergencies and accidents
- Trip cancellations and delays
- Efficiency: Eliminates the need to purchase a new policy for each trip, ensuring hassle-free travel experiences.
4. HDFC ERGO Student Travel Insurance
- Overview: Customised for students travelling abroad for studies, focusing on the unique risks and challenges they might face.
- Who It's Suitable For: Students going abroad for higher education or related activities.
- Key Features:
- Health and medical coverage
- Study interruptions
- Sponsor protection
- Support: Dedicated to assisting students in navigating through emergencies and uncertainties effectively during their educational journey abroad.
Each of these plans offered by HDFC ERGO is meticulously crafted to cater to the diverse needs of travellers, ensuring that they are well equipped to manage and navigate through the uncertainties of travel with utmost peace of mind and assurance.
What does HDFC Ergo Travel Insurance Cover?
Speaking of the specifics, HDFC ERGO Travel Insurance offers a comprehensive cover that addresses various aspects to safeguard travellers against potential risks and inconveniences during their journey. Here's a breakdown of the core coverage areas:
1. Medical Emergencies and Assistance:
Comprehensive coverage for medical emergencies, including hospitalisation, outpatient treatment, and other related expenses. Provides necessary assistance services, such as medical evacuation and repatriation.
2. Personal Accident:
Coverage against accidental death or permanent total disability incurred during the journey.
3. Trip Inconveniences:
Protection against trip-related inconveniences such as cancellations, delays, and missed connections. Coverage for loss of checked-in baggage or delays in baggage receipt.
4. Loss of Documents:
Assistance and coverage for the loss of essential travel documents such as passports and visas.
5. Personal Liability:
Financial protection against legal liabilities arising due to accidental injuries to third parties or damage to their property.
6. Emergency Cash Benefits:
Provision of emergency cash in case of distress situations like theft or robbery.
7. Assistance Services:
24/7 support services for various travel-related queries and assistance needs.




These are the fundamental areas that HDFC ERGO's travel insurance aims to cover, ensuring that travellers are well-prepared to face uncertainties and challenges that may arise during their trips. The focus is on offering travellers peace of mind, empowering them to enjoy their journeys to the fullest without having to worry about potential risks and hurdles.
What Does A Travel Insurance Policy Not Cover?
Even though travel insurance offers extensive protection, there are certain exclusions that travellers should be aware of:
- Pre-existing Medical Conditions: Most travel insurance policies do not cover the treatment costs of pre-existing medical conditions unless explicitly stated. Hence, please read the documents carefully. Additionally, across insurers where pre-existing medical conditions are covered, the coverage is generally till some % of the Sum Insured such as 10%.
- Adventure Sports and Hazardous Activities: Injuries sustained during adventure sports or other hazardous activities are typically not covered.
- Travel for Medical Treatment: Trips undertaken explicitly for the purpose of receiving medical treatment are not covered.
- Drug or Alcohol Influence: Incidents occurring under the influence of drugs or alcohol, leading to accidents or medical emergencies, are usually not covered.
- War and Civil Disturbance: Risks associated with war, civil unrest, or similar large-scale disturbances are excluded from coverage.
- Unreported Losses: Any loss or theft that is not reported to the appropriate authorities promptly might not be covered.
By understanding the inclusions and exclusions of HDFC ERGO's travel insurance, travellers can make informed decisions and choose a policy that best aligns with their needs, ensuring a safe and secure travel experience.
Things To Consider While Buying HDFC Ergo's Travel Insurance
Buying travel insurance that fits all your needs may seem a daunting task as there are a number of factors that need to be considered during the process. So, to help you out, we have created a list of factors that should be taken into account when buying travel insurance.
Like any other factor, the destination has an equal role to play in buying travel insurance. For instance, if you are heading out to perform adventure activities in a foreign land, then it is vital that you buy additional coverage for such activities. So, buy travel insurance based on the destination you are travelling to.
If you are a frequent traveller, then it makes sense to buy a multi-trip travel insurance plan to save both time and money. Furthermore, if you often travel with your family, it is better to buy group plans instead of individual travel insurance plans.
The cost of the premium for travel insurance also varies depending on the duration of your trip.
While buying any travel insurance plan, you must always keep the sum insured in mind. The sum insured in travel insurance refers to the maximum amount paid by the insurance company in case any mishaps take place during your journey. It is important to note that the higher the sum insured, the higher will be the travel insurance costs.
You can include a number of add-ons in your travel insurance plan to further enhance its benefits. Some of the add-ons available are Adventure Sports Cover, Emergency Hotel Accommodation Cover, Baggage Loss, Trip Delay, etc. Moreover, it is important for the insured to declare in advance if they suffer from any pre-medical condition. Doing so helps to evaluate the premium and if in any case, you fail to inform about your pre-existing medical condition, then there will be a difficulty at the time of claim settlement.
Compare The Different Travel Insurance Plans
There are a plethora of other insurance companies that are now offering travel insurance plans and there are different offerings in these plans. Identify what services are provided, whether they provide cashless hospitalisation, how their claim settlement process works and more when comparing travel insurance plans. Only after comparing the available travel insurance plans, purchase the one that best suits your needs.
Understand The Exclusions
Before buying any type of travel insurance, always enquire about the exclusions along with what is being offered under the policy. As the exclusions vary from insurer to insurer, it is always better to keep a check on the same beforehand.
In addition to those listed above, there are certain things that you need to consider while buying a travel insurance plan online such as the following:
It is very important that the policyholder completes the KYC process. Please note that the KYC has to be completed only for 1 proposer, even if there are multiple travellers.

Policyholders also need to fill out the proposal form and enter details like name, address, nominee details, and others
How to Buy HDFC ERGO Travel Insurance Online?
Purchasing HDFC ERGO travel insurance online is a straightforward process that allows travellers to get comprehensive coverage with ease and convenience. Here's a step-by-step guide on how to do it:



1. Visit an insurance aggregator such as InsuranceDekho.com or through HDFC ERGO Website: Navigate to the official InsuranceDekho.com website to explore various travel insurance plans.




2. Choose Your Plan: Select a plan that best suits your travel needs, whether it's individual, family, student, or multi-trip insurance.




3. Fill in the Details: Enter essential information such as travel dates, destinations, and traveller details to get a quote for the chosen plan.




4. Review and Customise: Review the coverage offered and customise it by adding necessary add-ons or modifying the sum insured to fit your requirements.




5. Make the Payment: Complete the purchase by making a secure online payment through available options like credit/debit card or net banking.




6. Receive Policy Documents: Once the payment is successful, the policy documents will be sent to your registered email, ensuring that you have all the necessary information readily available during your trip.




By following these steps, travellers can ensure they are adequately insured, allowing them to embark on their journey with peace of mind, knowing that they are protected against unforeseen circumstances, including those related to COVID-19.
How to Modify or Extend an Existing Travel Insurance Policy?
Navigating through travel changes can be challenging, but modifying or extending your HDFC ERGO travel insurance policy doesn't have to be. Here's a simplified guide to help you through the process:
1. Contact Customer Service: Reach out to HDFC ERGO's customer service through email or a phone call to inform them about the necessary modifications or the extension required in your policy.
2. Provide Necessary Information: Be ready with your policy details and information about the changes needed, whether it's extending the policy dates, adding destinations, or increasing the sum insured.
3. Review Changes and Premiums: Once the changes are processed, review them thoroughly. There might be an additional premium for the extension or modification, which you will be informed of.
4. Make the Payment: If there's an additional premium, complete the payment online through secure payment options available.
5. Receive Updated Policy: After the modifications are completed and payment is received, an updated policy document will be emailed to you, ensuring that you're covered according to your latest travel plans.
How to Claim Travel Insurance?
Making a claim on your HDFC ERGO travel insurance is designed to be a smooth process. Here's how you can go about it:



1. Inform the Insurer: Contact HDFC ERGO's claim assistance as soon as possible. Provide them with policy details and information regarding the incident leading to the claim.




2. Provide Necessary Documentation: Prepare and submit the required documents supporting your claim. This may include medical reports, bills, travel documents, or any other relevant paperwork.




3. Claim Assessment: HDFC ERGO will assess the claim based on the provided documents and policy terms. Additional information may be required during this process.




4. Claim Approval and Settlement: Once the claim is approved, the settlement will be processed promptly. The claim amount will be disbursed according to the policy terms and coverage.




5. Assistance and Follow-Up: Throughout the claim process, HDFC ERGO's customer support will assist you, keeping you informed and guiding you through each step.




Having a clear understanding of these procedures ensures that you can utilise your travel insurance effectively, giving you peace of mind during your travels.



Does HDFC ERGO's Travel Insurance Cover COVID-19?
The COVID-19 pandemic has made it more crucial than ever to have travel insurance that covers pandemic-related emergencies. HDFC ERGO has adapted its policies to the current global health crisis by providing coverage that includes COVID-19 related emergencies. Here's what you need to know:
- Medical Emergencies: HDFC ERGO's travel insurance offers coverage for medical emergencies resulting from COVID-19, ensuring that travellers receive necessary medical care and attention promptly.
- Quarantine Coverage: Expenses related to mandatory quarantine due to COVID-19 suspicion or diagnosis are covered, helping travellers manage additional unexpected costs.
- Trip Cancellations and Delays: The insurance policy provides coverage in the event that your trip gets cancelled or delayed due to COVID-19-related restrictions or health issues.
- 24/7 Assistance: HDFC ERGO offers continuous assistance to travellers to navigate through medical and travel-related queries or emergencies resulting from the pandemic.
Documents Required for the Claim Process



When filing a claim with HDFC ERGO Travel Insurance, it's essential to provide the necessary documentation to ensure that the process is smooth and your claim is processed efficiently. Here's a list of common documents that you might be required to submit for a claim:




1. Claim Form

A duly filled and signed claim form that is provided by HDFC ERGO is the first and foremost document required to initiate any claim.




2. Passport Copy

A copy of the information pages of your passport that verifies your travel dates and identity.




3. Proof of Travel

Evidence of your travel plans such as ticket copies, boarding passes, or a confirmation from the airline or travel agency indicating the dates and destinations of your journey.




4. Medical Documents

In case of medical claims, you will need to provide detailed medical reports, hospital bills, prescriptions, and a statement from the attending physician detailing the nature of the emergency and treatment provided.




5. Police Report

For claims involving loss or theft, such as baggage or personal belongings, a copy of the police report filed at the location where the incident occurred is required.




6. Original Receipts or Bills

Submit all original receipts and bills for expenses incurred, whether they are for medical treatment, purchase of essentials due to delayed luggage, or accommodation due to travel delays.




7. Proof of Ownership

In the event of loss or theft, proof of ownership for the lost or stolen items, such as purchase receipts or warranty cards, may be requested.




8. Communication with Airlines

If your claim involves baggage delay or loss by an airline, provide documented communication with the airline, including the Property Irregularity Report (PIR), acknowledgement of delay or loss, and receipts for any interim purchases.




9. Death Certificate

In the unfortunate event of a death claim, a death certificate and possibly a post-mortem report are required.




10. Proof of Accident

In case of an accident-related claim, documentation such as a hospital admission note, doctor's notes, and accident reports can be necessary.




11. Cancellation Documents

For trip cancellation claims, documentation supporting the reason for cancellation, such as a doctor's note or employer's letter, along with proof of refund amounts from airlines or tour operators, is needed.




12. Payment Receipts

For any paid services that you are claiming, such as repatriation or legal expenses, receipts of payment will be necessary.




13. Any Other Relevant Documentation

This may include any additional documents requested by HDFC ERGO that are specific to your claim situation, such as a third-party liability claim or additional purchase proofs.



Final Thoughts
HDFC ERGO Travel Insurance aims to make your travel experiences smoother and more secure, offering a range of plans tailored to various travel needs, whether you're travelling alone, with family, or for educational purposes. The comprehensive coverage, easy online purchase, and straightforward claim process make it a reliable choice for travellers seeking protection against unexpected mishaps during their journeys.
Ensuring you're well-informed about your policy's inclusions, exclusions, and the necessary procedures in case modifications or claims are required, will enable you to make the most out of your HDFC ERGO Travel Insurance. So, embark on your adventures with the reassurance that comes with having a robust travel insurance policy backing you up.
Frequently Asked Questions (FAQ)
Is family travel insurance available with HDFC ERGO?

Yes, HDFC ERGO provides a family travel insurance plan which offers coverage for the entire family under a single policy during a trip.

Can I modify my policy after purchasing it?

You can modify certain details of your policy after purchasing, but major changes like increasing the sum insured might not be possible. It's advisable to contact HDFC ERGO customer care for modification requests.

Does HDFC ERGO Travel Insurance cover COVID-19-related medical expenses?

Yes, HDFC ERGO Travel Insurance offers coverage for medical expenses related to COVID-19, subject to policy terms and conditions.

Can I extend my HDFC ERGO Travel Insurance if my stay is extended?

Yes, you can extend the policy online by logging into the customer portal on HDFC ERGO's official website, provided there are no claims on the policy.

How can I purchase HDFC ERGO Travel Insurance?

You can easily purchase HDFC ERGO Travel Insurance online through their official website by choosing the suitable plan, filling in the necessary details, and making the payment.
Insurance Dekho Contact Details
Reach us for help anytime
Insurance Dekho

755 1196 989

Mon to Sun 10:00 AM to 7:00 PM