Claim, renew, manage & more
Login
Travel Insurance for UK from India
From picturesque castles to mesmerizing cities, the United Kingdom or the UK is a haven for tourists from all over the world. Apart from sightseeing, many people also visit the UK for pursuing education at some of the top universities such as Cambridge University, Oxford University, and Edinburgh University or for work opportunities. When you travel to the UK, it is important to secure your trip with travel insurance plans. A travel insurance plan offers much-needed assistance when you are in a foreign land. So, here is a guide on UK Travel Insurance.
Why Do You Need Travel Insurance When Travelling from India to the UK?
Travelling from India to the United Kingdom is an adventure, often the culmination of much planning and anticipation. But with every journey comes the risk of the unexpected. Travel insurance acts as a crucial safeguard, protecting you against unforeseen events that could impact your trip. Here's why having travel insurance is essential when you're heading from India to the UK:
Medical Emergencies:
The UK has an excellent healthcare system, but as a visitor, you may not be eligible for free healthcare under the National Health Service (NHS). Medical treatment can be incredibly costly, and having travel insurance ensures you're not left facing hefty medical bills.
Trip Cancellations or Delays:
Should your flight be cancelled or you miss a connection due to delays, travel insurance can cover the expenses of new travel arrangements and accommodation.
Lost or Delayed Baggage:
It's not uncommon for luggage to go astray. Travel insurance can compensate you for the loss of personal belongings and cover essentials while your luggage is tracked down.



Repatriation Costs:
In the unfortunate event of death, travel insurance covers repatriation costs, relieving a significant financial burden from your loved ones.



Personal Liability:
If you accidentally cause injury to someone or damage their property, travel insurance can cover your liability and legal expenses.



Travel Advisories and Warnings:
Given the current global uncertainties, including health alerts and security concerns, travel insurance gives you recourse if you must alter your plans due to advisories or warnings.



Peace of Mind:
Beyond the tangible benefits, travel insurance provides peace of mind. Knowing that you have a fallback can make your trip more enjoyable and stress-free.




While the UK may not mandate travel insurance for Indian visitors, the cost of not having it could be far greater than the premium you'd pay. It's an investment in your well-being and ensures that your trip remains memorable for all the right reasons. As you pack your essentials for your UK journey, let travel insurance be on top of your list – your personal shield against the unpredictable elements of global travel.

Buy Best Travel Insurance Plans for your Overseas Journey from Just ₹552 Onwards*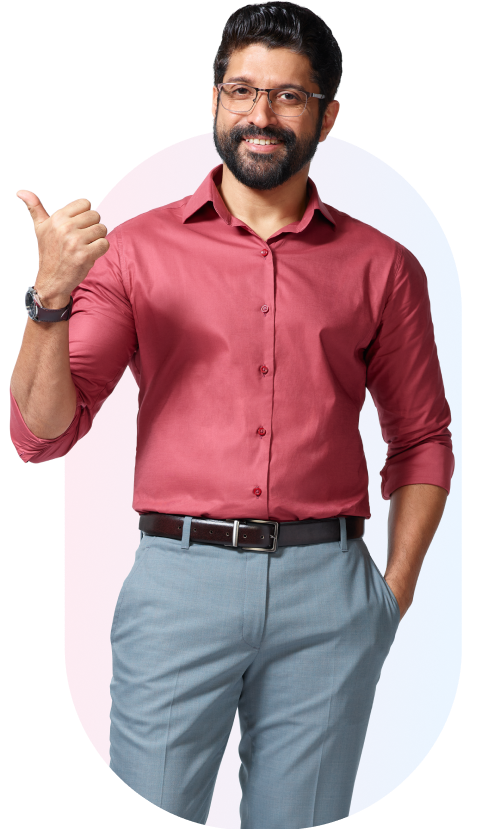 Loss of passport

Emergency Medical cover

Trip delay cover

Loss of baggage cover
*Standard Terms and Conditions Apply.
Key Benefits Of UK Travel Insurance
It goes without saying that having a travel insurance policy when you travel to the United Kingdom or the UK provides a safety net. So, listed below are the benefits of having UK Travel Insurance:
Travel Assistance: With Travel Insurance, you can get 24*7 travel assistance and stay protected against all uncertainties.

Personal Liability Cover: UK Travel Insurance offers cover for personal liability in case you injure or hurt any third party during your trip.

Offers Medical Expenses: In case you fall ill during your trip to the UK, then travel insurance covers all the incurred medical expenses. The expenses for medical evacuation are also provided.

Passport & Baggage Loss Benefit: With Travel Insurance plans, you can also get protection if your passport or baggage is lost or misplaced while travelling to the UK.
Inclusions & Exclusions Of UK Travel Insurance
There are certain inclusions and exclusions to UK Travel Insurance, a list of which has been provided below:
Inclusions
Medical expenses for any illness that occurs during the trip are covered

Emergency cash allowance

Compensation for lost or delayed baggage

Coverage for delayed or cancelled trips and flights

Coverage for lost or damaged passport
Exclusions
Any pre-existing diseases are not covered

Any injury due to self-harm is uncovered

Damage to a third party or any injury due to consumption of alcohol and other intoxicants are not covered

Any damage that happens if the policyholder violates the law of UK is not covered
Tourist Places To Visit In the UK
Dotted with some of the best tourist places, the list of places to visit in the UK is certainly a long one. To help you out, in the section below we have curated a list of the best tourist places to visit in the UK:
Big Ben: One of the best places to catch the views of sunrise and sunset is Big Ben in the UK. Owing to its stunning beauty and significance, Big Ben has even been declared a UNESCO World Heritage Site. Moreover, artists from all over the world make a visit to this alluring site to gain artistic inspiration.

Hyde Park: Hyde Park in London is one of the best parks in London. It was once used as a hunting ground and is located near Kensington Palace. A visit to Hyde Park in London can provide you with views of the daily lives of the locals as well as know about their culture. Many tourists enjoy a picnic at this park or some simply click a bunch of pictures to head back with a bagful of memories.

Edinburgh: The capital city of Scotland, Edinburgh experiences a huge tourist footfall. The city is home to some of the worth-visiting places like Edinburgh Castle, Royal Palace, Scottish War Memorial, and so many more.

Giant's Causeway: Another place to visit in the United Kingdom is Giant's Causeway. It is also a World Heritage Site and is a place that has varied columns of different sizes. Moreover, this site of the natural phenomenon was formed 50 billion years ago and has 4,000 polygonal-shaped steps.

London Eye: Located near the river Thames, the London Eye is perched at a height of 140 meters. Offering panoramic views of the city and skyline, the London Eye surely tops the list of tourist attractions in London.
Essentials For Indian Citizens Travelling To the UK
In addition to buying travel insurance for a trip to the UK, it is also important to have a valid UK Visa. A UK Visa is indeed the most important document that you need to carry while travelling to the UK. Any foreigner visiting the UK must have a valid visa. As the type of UK visa varies depending on the objective of travel, here are some of the different types of UK Visa:




Based on the duration of stay, the UK visa can be either short-term or long-term visa. You can apply for a UK visa at a British Embassy or Consulate.



How to Buy Travel Insurance for UK
Buying travel insurance for a trip to the UK from India has been streamlined thanks to digital advancements. Here's a step-by-step guide on how to secure this essential travel protection:
Step 1: Assess Your Travel Insurance Needs
Consider the nature of your trip, the duration, and any specific activities you plan to undertake that may require additional coverage, such as adventure sports.



Step 2: Research and Compare Policies
Look at different travel insurance policies offered by various insurers. Compare them based on coverage options, claim settlement ratio, customer reviews, and premium costs.



Step 3: Choose the Right Coverage
Select a policy that provides comprehensive coverage, including medical expenses, trip cancellation, loss of baggage, and other emergencies.



Step 4: Fill Out the Application
Once you've chosen a provider, fill out the application form. This will typically require personal details, travel details, and any pre-existing medical conditions.



Step 5: Review Policy Details
Carefully review the policy terms and conditions. Ensure that the coverage limits are sufficient and that you understand the policy exclusions.



Step 6: Purchase the Policy
After reviewing, you can purchase the policy online through the insurer's website. Payment can be made via credit/debit card, net banking, or mobile wallets.



Step 7: Receive Policy Documentation
Upon successful payment, you will receive your policy documentation via email. Some insurers also offer the option to receive a hard copy by post.



Step 8: Check for Medical Network Abroad
Ensure your insurer has a direct billing arrangement with a network of hospitals in the UK. This makes accessing healthcare much more straightforward in case of an emergency.



Step 9: Review and Understand the Claims Process
Familiarize yourself with the claims process of your insurer. Know the documents required and the procedure to follow in case you need to file a claim.



Step 10: Keep Support Contact Information Handy
Keep the contact information for the insurance provider's support team easily accessible during your trip, in case you need assistance.




When buying travel insurance for the UK, look for insurers that offer a seamless purchase experience with a user-friendly interface and reliable customer support. Make sure to buy your insurance well in advance of your trip to ensure coverage from the moment you start your journey.



How to Claim for UK Travel Insurance?



Claiming on your UK travel insurance from India involves a series of steps that you should follow to ensure a smooth process. Here's what you need to know:



Step 1: Immediate Notification
As soon as an event occurs that may lead to a claim, inform your insurance provider immediately. Most insurers have 24/7 assistance lines for such notifications.



Step 2: Collect Documentation
Gather all necessary documents relevant to the claim. This typically includes:

- Medical reports and hospital bills, if it's a medical emergency.

- Police reports, in case of theft or loss.

- Receipts or proof of ownership for lost or damaged items.

- Travel documents showing the dates of your journey.

- Any correspondence with airlines in case of delays or cancellations.



Step 3: Fill Out the Claim Form
Fill in the claim form provided by the insurer. Provide all details accurately, outlining what happened and the extent of the losses incurred.



Step 4: Submit the Claim Form and Documents
Submit the completed claim form along with all the supporting documents to your insurance provider, adhering to the timelines specified in the policy.



Step 5: Review by Insurance Company
The insurance company will review your claim. They may request additional information or clarification if needed.



Step 6: Claim Settlement
If the claim is approved, the insurer will settle the claim as per the terms and conditions of the policy. Payment can be made directly to the service provider, like hospitals, or reimbursed to you for expenses already incurred.



Step 7: Follow-up
If your claim is rejected and you believe it to be unfair, you can follow up with the insurer for a detailed explanation. If necessary, you can escalate the matter to the insurance ombudsman.



Tips for a Hassle-Free Claim Process:
- Always be honest and provide accurate information to the insurer.

- Keep multiple copies of all documents submitted.

- Be aware of the deadlines for notifying the insurer and submitting claims.

- Know the policy's coverage details and exclusions to avoid invalid claims.

- If in doubt, contact your insurer for guidance on proceeding with a claim.



Emergency Assistance:
For emergency assistance, most insurers have dedicated helplines. Store these numbers on your phone and keep a physical copy with your travel documents.




By following these steps and staying prepared, you can navigate the claims process for your UK travel insurance with confidence and ease.



Documents Required While Travelling from India to the UK



When travelling from India to the UK, it's crucial to ensure that you have all the necessary documents to avoid any inconveniences during your journey. Here's a list of essential documents you should have ready:



Passport
Your passport is the most critical travel document. Ensure it is valid for at least six months from the date of your entry into the UK.



UK Visa
As an Indian citizen, you need a valid UK visa appropriate for the purpose of your visit, whether it's for tourism, work, study, or joining family.



Travel Insurance Policy
Carry a copy of your travel insurance policy. It should ideally include coverage for medical expenses, theft, loss, and travel disruptions.



Flight Tickets
Confirmed return flight tickets are often checked by immigration officials to confirm your intent to return to India.



Accommodation Details
Proof of where you will be staying in the UK, whether it's a hotel booking or an invitation letter from a host.



Financial Proof
Evidence of sufficient funds for the duration of your stay, such as recent bank statements, payslips, or travelers' cheques.



Letter of Invitation (If Applicable)
If visiting friends or family, a letter of invitation from them may be required, along with their address and contact details.



Travel Itinerary
A schedule of your travel plans within the UK, including any tours booked, places of interest, and any internal travel arrangements.



Health Documentation
Depending on the health requirements at the time of travel, you may need to show proof of vaccinations or a negative COVID-19 test.



Emergency Contact Information
Details of emergency contacts, both within India and the UK.



Additional Supporting Documents
This may include:

- Employment letter and leave sanction letter from your employer in India.

- Student ID or admission proof if you're visiting for educational purposes.

- Any other document as specified by the UK embassy or consulates at the time of visa application.



Photocopies of All Documents
It's wise to carry photocopies of all your documents in case of loss or theft.



Electronic Copies
Have electronic copies of all your documents stored securely online for easy access if needed.




Before departure, it's advisable to check for any updates or additional document requirements with the UK embassy or consular offices in India. Being thoroughly prepared with the right documentation will help ensure a smooth entry into the UK and a pleasant stay.



Currency and Foreign Exchange Details
When traveling to the UK from India, understanding currency and foreign exchange details is crucial to manage your travel budget effectively. Here are the key points you should be aware of:



Currency Information:
- The official currency of the United Kingdom is the British Pound Sterling (GBP or £).

- Banknotes come in denominations of £5, £10, £20, and £50. Coins are available in 1p, 2p, 5p, 10p, 20p, 50p, £1, and £2.



Exchange Rates:
- Before you travel, check the current exchange rate between the Indian Rupee (INR) and the British Pound Sterling.

- Exchange rates fluctuate daily, so it's advisable to monitor the trend before exchanging large sums.



Where to Exchange Money:
- It's generally more cost-effective to exchange currency at a bank or through an authorized foreign exchange dealer in India before you travel.

- You can also exchange money at the airport, but the rates may be less favorable.

- In the UK, bureaux de change at airports, banks, and specific foreign exchange outlets can be used, though their rates may vary.



Using ATMs:
- Withdrawing money from ATMs in the UK can be convenient. Check with your bank about international withdrawal fees and the exchange rates they offer.

- Inform your bank of your travel dates so they don't block your card for suspected fraud.



Credit and Debit Cards:
- Visa and MasterCard are widely accepted in the UK. Inform your card issuer about your travel plans to prevent any blocks on your card due to foreign transactions.

- Be aware of transaction fees for using your card abroad and additional charges for currency conversion.



Prepaid Forex Cards:
- Consider using prepaid forex cards, which can be loaded with GBP and used like a debit card. They often offer better exchange rates and lower withdrawal fees than traditional bank cards.



Carrying Cash:
- While it's a good idea to carry some cash, you don't need to carry large amounts due to the widespread acceptance of cards and electronic payments.

- Keep cash in a safe place and be mindful of security, particularly in crowded places.



Budgeting:
- Plan your daily budget considering food, transportation, entrance fees for attractions, and shopping.

- Always have a little extra in your budget for unforeseen expenses.



Receipts and Records:
- Keep all receipts from currency exchanges and ATM withdrawals until you've confirmed the transactions on your bank statements.

- Ensure you declare cash over a certain amount if required by customs on entry and exit from the UK.



VAT Refund:
- If you make certain purchases in the UK, you may be eligible for a VAT refund. Check the eligibility and process before you shop.




By being well-informed about currency and foreign exchange details, you can avoid unnecessary fees and have a smooth financial experience during your travel to the UK. Remember to notify your bank of your travel dates, keep a close eye on your budget, and always have a backup financial option available.



Indian Embassy in the UK Details



If you're an Indian citizen traveling to the UK, it's important to be aware of the Indian Embassy's location and the services it provides. Below is detailed information for the Indian Embassy in the UK that could be useful during your stay:



Indian Embassy in the UK Details:



Embassy in London:

- Address: India House, Aldwych, London WC2B 4NA, United Kingdom

- Telephone: +44 207 836 8484

- Fax: +44 207 836 4331

- Email: [info@hcilondon.in](mailto:info@hcilondon.in)

- Website: [https://www.hcilondon.gov.in/](https://www.hcilondon.gov.in/)

- Office Hours: Typically, 9:30 AM to 6:00 PM from Monday to Friday. It's advisable to check the website for the latest timings and any changes due to public holidays.



Consulates in Other Cities:
- There are also Indian Consulates-General in Birmingham and Edinburgh, should you be located closer to those cities or in case of specific regional issues.



Services Offered:
- Passport Services: Renewal of Indian passports, emergency certificates for repatriation to India, etc.

- Visa Services: Assisting with the issuance of visas to visit India for UK nationals and foreign residents in the UK.

- OCI Cards: Application and issuance of Overseas Citizenship of India cards.

- Consular Services: Attestation of documents, issuing emergency travel documents, addressing issues related to Indian nationals in distress, etc.

- Education and Culture: Promoting Indian culture and educational collaborations between India and the UK.

- Trade and Investment: Facilitating economic and trade relations, assisting with business setups, etc.



Important Points:
- Emergency Services: The Embassy provides a 24-hour emergency helpline for Indian citizens in distress.

- Registration: It's advisable for Indian nationals residing in the UK for an extended period to register with the Embassy or the nearest Consulate.

- Events and Notices: Keep an eye on the Embassy's website or subscribe to their notifications for information on events, changes in regulations, or important notices for Indian citizens.

- Stay Informed: Follow the Embassy's social media channels for the latest news and updates.




Before you travel, it's a good idea to note down these details or save them on your mobile device. In case of any legal difficulties, loss of passport, or emergency situations, the Indian Embassy will be your go-to point for assistance and guidance. It's also recommended to familiarize yourself with the location of the Embassy or Consulate and its proximity to your place of stay in the UK.
UK Travel Safety And Tips
The rules and regulations vary depending on the country you are visiting. Even, during your visit to the UK, you need to be aware of certain travel safety tips, as listed below:
Follow the local news to be aware of what is happening in the UK.

Though the police take care of all the mishaps, if you land in any difficult situation in the UK, dial the emergency number 999 or 112.

Do not indulge in any fights or violate local customs.

Carry necessary documents like visa, and passport, while travelling in and around the UK.

Make sure to carry cash in the local currency of the UK, i.e pound sterling.
Airports In The UK
Prior information about the airports in the UK will help you plan your UK Trip accordingly. So, listed below are the top airport in the UK:
Heathrow Airport

Gatwick Airport

Manchester Airport

Birmingham Airport

Leeds Bradford Airport

Stansted Airport

Luton Airport

London City Airport

NewCastle International Airport

Edinburgh Airport
Best Time To Visit the UK
The best time to make a visit to the United Kingdom is during the month of August-November or February-April during which the weather remains relatively pleasant. You must avoid going to the UK during winter months as most of the places in the UK experience chilly temperatures and make it uncomfortable for sightseeing and indulging in other activities.
Things To Do In the UK
While the purpose of a trip to the UK may be varied, there are a few things that all must do. So, here is a list of some of the best things to do in the UK:
Visit Windsor Castle: Windsor Castle is located in Berkshire. Tourists visiting this significant castle can get a display of the Royal family. Windsor Castle was built in the 11th century and has been hosting several significant political events.

Explore the famous universities: the UK is home to some of the famous universities such as Cambridge University, Oxford University, Edinburgh University, and so many more. You can also make a visit to these universities, while in the UK.

Relish the local cuisines: A trip to the UK is simply incomplete without you relishing the local British delicacies such as the cottage pie, bangers and mash, welsh cawl, and more.

Capture amazing views of London Bridge: The London Bridge has been built several times and was once the only bridge to offer a crossover of the Thames river. Tourists from all over visit this bridge and capture alluring views of the Thames river and London Bridge.
Frequently Asked Questions (FAQ)
Is it mandatory to have travel insurance while travelling to the UK?

Yes, it is mandatory to have travel insurance while travelling to the UK.

Why should I buy travel insurance for the UK?

You should buy travel insurance for the UK to stay protected against any unforeseen event that may arise during your trip. Travel insurance also has other benefits like providing emergency cash allowance, offering coverage for lost baggage, and more.

Can I compare the travel insurance plans?

Yes, it is always a better idea to compare different travel insurance plans to buy the desired plan at an affordable price.

Can I apply for a Schengen visa for going to the UK?

No, a Schengen visa is not applicable for going to the UK.

What is the best time to visit the UK?

The best time to visit the UK is during the month of August-November or February-April.
Insurance Dekho Contact Details
Reach us for help anytime
Insurance Dekho

755 1196 989

Mon to Sun 10:00 AM to 7:00 PM