Claim, renew, manage & more
Login
Mauritius Tourist Visa From India
A slice of paradise located in the vast Indian Ocean, Mauritius is a dream destination for travellers seeking beautiful beaches, lush landscapes, and a rich tapestry of cultural influences. But before packing your bags and setting off to this breathtaking island nation, it's essential to be well-informed about the visa requirements and other entry formalities to ensure a hassle-free experience.

Buy Best Travel Insurance Plans for your Overseas Journey from Just ₹552 Onwards*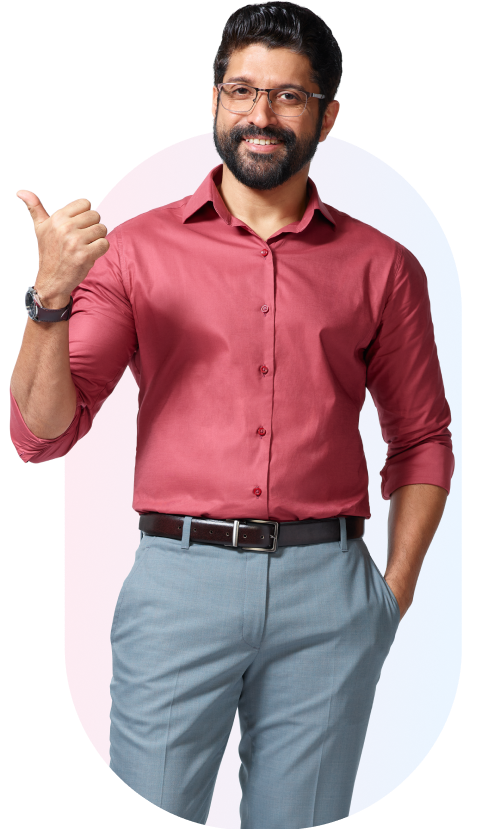 Loss of passport

Emergency Medical cover

Trip delay cover

Loss of baggage cover
*Standard Terms and Conditions Apply.
Do Indians require a visa to visit Mauritius?
Good news for Indian passport holders planning a trip to Mauritius! Indians do not require a pre-arrival visa to enter Mauritius for tourism purposes. Mauritius offers a visa-on-arrival facility to Indian tourists, allowing them to explore and enjoy the serene beauty of this idyllic island without much bureaucratic fuss.




Upon arrival at the Mauritius airport, Indian citizens are granted a 60-day tourist visa, provided they meet specific entry requirements. It means that as an Indian traveller, you can directly fly to Mauritius, where you'll undergo immigration checks before starting your magnificent Mauritian holiday.




Remember, while a pre-arrival visa isn't a requirement, ensuring that you meet all the conditions for a visa-on-arrival is crucial to avoid any unwelcome surprises.



Is Visa on Arrival/e-Visa Available in Mauritius for Indians?
Yes, Mauritius graciously welcomes Indian tourists with a Visa on Arrival (VoA). Indian passport holders travelling to Mauritius for tourism, visiting friends or family, or short business visits can avail of the VoA facility at the Mauritius Immigration Counter.




However, there's currently no e-Visa service available for Mauritius. The process remains straightforward, though - upon landing in Mauritius, you need to present the necessary documents at the immigration counter, and the visa will be stamped on your passport without any pre-application process.



Eligibility Indians Need to fulfil to avail a Mauritius Visa on Arrival
To ensure a smooth entry into Mauritius, Indian travellers must meet certain eligibility criteria for the Visa on Arrival:
1. Passport Validity: Your passport must be valid for at least six months from the date of entry into Mauritius.
2. Confirmed Return Ticket: Possessing a confirmed booking for the return flight or a flight to your next destination is necessary. The departure should be within 60 days from the date of arrival.
3. Proof of Accommodation: Travellers need to provide details of their accommodation in Mauritius, like hotel reservations, for the entire period of stay.
4. Sufficient Funds: You should carry proof of sufficient funds to cover your expenses for the duration of the stay. A daily minimum of 100 USD is generally recommended.
5. Travel Itinerary: Having a well-planned itinerary or a basic idea of how you intend to spend your days in Mauritius can be beneficial.
6. Health Precautions: Ensure that you meet the health and vaccination requirements, especially in the light of evolving global health scenarios.
7. Travel Insurance: Although not always mandatory, it's recommended to have travel insurance that covers your trip's duration.
Meeting these eligibility criteria is crucial to avail of the Visa on Arrival successfully and ensure a delightful travel experience in the mesmerising landscapes of Mauritius. So, make sure your travel plan ticks all these boxes to make the most out of your Mauritian trip.
Mauritius Visa Fee for Indian Citizens
For Indian citizens intending to travel to Mauritius, here's a slice of good news! The Visa on Arrival for Mauritius is granted free of charge. Yes, there are no visa fees for Indian passport holders seeking a tourist visa on arrival in Mauritius. This provision is highly beneficial, making Mauritius a popular and accessible destination for Indian tourists.
Documents required for a Mauritius visa
To ensure a hassle-free entry into Mauritius, it's essential to have your documents organised and readily available. Here's a list of documents that you should prepare and present upon arrival in Mauritius:
1. Passport: A valid passport with a minimum of six months' validity from the date of entry into Mauritius.
2. Return Flight Ticket: A confirmed booking for a return flight within 60 days of arrival.
3. Accommodation Confirmation: Confirmed hotel reservation or accommodation details for the entire duration of the stay.
4. Financial Proof: Sufficient funds to cover your daily expenses during your stay. Generally, 100 USD per day is deemed satisfactory.
5. Travel Itinerary: Any plans, bookings, or pre-arranged activities that you have scheduled during your stay in Mauritius.
6. Recent Photographs: Passport-size photographs, although not always asked for, are good to have on hand.
7. Health and Vaccination Certificates: Depending on global health scenarios and Mauritius' health advisories, ensure that your vaccinations are up to date, and carry any necessary health certificates.
How to Apply for Mauritius Visa on Arrival?
Applying for a Mauritius Visa on Arrival is quite a straightforward process, especially for Indian citizens. Here's a step-by-step guide to help you through the process upon landing in Mauritius:
1. Arrival in Mauritius: Upon arrival at the Mauritius airport, head towards the immigration counter designated for Visa on Arrival.
2. Document Submission: As stated in the preceding section, turn in the required paperwork, which includes a valid passport, a ticket for the return trip, a confirmation of the hotel reservation, and evidence of adequate finances.
3. Visa Application Form: You might have to complete an application for a visa, providing basic information such your name, passport details, travel schedule, and lodging information.
4. Verification Process: Your documents and the information you provide on the application form will be checked by immigration officers. To prevent any trouble, make sure that all of the information is correct and that you have all of the required paperwork.
5. Visa Granting: Following a successful verification process, you will receive a Visa on Arrival, enabling you to enter and remain in Mauritius for the duration of the agreement—typically up to 60 days.
Should You Buy a Travel Insurance Policy for Mauritius?
Absolutely, purchasing a travel insurance policy when planning a trip to Mauritius is highly recommended. Here's why:
- Medical Emergencies: Travel insurance can cover medical emergencies, providing you with financial protection against unexpected medical expenses during your trip.
- Trip Cancellations and Delays: In case of flight cancellations, delays, or unexpected changes in your travel plans, a travel insurance policy can cover the associated costs and losses.
- Baggage Loss or Delay: Travel insurance can also provide coverage in case your baggage is lost, delayed, or damaged during your journey.
- 24/7 Assistance: Most travel insurance policies offer 24/7 assistance, which can be incredibly beneficial in case you face any challenges or emergencies during your trip.
- Peace of Mind: Knowing that you have a safety net in the form of travel insurance allows you to enjoy your Mauritius trip with greater peace of mind.
While the visa process is convenient and user-friendly, ensuring that you have a comprehensive travel insurance policy will enable you to handle unforeseen challenges, making your Mauritius trip a truly memorable experience.
Final Thoughts
Embarking on a journey to Mauritius from India is imbued with the promise of an enchanting experience, from its pristine beaches to the vibrant cultural amalgamation. With a relatively seamless and straightforward visa process, especially with the Visa-on-arrival option available to Indian citizens, the administrative aspect of planning your trip is considerably simplified.
However, while the visa acquisition process is uncomplicated, it is crucial to be meticulous in preparing and organising all necessary documents, ensuring eligibility criteria are met and formalities are completed with precision.
Additionally, investing in a comprehensive travel insurance policy is not just a mere recommendation but a prudent measure. It acts as a protective shield, safeguarding travellers against the unpredictabilities that may accompany any journey, such as medical emergencies, travel disruptions, or baggage issues, ensuring that your Mauritian sojourn remains delightful and hassle-free.
Frequently Asked Questions (FAQ)
What are the different types of Mauritius visas?

The different types of Mauritius visas are Mauritius Student Visa, Mauritius Tourist Visa, Mauritius Business Visa, and Mauritius Transit Visa.

What are the visa fees for applying for a Mauritius visa?

If you are an Indian and are applying for a Mauritius visa, then you need not pay any visa application fee.

What is the processing time for the Mauritius visa application form?

It takes 2-3 weeks of processing time for the Mauritius visa application form to be processed.

Can I apply for a Mauritius Transit Visa?

You can apply for Mauritius Transit Visa if you have a layover at the Mauritius airport or need to board a connecting flight from Mauritius.

Who can apply for a Mauritius Student Visa?

Any foreign student who is getting enrolled in a Mauritius-based university or educational institution is eligible to apply for a Mauritius Student Visa.
Insurance Dekho Contact Details
Reach us for help anytime
Insurance Dekho

755 1196 989

Mon to Sun 10:00 AM to 7:00 PM