Claim, renew, manage & more
Login
UK Tourist Visa from India
Are you an Indian citizen dreaming of exploring the historical landmarks, picturesque countryside, and vibrant cultural scene of the United Kingdom? If so, you're probably wondering about the necessary steps to make this dream a reality. Navigating the visa process can be one of the more challenging aspects of travel planning. However, with the right information, it becomes a manageable part of your journey.

Buy Best Travel Insurance Plans for your Overseas Journey from Just ₹552 Onwards*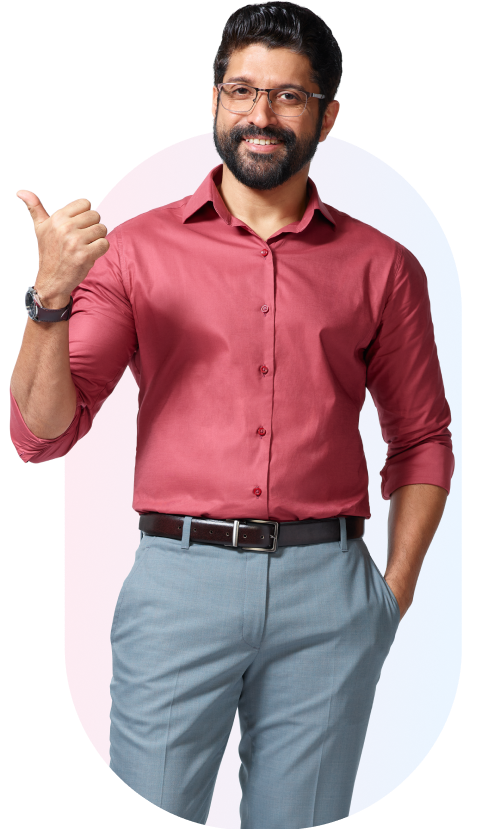 Loss of passport

Emergency Medical cover

Trip delay cover

Loss of baggage cover
*Standard Terms and Conditions Apply.
Is UK Tourist Visa for Indians Required?
Yes, Indian citizens do require a visa to enter the United Kingdom for tourism purposes. The UK government categorizes India as a 'visa-national' country, which means that Indian passport holders must obtain a visa before arriving in the UK. This requirement is in place regardless of the duration or purpose of your visit, including tourism, visiting family or friends, or even short business trips.
The type of visa most relevant for tourists from India is the Standard Visitor Visa. This visa is designed for those who wish to travel to the UK for leisure, to visit family and friends, or for short business trips and events. It's important to note that while this visa allows for tourism and certain business activities, it does not permit visitors to take up long-term employment or access public funds.
As of 2023, the process of applying for a UK tourist visa involves several steps, including filling out an application form, providing necessary documentation, and attending a visa interview. The UK visa authorities assess each application thoroughly, considering various factors to ensure that the applicant meets the requirements for entry into the UK.
Understanding the visa requirements and preparing your application with care are crucial steps in planning your trip to the UK. With a valid tourist visa, Indian travellers can explore the rich and diverse experiences that the United Kingdom has to offer. Stay tuned as we delve deeper into the process, requirements, and tips for securing your UK tourist visa.
UK Visa on Arrival for Indians
As of 2023, the United Kingdom does not offer a Visa on Arrival for Indian passport holders. This means that all Indian citizens must obtain a visa before departing for the UK. Unlike some countries that allow travellers from certain nationalities to obtain a visa upon arrival at the airport, the UK requires Indians to go through the entire visa application process and have an approved visa in hand before boarding their flight.
This process involves submitting an online application, providing various documents, and possibly attending an interview at a Visa Application Centre. It's important to plan your travel well in advance to allow sufficient time for the visa application process, as there is no option to secure a visa immediately upon arrival in the UK.
UK Tourist Visa Requirements for Indians
Applying for a UK tourist visa as an Indian citizen involves meeting specific requirements and providing a range of documents to support your application. Here's what you need to know:
Valid Passport: Your passport must have a validity of at least six months from the date of your planned arrival in the UK, with at least one blank page for the visa.
Completed Visa Application Form: The visa application form must be filled out online on the UK Government's official website.
Photograph: You will need a recent colour photograph that meets the UK visa photo requirements.
Proof of Funds: Evidence of sufficient financial means to cover your stay in the UK, such as bank statements, payslips, or a sponsorship letter if someone else is funding your trip.
Travel Itinerary: Details of your travel plans, including dates, places you intend to visit, and accommodation arrangements. Hotel bookings and flight reservations are often required.
Employment or Study Proof: If employed or studying, provide a letter from your employer or educational institution confirming your status and granting leave for your UK trip.
Previous Travel History: If applicable, your travel history, including visas and stamps from previous trips, can be submitted to strengthen your application.
Additional Supporting Documents: Depending on your situation, additional documents such as marriage certificates, birth certificates for children travelling with you, or an invitation letter from family or friends in the UK might be required.
Travel Insurance: While not mandatory, having travel insurance covering your trip to the UK is highly recommended.
Tuberculosis (TB) Test Results: Indian citizens travelling to the UK for more than 6 months may need to provide a TB test certificate from an approved clinic.
Each application is assessed individually, and additional documentation may be requested by the UK visa office. Ensure all documents are current, accurate, and in English or accompanied by a certified translation. The key to a successful application is thorough preparation and attention to detail in meeting all the prescribed requirements.
UK Tourist Visa Fees for Indians
The cost of a UK tourist visa for Indian citizens varies based on the type and duration of the visa. As of 2023, the standard fees are as follows:
Standard Visitor Visa (Short-term, up to 6 months): The fee for this most common tourist visa is generally around £95.
Long-term Visitor Visas: These visas are available for those who need to visit the UK regularly over a longer period. The fees are higher and depend on the visa's validity:
2 years: Approximately £361.

5 years: Around £655.

10 years: About £822.
It's important to note that these fees are subject to change and may vary slightly depending on currency exchange rates and other factors. Additionally, certain additional services at Visa Application Centres, like expedited processing, may incur extra charges.
How to Apply for UK Tourist Visa Online?
Applying for a UK tourist visa online is a systematic process that requires attention to detail. Here's a step-by-step guide to help Indian applicants:
Gather Necessary Documents: Before starting your application, collect all required documents, including your passport, financial statements, travel itinerary, and any additional supporting documents.
Visit the UK Visa and Immigration Website: Go to the official UK Visa and Immigration website where you will find detailed instructions and the online application form.
Create an Account: If you're a first-time user, create an account on the website. If you already have an account, log in with your credentials.
Fill Out the Application Form: Complete the online application form accurately. Ensure all details match your supporting documents.
Choose a Visa Type: Select the 'Standard Visitor Visa' and fill in the necessary details regarding your visit.
Pay the Visa Fee: After completing the form, pay the required visa fee online. Ensure you receive a confirmation of your payment.
Schedule an Appointment: Once the payment is processed, schedule an appointment at your nearest Visa Application Centre for biometric information submission (fingerprints and photographs).
Attend the Appointment: Visit the Visa Application Centre on the scheduled date and time. Bring your appointment confirmation, passport, a printed copy of your completed application form, and all supporting documents.
Track Your Application: After attending your appointment, you can track the status of your visa application online using the reference number provided.
Visa Decision: Once a decision is made, you'll be notified about the collection or delivery of your passport with the visa.
Remember, applying for a UK visa involves strict adherence to rules and regulations. Ensure that all information provided is accurate and that your documents are complete and up-to-date. The processing time can vary, so it's advisable to apply well in advance of your planned travel date.
UK Tourist Visa Processing Time
The processing time for a UK tourist visa for Indian citizens can vary based on several factors, including the volume of applications, individual circumstances, and the specific UK Visa Application Centre. As of 2023, the general guidelines are as follows:
Standard Processing Time: Typically, the processing time for a Standard Visitor Visa is about 15 working days from the date of your appointment at the Visa Application Centre. However, this timeframe can extend during peak travel seasons or due to unforeseen circumstances.
Priority Visa Service: For those who need their visa processed more quickly, the Priority Visa Service aims to process the application within 5 working days. This service comes with an additional fee.
Super Priority Visa Service: This service aims to process the visa application by the end of the next working day after your biometric appointment. Like the Priority Visa Service, it incurs an additional charge.
It's important to note that these are estimated processing times and not guarantees. Some applications may take longer, especially if they require further administrative processing or if additional information is needed. Applicants are advised to apply well in advance of their intended travel date to avoid any potential delays.
Should I Purchase UK Travel Insurance?
While purchasing travel insurance for a UK trip is not a mandatory requirement for Indian citizens, it is highly advisable. Here are a few reasons why you should consider buying travel insurance:
Medical Emergencies: Travel insurance can cover unexpected medical expenses, which can be high in the UK, especially for tourists.
Trip Cancellations or Delays: Insurance can provide compensation for losses due to cancelled or delayed flights, which can save you from unexpected expenses.
Lost or Stolen Luggage: Travel insurance can cover the cost of your belongings if your luggage is lost, stolen, or damaged during your trip.
Personal Liability: If you accidentally cause injury or damage property, travel insurance can cover legal liabilities.
Peace of Mind: Knowing you are covered for unforeseen circumstances can give you peace of mind, allowing you to enjoy your trip more fully.
Covid-19 Coverage: Given the ongoing pandemic, many travel insurance policies now include coverage for COVID-19-related issues, which is an essential consideration.
When purchasing travel insurance, make sure to choose a policy that adequately covers the duration of your stay and the activities you plan to undertake. Read the terms and conditions carefully to understand the coverage limits, exclusions, and the claims process.
Conclusion
Securing a UK tourist visa as an Indian citizen in 2023 is a structured but straightforward process. While the requirements for a visa, the fees, and the online application process may initially seem daunting, a well-prepared application can lead to a successful outcome. Remember, the key lies in careful planning, thorough documentation, and timely submission. Though travel insurance is not mandatory, its numerous benefits, such as coverage for medical emergencies and trip cancellations, make it a wise investment for your peace of mind during travel. With your visa and travel insurance in hand, you're all set to embark on your exciting journey to explore the historic and cultural richness of the United Kingdom.
Frequently Asked Questions (FAQ)
Can I get a long-term UK Tourist Visa?

Yes, you can easily get a long-term UK Tourist visa and the time duration of which can be 2 years, 5 years, or 10 years.

Can I fill out the UK Tourist Visa form online?

Yes, you can fill out the UK Tourist Visa form online by going to the official website of the British Embassy or Consulate.

What is the processing time required for the UK Visa application form?

It may take up to 2 weeks for the UK Visa application form to be processed.

What are the documents required to apply for a UK Tourist Visa form?

Documents required to apply for UK Tourist Visa are a valid passport, travel insurance, duly-filled visa application form, and a few other documents.

What are the UK Transit Visa fees?

The UK Transit Visa Fee is 64 pounds.
Insurance Dekho Contact Details
Reach us for help anytime
Insurance Dekho

755 1196 989

Mon to Sun 10:00 AM to 7:00 PM