Claim, renew, manage & more
Login
Travel Insurance for Thailand From India
Many people dream about traveling to Thailand from India. Thailand has something for everyone, whether you're looking for adventure, discovering its rich cultural past, or simply seeking peace and quiet on its magnificent beaches. But, in the midst of all the excitement and planning, don't forget to include a reliable partner on your Thailand vacation checklist: travel insurance.


Imagine this: You've just landed in Thailand, excited to start your vacation, when an unexpected event might disturb your travel plans. What can save the day? Your travel insurance, of course! It is similar to a safety net that will provide cover in case of unexpected situations happen during your trip.

Buy Best Travel Insurance Plans for your Overseas Journey from Just ₹552 Onwards*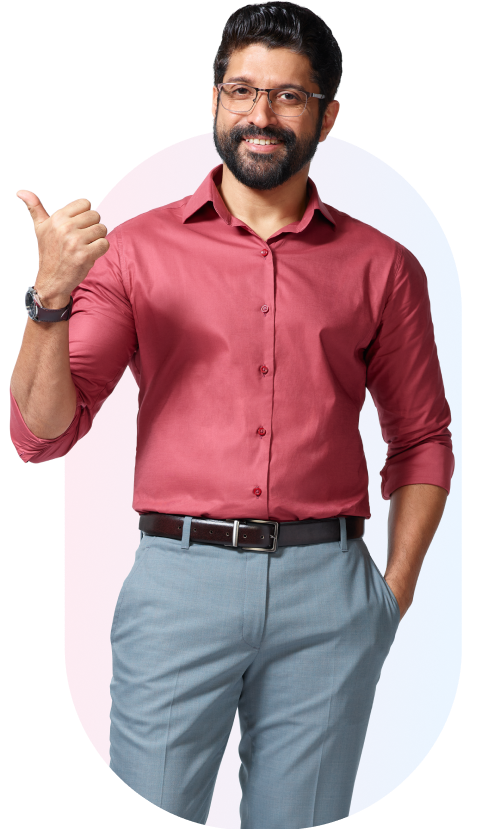 Loss of passport

Emergency Medical cover

Trip delay cover

Loss of baggage cover
*Standard Terms and Conditions Apply.
Why Do You Need Travel Insurance for Thailand from India?
Journey Cover: Think about what happens if you lose your passport, face flight cancellations, or deal with sudden hotel reservation issues. Travel insurance will step in to provide compensation and support, ensuring your journey continues without a hitch.
Baggage Cover: Ever faced the inconvenience of lost or delayed baggage? Travel insurance comes to the rescue by compensating you for the value of the lost items in your checked-in luggage.
Medical Cover: Falling ill or encountering an accident while traveling can be distressing. But with a travel insurance plan, you're covered for all medical expenses, including hospitalization and surgery costs. It's your safety net for health in a foreign land.
Benefits of Travel Insurance for Thailand
The benefits of having travel insurance for your Thailand trip go beyond the financial safety net. They include:
Emergency Medical Assistance: Knowing that you have access to emergency medical services in case of illness or injury offers immense peace of mind.
Lost or Stolen Passport: Imagine losing your passport in a foreign land. Travel insurance helps you get a replacement and covers related expenses.
Trip Cancellation/Delay: In case you have to cancel or delay your trip due to unforeseen circumstances, travel insurance has your back, covering the associated expenses.
Emergency Evacuation: Whether it's a medical emergency or a natural disaster, travel insurance provides assistance and covers evacuation costs.
Personal Liability Coverage: Travel insurance also offers coverage for personal liability, which can be a lifesaver in the event of accidents or unintentional property damage.
Inclusions & Exclusions of Thailand Travel Insurance
To make the most of your travel insurance policy, understanding its inclusions and exclusions is crucial. Here's a quick overview:
Inclusions:
Compensation for delayed or canceled flights.

Coverage for expenses related to trip curtailment.

Emergency cash assistance.

Compensation for extended hotel bookings.
Exclusions:
Pre-existing medical conditions, whether disclosed or not.

Injuries resulting from suicidal attempts or alcohol consumption.

Falling ill while traveling against the advice of a doctor.
Why Opt for InsuranceDekho for Your Thailand Travel Insurance from India?
Choosing the right insurance provider is essential. InsuranceDekho is a trustworthy platform that simplifies the process of comparing and selecting the ideal travel insurance policy for your Thailand journey. Our user-friendly interface and excellent customer service ensure a hassle-free experience.
Best Places to Visit in Thailand
Thailand is a treasure trove of beautiful destinations. Some of the must-visit places include:
Phuket: The island paradise, Phuket, boasts pristine beaches like Patong Beach and Kata Beach.
The Grand Palace: Located in bustling Bangkok, it houses the exquisite Temple of the Emerald Buddha and showcases remarkable craftsmanship.
Ayutthaya: A UNESCO World Heritage Site, Ayutthaya is home to centuries-old Buddhist monasteries and ancient structures.
Mu Ko Chang National Park: Explore the lush flora and fauna in this eastern Thailand park, surrounded by nature's beauty.
Khao Lak: An escape from city life, Khao Lak offers scuba diving adventures for thrill-seekers and a serene environment for relaxation.
Essentials for Indian Citizens Traveling To Thailand
Before setting foot in Thailand, make sure you're well-prepared. This includes acquiring the appropriate visa. Indian citizens traveling to Thailand might need various visa types


Tourist visas

Non-immigrant B visas

Non-immigrant Ed-Visas

Non-immigrant O-Visas,

Permanent resident visas.

Applying for these visas can be done through the Thailand Embassy's website and the e-visa Thailand portal.
Requirements for Thailand Visa
To apply for a Thai visa, you'll need to gather these essential documents:
A duly completed Thai visa application form.

A copy of your passport.

A colored passport-size photograph.

Proof of income to demonstrate your financial capability for expenses in Thailand.

An employment letter or university enrollment certificate if applying for work or student visas.

Flight booking or hotel reservation details.
Thailand Visit: Safety and Precautions
Safety is paramount during your trip to Thailand. Here are some safety tips to ensure a secure and enjoyable visit:
Thailand enforces strict laws regarding drinking and smoking in public places. Comply with these regulations to avoid legal consequences.

Respect local customs and traditions, and be mindful of cultural differences.

Adhere to social distancing norms to prevent disease spread.

In case of emergencies, contact local authorities or the police instead of getting involved in disputes with locals.
Tips to Buy the Cheapest Travel Insurance for Thailand from India
For budget-conscious travelers, here are some tips to secure affordable travel insurance:
Compare multiple insurance providers to find the best deal.

Customize your coverage to match your specific travel needs, avoiding unnecessary expenses.

Consider policies with higher deductibles, often accompanied by lower premiums.

Keep an eye out for discounts and special offers that can reduce your insurance costs.
International Airports in Thailand
Thailand is well-connected to the world through numerous international airports. Some of the major ones include:
Phuket International Airport

Suvarnabhumi International Airport (Bangkok)

Don Mueang International Airport (Bangkok)

Hat Yai International Airport

Udon Thani International Airport
These airports ensure smooth and convenient access to Thailand's diverse attractions.
Frequently Asked Questions (FAQ)
Can I buy travel insurance for Thailand online?


Yes, you can easily purchase travel insurance for Thailand online. You can also contact InsuranceDekho for more details on travel insurance plans.




Does the Thailand tourist visa for Indians cover multiple entries?

Multiple-entry visas are available, but you should specify and apply accordingly. Visa on Arrival is generally a single entry.

What is the validity of a tourist visa for Thailand?

Typically, the tourist visa for Thailand is valid for 30 to 60 days for Indian citizens. Visa on Arrival is usually valid for 15 days.

Can I extend my stay beyond the visa validity while in Thailand?

Yes, you can apply for an extension at the immigration office in Thailand, subject to approval and additional fees.

Do I need travel insurance when travelling to Thailand?

While not mandatory, having travel insurance is highly recommended when travelling to Thailand to cover unexpected medical or travel-related expenses.
Insurance Dekho Contact Details
Reach us for help anytime
Insurance Dekho

755 1196 989

Mon to Sun 10:00 AM to 7:00 PM