Claim, renew, manage & more
Login
Travel Insurance for Singapore From India
Embarking on a journey from India to the enchanting city-state of Singapore in 2023? Marvelous choice! Singapore, with its spectacular skyline, diverse culture, delectable cuisine, and vibrant street life, is a magnificent tapestry of experiences waiting to unfold. However, an essential aspect to consider in your travel preparations is obtaining reliable travel insurance. Having travel insurance isn't just a safety net; it's a passport to peace of mind as you navigate through the marvels of Singapore.

Buy Best Travel Insurance Plans for your Overseas Journey from Just ₹552 Onwards*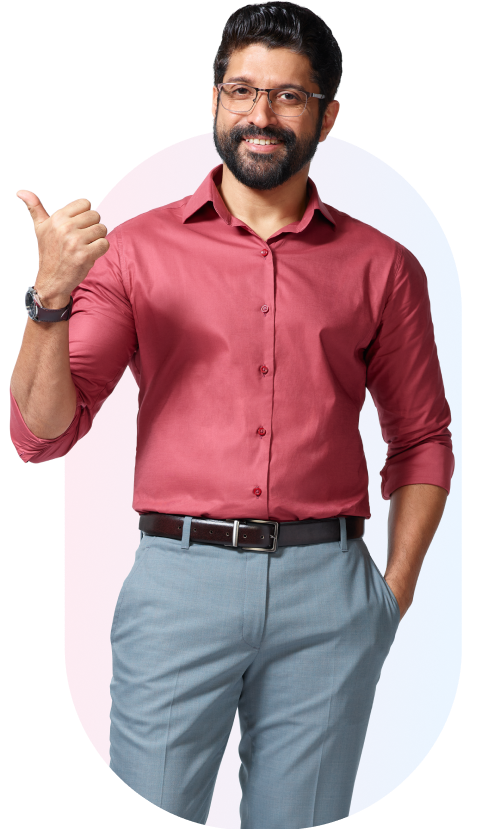 Loss of passport

Emergency Medical cover

Trip delay cover

Loss of baggage cover
*Standard Terms and Conditions Apply.
What is Travel Insurance for Singapore from India?
Travel insurance for Singapore from India is a protective cover that safeguards you from various unforeseen situations and risks that may arise during your trip. From medical emergencies and trip cancellations to loss of belongings, travel insurance ensures that unexpected hitches don't become major roadblocks in your journey.
Medical Emergencies:
Singapore's healthcare is top-notch, but it can also be quite expensive. With the right travel insurance, you'll be covered for hospitalisations, doctor consultations, and even medical evacuations.
Trip Cancellations and Delays:
Flights can get cancelled, or plans can change due to unforeseen circumstances. Travel insurance can help you manage these uncertainties without bearing heavy financial losses.
Loss or Delay of Belongings:
Losing your luggage or facing delays in luggage arrival can be quite inconvenient. Insurance policies ensure that you are compensated, and necessary expenses are covered.
Other Contingencies:
From missed connections to accidental injuries, a multitude of other unexpected incidents can be managed better with travel insurance in place.
By investing in a comprehensive travel insurance policy, you secure yourself against various uncertainties, ensuring that your Singaporean adventure is as smooth and enjoyable as possible. So, while you immerse yourself in the mesmerising beauty of Gardens by the Bay or traverse through the bustling streets of Chinatown, your travel insurance will be the silent guardian, ensuring peace of mind throughout your journey.
What are the Key Benefits of getting Travel Insurance When Travelling to Singapore?
Embarking on a journey to Singapore comes with its own set of uncertainties, despite all the meticulous planning and preparation. Investing in travel insurance acts as a buffer against unexpected eventualities, ensuring that your journey remains unhindered and memorable. Here's a closer look at the key benefits of getting travel insurance when travelling to Singapore from India:
1. Medical Coverage:
Singapore is renowned for its high-quality healthcare services, but it is also equally expensive. A medical emergency, however minor it might seem, can result in significant expenses. Having travel insurance ensures that you are well-covered for medical emergencies, hospitalisation, and even emergency medical evacuation if necessary.



2. Trip Cancellation and Interruption Benefit:
Life is unpredictable, and plans might change unexpectedly. Your travel insurance will cover you for non-refundable expenses like flight tickets and hotel bookings if your trip is cancelled or interrupted due to unforeseen circumstances such as illnesses or natural disasters.



3. Baggage and Personal Belongings Protection:
Loss, theft, or delay of baggage and personal belongings can disrupt your travel plans. With travel insurance, you can receive compensation for the loss, ensuring that such inconveniences don't overshadow your Singapore experience.



4. Travel and Accommodation Assistance:
In case of a missed connection, flight delay or even hotel booking issues, your travel insurance can provide necessary assistance, ensuring that such hiccups don't impede your journey.



5. Personal Liability Cover:
Accidents happen, and sometimes they might involve third parties. Travel insurance can cover legal liabilities and expenses arising out of accidental injury or damage to a third party.



6. 24/7 Emergency Assistance:
It's always comforting to know that help is just a phone call away. Comprehensive travel insurance ensures you have 24/7 access to emergency assistance services, guiding you through unexpected challenges during your trip.




Travel insurance isn't just a document but a companion that safeguards you against uncertainties, ensuring that your Singapore journey is filled with delightful memories and devoid of unwarranted worries. It's not just about the financial cover but the assurance and support that enhance the tranquillity of your travels. So, as you plan your Singapore adventure, ensure you equip yourself with a sturdy travel insurance policy.
Exclusions of Singapore Travel Insurance
Understanding what is not covered by your Singapore travel insurance is as crucial as knowing the inclusions. Exclusions are specific situations, conditions, or events that your travel insurance policy does not cover. Being aware of these can help you avoid surprises during your trip and when making claims.
1. Pre-existing Medical Conditions:
- Any pre-existing medical conditions that you have before purchasing the policy are generally not covered, unless you have opted for a specific add-on and the insurer has agreed to cover it.
2. Drug or Alcohol Influence:
- Accidents, injuries, or illnesses that occur while you are under the influence of drugs or alcohol will typically not be covered.
3. Travel for Medical Treatment:
- If the primary purpose of your travel is to seek medical treatment abroad, this will not be covered.
4. Risky Adventure Sports:
- Activities considered high-risk, like bungee jumping, scuba diving without certification, or mountain climbing may not be included, unless you have purchased additional coverage for adventure sports.
5. War and Nuclear Risks:
- Claims arising from war, warlike situations, nuclear weapons, or nuclear material are excluded.
6. Self-inflicted Injury:
- Injuries that are self-inflicted or harm due to suicide attempts are not covered.
7. Illegal Activities:
- Any claims resulting from your involvement in illegal or criminal activities are excluded.
8. Travel Against Doctor's Advice:
- If you travel against the recommendations of your doctor, any resulting medical claims may not be covered.
9. Cosmetic Surgery:
- Procedures for cosmetic or aesthetic reasons are not covered unless they are medically necessary and approved by the insurer.
10. Pandemics and Epidemics:
- Depending on the timing of your policy purchase and the known status of a pandemic or epidemic, such events may be excluded.
11. Unattended Belongings:
- Loss of personal belongings that were left unattended or without proper care will generally not be covered.
12. Delayed Reporting:
- Any delay in reporting the theft or loss to the appropriate authorities can result in a denied claim.
13. Baggage Delay Within the Country:
- If your baggage is delayed within India before departing to Singapore, this may not be covered.
14. Visa Rejection:
- Costs associated with visa rejection are typically not covered.
15. Cancellation Due to Work Obligations:
- Trip cancellation due to work commitments or change in work schedule is usually excluded unless you have a "Cancel for Any Reason" add-on.
16. Natural Disasters:
- Natural disasters may be covered to some extent; however, if you travel to an area after a storm or natural disaster warning was issued, you might not be covered.
Always Read the Fine Print:
Make sure to thoroughly read and understand the policy document. The exclusions listed are often non-negotiable, and knowing them will help you understand the limitations of your policy.
Coverage Varies:
Each insurer will have its own set of exclusions, and some policies may offer additional riders or add-ons to cover typically excluded items.
In summary, while travel insurance provides a safety net, it's important to be fully aware of what that net does and does not cover. When in doubt, contact your insurance provider to clarify the exclusions in your travel insurance policy for Singapore. This way, you can take any necessary precautions or consider additional coverage as needed.
How to Buy Travel Insurance for Singapore from India?
Getting your travel insurance for your Singapore trip is a simplified process, thanks to the digital age. Here's a concise guide to purchasing travel insurance for Singapore from India:
1. Online Research:
Initiate the process by conducting online research. Numerous insurance providers offer varied travel insurance plans. Visit their official websites or other trusted platforms that allow for comparison such as InsuranceDekho.com
2. Compare Plans:
Don't settle for the first plan you come across. Compare multiple travel insurance plans to understand the coverage they offer, the premiums, and the terms and conditions. Look for user reviews and ratings to get a broader perspective.
3. Get Quotes:
Most insurance providers offer the facility to get instant quotes online. Enter the necessary details such as travel dates, traveller's age, and type of coverage required to receive a quote.
4. Review Coverage:
Pay close attention to what is included and excluded in the policy. Make sure medical coverage, trip cancellations, and loss of belongings are adequately covered.



5. Purchase the Policy:
Once you have decided on a plan that meets your needs, proceed with the purchase. You can usually buy the policy online using various payment methods like credit/debit cards or net banking.



6. Document Receipt:
After purchasing, you will receive the policy documents via email. Keep a copy of the documents handy during your trip for easy access in case of emergencies.

How to Claim Travel Insurance for Singapore?
Claiming travel insurance can be a daunting task, especially when you're dealing with the stress of an emergency or an unforeseen situation in a foreign country like Singapore. Understanding the claim process beforehand can ease the burden and expedite your request for assistance or reimbursement. Here's a step-by-step guide on how to go about it:
1. Immediate Notification:
- As soon as an incident occurs, notify your insurance provider. Most companies have a 24/7 assistance line for such situations.



2. Know Your Policy Number:

- Have your policy number and travel insurance details on hand. These will be required when you get in touch with the insurance company.




3. Provide Complete Information:

- Be ready to provide all relevant information about the incident, such as the date, time, and what exactly happened.




4. Official Documentation:

- Obtain official reports or documentation relating to the incident. For medical issues, this would be a detailed medical report and bills from the hospital. For theft or loss, a police report is necessary.




5. Submit Claim Form:

- Fill in the travel insurance claim form with accurate details. Ensure that all sections are completed to prevent any delays.




6. Collect Supporting Documents:

- Gather all supporting documents like receipts, reports, boarding passes, or any other proof that supports your claim.




7. Review Before Submission:

- Double-check all provided information and documentation. Ensure that the documents are clear and legible.




8. Follow Up:

- After submission, follow up with the insurance provider to check the status of your claim. Keep a record of all correspondence and claim reference numbers.




9. Understand the Procedure:

- Each insurance company has its own procedure for handling claims. Make sure you are aware of the steps and adhere to their guidelines.




10. Be Aware of Deadlines:

- Insurance companies usually set a deadline for when a claim can be reported after the incident. Be aware of these timelines to avoid a rejected claim.




11. Keep Originals:

- If possible, send copies of the documents and keep the originals, unless the original documents are requested by the insurance company.




12. Know Your Coverage:

- Be clear about what your policy covers. Submit a claim only for what you are entitled to, to avoid any fraudulence charges.




13. Provide Contact Details:

- Provide a valid contact number or email address where you can be reached to discuss the claim further if necessary.




14. Patience is Key:

- Be patient, as the claim process may take time, especially if it involves investigation or if there's a high volume of claims.




15. Appeal Process:

- If your claim is denied and you believe it to be a mistake or unfair, understand that there is an appeal process where you can contest the decision.



Important Reminder:
Always keep a digital copy of all your travel insurance documents and related receipts on your email or a cloud service. This way, even if you lose physical copies, you can access them from anywhere.




In case of emergency or for immediate assistance, reaching out directly to your insurance provider should be your first step. They can guide you on the urgent steps to take and how to proceed with the claim. Knowing these steps beforehand can significantly smoothen the process of claiming travel insurance for Singapore.
How to Select the Right Travel Insurance for Singapore?
Selecting the right travel insurance is crucial. Here's how to make an informed decision:
1. Identify Your Needs:
Your travel insurance should align with your travel plans. Are you going on a leisure trip, a business visit, or an adventure spree? Identify the main purpose and select a policy that suits your needs.
2. Look for Comprehensive Medical Coverage:
Prioritise plans that offer substantial medical coverage, given the high medical costs in Singapore.
3. Consider the Duration and Frequency:
If you travel frequently, you might want to consider a multi-trip policy. For a one-time visit, a single trip policy would suffice.
4. Check for Customer Support:
Ensure the insurance provider offers robust customer service, readily available to assist you 24/7 during your trip.
5. Review the Claim Process:
Opt for insurance providers who have a straightforward and hassle-free claim process. Reading reviews and testimonials can provide insights into customer experiences with claims.
6. Examine Exclusions:
Every policy comes with exclusions. Carefully read these to avoid surprises when making a claim. Make sure the policy covers most potential risks associated with your travel.
Choosing the right travel insurance enhances the safety and enjoyment of your Singapore journey, allowing you to explore the mesmerising destination with peace of mind and assurance.
Visa Information for Singapore
Before you embark on your journey from India to the mesmerising landscapes and dazzling skylines of Singapore, acquainting yourself with the visa processes and requirements is essential. Singapore has a straightforward and efficient visa process to facilitate smooth entry for tourists.
1. Type of Visa:
Tourists usually require a short-term visit pass, commonly known as a tourist visa, which allows you to stay in Singapore for social visits, tourism, or professional visits.



2. Visa Application:
Visa applications can be submitted online through authorised visa agents or strategic partners in India. Ensure that you fill out the forms with accurate details to avoid any hassles.



3. Required Documents:
You would need to provide various documents such as a passport with at least six months' validity, confirmed return tickets, passport-sized photographs, and proof of hotel reservations.



4. Processing Time:
Typically, the visa processing time for Singapore is around one to two weeks. However, it's advisable to apply well in advance to avoid last-minute issues.
Documents Required While Travelling from India to Singapore
When travelling from India to Singapore, it's crucial to carry the right documents to ensure a smooth and hassle-free journey. Here's a comprehensive checklist:
1. Passport:
- Your passport must be valid for at least six months beyond the date of your intended stay in Singapore.
2. Visa:
- Depending on your purpose of visit and duration, you might need a visa. Indians can apply for an e-Visa or get a visa-on-arrival for short trips. Make sure you have a printout of the e-Visa if applicable.
3. Travel Insurance:
- While not mandatory, travel insurance is highly recommended. Carry a copy of your travel insurance policy, which should ideally cover any medical emergencies, accidents, and trip cancellations.
4. Return or Onward Flight Tickets:
- Proof of return or onward travel can be requested upon arrival, so have a printout of your flight itinerary.
5. Accommodation Details:
- Booking confirmations for hotels or an address where you will be staying, which could include a letter from friends or relatives if you're staying with them.
6. Proof of Funds:
- Bank statements or a bank certificate as evidence that you have enough money to support your stay.
7. Vaccination Certificate:
- Depending on the current health regulations, you might need to provide proof of vaccination, particularly for COVID-19.
8. COVID-19 Test Results:
- If required based on the current health advisory, a negative COVID-19 test result may be necessary before boarding and upon arrival.
9. Health Declaration Form:
- A completed health declaration form which is often required amidst the ongoing health precautions.
10. Yellow Fever Vaccination Certificate:
- If applicable, especially if you're travelling from or have transited through a yellow fever-endemic area.
11. Additional Supporting Documents:
- For those travelling on business or for academic purposes, related documents or letters of invitation may be required.
12. Entry Approval:
- For work pass holders, an entry approval from the relevant Singapore authority is needed.
13. Identification Documents:
- Some form of ID, like a driver's license or a PAN card, might be useful to have on hand, just in case.
14. Emergency Contact Information:
- A list of emergency contacts, including the local Indian embassy's contact details in Singapore.
Tips for Managing Travel Documents:
- Keep Digital Copies: Store digital scans of all important documents in your email or on a secure cloud service.
- Use a Document Organizer: Carry a travel document organizer to keep all your documents safe and in one place.
- Immediate Family Information: If travelling with family, ensure you have all their documents organized as well.
- Privacy Protection: Be mindful of where and to whom you are showing your personal documents.
Prior to travel, always check the latest travel advisories from both the Indian and Singaporean governments as requirements can change based on the current international health and security situations. Having all your documents in order will make for a seamless entry into Singapore, letting you enjoy your trip without any administrative hurdles.
Entry Information for Indian Citizens Travelling to Singapore
Singapore extends a warm welcome to tourists, but there are some essential entry formalities and guidelines that Indian travellers should be mindful of:
1. Arrival Card:
Upon arrival in Singapore, you'll need to complete an arrival card, which includes details about your stay, such as address and duration.
2. Customs and Declarations:
Ensure you are aware of Singapore's customs regulations, including duty-free concessions and prohibited goods to avoid any inconvenience at the immigration.
3. Health and Safety:
Depending on global health situations, there might be specific health screenings or requirements like a negative COVID-19 test result. Stay updated on such prerequisites for entry.
4. Extension of Stay:
If you wish to extend your stay beyond the granted visa period, applications for extensions should be made before the expiry of the current stay.
:
Being well-prepared with visa information and entry formalities facilitates a smooth and hassle-free experience as you step into the enchanting city of Singapore. Ensuring that all documents are in order and adhering to the guidelines will pave the way for a delightful Singapore sojourn.
Best Singapore Tourist Places to Visit
Singapore, a dazzling island city-state, is a mesmerising blend of cultural richness and modern marvels. Here are some must-visit places that encapsulate the essence of this dynamic destination:
1. Marina Bay Sands SkyPark:
Experience breathtaking views of the Singapore skyline from the Marina Bay Sands SkyPark. This architectural wonder offers a panoramic vista that's a feast for the eyes.
2. Gardens by the Bay:
Wander through a futuristic park that houses the iconic Supertree Grove, Cloud Forest, and Flower Dome. A delightful place where nature and technology intertwine.
3. Sentosa Island:
A paradise for adventure and relaxation, Sentosa Island is filled with attractions like Universal Studios Singapore, Adventure Cove Waterpark, and beautiful sandy beaches.
4. Singapore Zoo:
Get up close with a diverse array of wildlife in one of the world's most renowned zoos. The Night Safari and River Safari are added attractions that promise enchantment.
5. Orchard Road:
Dive into Singapore's shopping heaven at Orchard Road, a bustling boulevard lined with a multitude of shops and eateries.
6. Singapore Botanic Gardens:
Explore the lush landscapes, swan-filled lakes, and the National Orchid Garden in this UNESCO World Heritage site.
Tips and Precautionary Measures When Visiting Singapore
While Singapore is known for its safety and cleanliness, here are some tips and precautionary measures to ensure a seamless travel experience:
1. Respect Local Customs and Regulations:
Singapore has stringent laws and regulations. Familiarise yourself with local customs, etiquette, and rules, such as littering laws and regulations against chewing gum.
2. Stay Hydrated and Protected:
The tropical climate can be quite harsh. Ensure you stay hydrated, wear sun protection, and carry an umbrella for sudden showers.
3. Use Public Transport:
Leverage Singapore's efficient public transport system. It's economical, convenient, and an excellent way to explore the city.
4. Be Cautious with Food:
Singapore is a food haven, but if you're not accustomed to diverse cuisines, be cautious. Try to choose eateries that suit your dietary preferences and tolerance.
5. Safe and Sound:
Even though Singapore is relatively safe, always maintain awareness of your surroundings, and keep your belongings secure.
Singapore awaits to mesmerise you with its unique attractions and vibrant experiences. With the right preparation and awareness, you're set for an unforgettable voyage into its multifaceted charm.
Indian Embassy Information Travellers Should Know
When travelling abroad, having information about the Indian Embassy can be quite helpful in case of emergencies or for general assistance. Here's relevant information regarding the Indian Embassy in Singapore:
Indian High Commission in Singapore



- Address: High Commission of India, 31 Grange Road, Singapore 239702

- Contact: +65 6737 6777

- Email: hc.singapore@mea.gov.in

- Website: [High Commission of India, Singapore](http://www.hcisingapore.gov.in/)



Services Offered:



- Consular Services: Including passport services, visa services, and OCI (Overseas Citizen of India) services.

- Emergency Services: Assistance in emergencies such as loss of passport, legal issues, or other distress situations.

- Community Welfare: Providing necessary support and assistance to the Indian community in Singapore.




It's advisable to keep this information handy to easily contact the embassy when required.
Foreign Currency Information
Currency:
The official currency of Singapore is the Singapore Dollar, abbreviated as SGD.
Exchange:



- Currency can be exchanged at banks, hotels, and independent money changers spread across the city.

- Airports also offer currency exchange services, but the rates may not be as competitive.



ATMs and Cards:



- ATMs are widely available, and most international credit and debit cards are accepted.

- It's advisable to inform your bank about your travel dates to ensure uninterrupted card services.



Budgeting:



- Budgeting your expenses and having a mix of cash and digital money is always a good strategy.

- Having some cash in SGD is advisable for small expenses like public transport and dining at local eateries.




Choosing the right time to visit and being knowledgeable about currency matters will empower your Singapore journey, making it more enjoyable and smooth. Tailor your travel plans to coincide with the best times and arm yourself with practical currency insights for a fabulous Singapore sojourn!
International Airports in Singapore
Singapore's premier international gateway is the world-renowned Changi Airport (SIN). Here are some key points about Changi Airport:
1. Connectivity:
Changi Airport is well-connected globally, making it a major hub for international flights, including those to and from India.
2. Facilities and Services:
The airport is famed for its state-of-the-art facilities, shopping options, dining, entertainment, and lush green spaces.
3. Transport to and from the Airport:
Changi is well-connected to the city by various modes of transportation, including MRT (Mass Rapid Transit), buses, and taxis.
4. Terminals:
Changi Airport comprises four terminals, each equipped with various services and amenities to cater to the needs of international travellers.
Having essential information about the Indian embassy and the international airport will contribute to a smoother and more secure travel experience in Singapore. Knowledge is indeed the traveller's best companion!
Things to do in Singapore
Singapore is a treasure trove of experiences waiting to unfold. From cultural excursions to thrilling adventures, here's a curated list of activities to enhance your Singapore sojourn:
1. Cultural Exploration at Chinatown, Little India, and Kampong Glam:
Dive deep into Singapore's multicultural heritage by exploring these vibrant neighbourhoods, each telling a unique cultural tale.
2. Revel in the Nightlife at Clarke Quay:
Experience Singapore's dynamic nightlife along the historic riverside quay, packed with a variety of bars, pubs, and restaurants.
3. Explore the Streets on a Bumboat:
Take a relaxing bumboat ride along the Singapore River and witness the city's historic sites and stunning skyline.
4. Adventure at Sentosa Island:
From thrilling rides at Universal Studios Singapore to relaxing at the beautiful beaches, Sentosa offers a plethora of attractions.
5. Visit the National Museum of Singapore:
Dive into Singapore's past and its incredible journey to becoming a bustling metropolis at the nation's oldest museum.
Money Saving Tips for Travellers in Singapore
While Singapore is a spectacular destination, it's also known to be quite expensive. Here are some savvy tips to make the most of your trip without burning a hole in your pocket:
1. Leverage Public Transport:
Utilise the efficient and economical MRT and bus networks to get around the city, helping you save substantially on transport.
2. Savour Local Cuisine at Hawker Centres:
Enjoy delicious and affordable meals at various hawker centres spread across the city, a fantastic way to experience local flavours without splurging.
3. Look Out for Free Attractions:
Some attractions and activities are free of charge, like visiting the Botanic Gardens or enjoying the light shows at Marina Bay Sands.
4. Buy a Tourist Pass:
Consider purchasing tourist passes that offer unlimited travel on public transport and discounts on various attractions.
5. Plan and Book in Advance:
Try to plan your itinerary and book major attractions and accommodations in advance to avail of early bird discounts or offers.
Embarking on a journey to Singapore comes with a promise of extraordinary experiences and explorations. With smart planning and valuable tips, you can make your visit both memorable and economical!
Best Time to Visit Singapore
Singapore, with its equatorial climate, is warm and humid throughout the year. However, there are specific periods when the charm of the city peaks.
1. December to June:
During these months, Singapore experiences less rainfall, and the weather is relatively pleasant, making it an ideal time for outdoor activities and exploration. It is also the festive season, with celebrations like Chinese New Year and Christmas illuminating the city with fervour and joy.
2. July to November:
This period marks the Southwest Monsoon; hence there's a higher likelihood of intermittent rain. However, the showers usually don't last long, and you can still enjoy your trip with slight adjustments to your plans. The Great Singapore Sale also happens around this time, offering fabulous shopping discounts.
Final Thoughts
Embarking on a journey to Singapore from India? You're in for a delightful experience! From the mesmerising Marina Bay Sands light show to the lush greenery of Gardens by the Bay, Singapore unveils a world where tradition meets modernity, creating a mosaic of vibrant cultures and breathtaking skyscrapers.
Equipping yourself with comprehensive travel insurance is not just a precaution but a gateway to stress-free travel, ensuring you're covered against uncertainties. Navigate through the visa process with ease, keeping in mind the necessary prerequisites and guidelines for a smooth entry into the Lion City.
Whether you find solace in the serene temples or thrill in the adventures of Sentosa Island, Singapore offers a platter full of diverse experiences. Armed with essential travel insights, from currency tips to saving hacks, you're all set to explore, indulge, and immerse in the captivating charm of Singapore.
So, pack your bags, gather your spirits, and set sail for an unforgettable journey to one of Asia's most enchanting destinations.
Frequently Asked Questions (FAQ)
Where can I apply for a Singapore visa if I am travelling from India to Singapore?


You can apply for a Singapore visa at a Singapore Embassy or Consulate.




What are the benefits of buying Singapore travel insurance?

A Singapore travel insurance protects you against any unforeseen event that may occur during your trip to Singapore.

Can I get coverage against lost baggage with Singapore travel insurance?

Yes, with Singapore travel insurance, you can get coverage against lost or misplaced check-in baggage.

Where can I buy a travel insurance plan for Singapore?

A number of insurance companies now offer varied travel plans which can be easily purchased either online or offline. You must compare these plans before making a final decision and buying the best travel insurance plan that will cover everything you need.

What are some of the best places to visit in Singapore?

Some of the best places to visit in Singapore are Universal Studios, Gardens by the Bay, Singapore Zoo, Madame Tussauds Wax Museum, and more.
Insurance Dekho Contact Details
Reach us for help anytime
Insurance Dekho

755 1196 989

Mon to Sun 10:00 AM to 7:00 PM