Claim, renew, manage & more
Login
Travel Insurance for USA From India
Without travel, our lives today would not be the same. Whether it's for work, play, or education, we frequently find ourselves organising travel to different regions of the world. The USA is one such well-liked tourist destination, renowned for its varied landscapes, recognisable landmarks, and rich cultural experiences. When flying from India to the USA, it's critical to plan ahead and ensure you have a safety net in place in case something goes wrong. Travel insurance can provide visitors peace of mind and allow them to enjoy the US with assurance.

Buy Best Travel Insurance Plans for your Overseas Journey from Just ₹552 Onwards*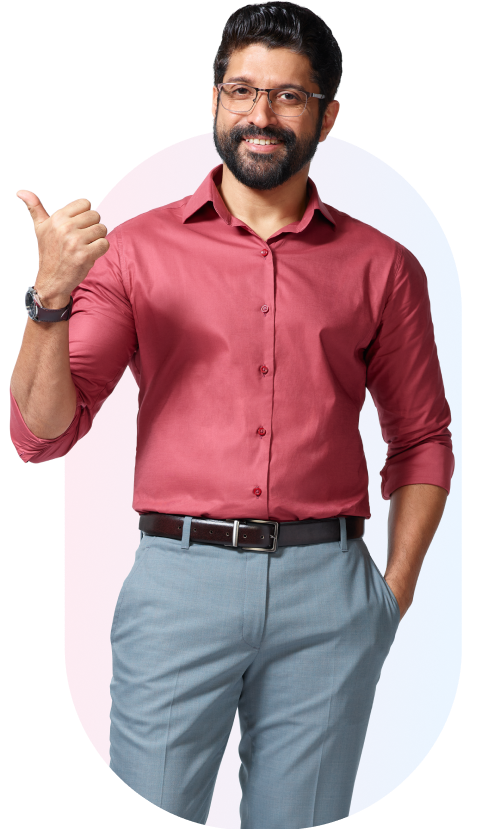 Loss of passport

Emergency Medical cover

Trip delay cover

Loss of baggage cover
*Standard Terms and Conditions Apply.
What is Travel Insurance for the USA?
Travel insurance is a type of insurance that covers various risks while travelling. It includes compensation for medical emergencies, loss of luggage, trip cancellations, and other unexpected events, ensuring that you're financially protected during your international travels.
1. Medical Emergencies:
Healthcare in the USA is notoriously expensive. Travel insurance ensures that you're covered for medical emergencies, hospitalisations, and other health-related issues that might arise during your visit, without burning a hole in your pocket.
2. Trip Cancellations and Delays:
Your travel arrangements may be affected by unforeseen circumstances like aircraft delays or cancellations. Travel insurance aids in the reimbursement of expenses spent as a result of unplanned modifications to your schedule.
3. Loss or Theft of Belongings:
Losing your luggage or personal belongings while travelling can be quite distressing. Travel insurance provides compensation or support in such scenarios, helping you manage the situation better.
4. Legal Liabilities:
Travel insurance also covers legal liabilities, accidents, or injuries caused to a third party, offering some level of protection in case of legal challenges during your visit to the USA.
5. Emergency Evacuations:
In extreme cases where evacuation is necessary due to natural disasters or political unrest, travel insurance can cover the costs associated with returning to India safely.
Travel insurance for the USA from India acts as a safeguard, protecting travellers from the financial impacts of various risks and uncertainties that one might encounter during the journey. It's not just about managing risks but ensuring that your travel experience remains smooth and enjoyable despite the unpredictabilities of global travel.
Key Features of Travel Insurance for the USA
When planning your journey to the USA, it's essential to understand the key features of travel insurance that will be your safety net abroad. Let's dive into some significant features that make travel insurance a must-have for travellers from India to the USA:
1. Comprehensive Medical Coverage:
A pivotal feature that ensures all your medical emergencies, from hospitalisation to medicinal costs, are taken care of without you having to worry about the high medical costs in the USA.
2. Baggage and Personal Effects Coverage:
With this service, you may travel with peace of mind, knowing that any losses resulting from baggage and personal item theft, delays, or misplacement are covered.
3. Travel and Lodging:
The insurance pays for non-refundable payments or extra expenses for rescheduling the trip in the event of trip cancellations or interruptions brought on by crises.
4. Emergency Evacuation:
In dire situations where an emergency evacuation is necessary, your travel insurance ensures that these processes are facilitated swiftly and effectively.
5. 24/7 Assistance:
Most travel insurance plans offer 24/7 assistance, providing the needed support and guidance in the face of any adversity, ensuring that help is just a call away.
Why Do You Need Travel Insurance from India to the USA?
Travel insurance is not merely an additional expense but a smart investment for several reasons, especially for travellers embarking on a journey from India to the USA:
1. High Medical Costs:
The USA is known for its exorbitant healthcare costs. Having travel insurance ensures that you're not caught off guard by hefty medical bills in case of a health emergency.
2. Uncertainties and Emergencies:
Travel comes with its fair share of uncertainties. Be it natural calamities, political unrest, or personal emergencies, having insurance means you are better prepared to navigate unforeseen challenges.
3. Legal Protections:
Travel insurance provides a layer of legal protection, covering liabilities or accidents involving third parties, which can be quite critical in a foreign country.
4. Enhancing Travel Experience:
With the assurance that potential risks and emergencies are covered, you are free to explore, experience, and enjoy your journey to the USA with greater peace of mind.
Tailoring your travel insurance to align with the needs and nature of your visit to the USA is crucial. It ensures that while you're engrossed in the beauty, culture, and experiences that the USA has to offer, you have a robust safety net to rely on, enhancing your overall travel experience.
How to Buy Travel Insurance for USA?
Buying travel insurance for your trip to the USA is a simple process that can usually be completed online. Here's a step-by-step guide on how to go about it:
1. Research:
Start by researching various insurance providers and the plans they offer. Look for plans that are specific to travellers going to the USA, you can do that from InsuranceDekho.com.
2. Comparison:
Compare different insurance plans based on the coverage they offer, including medical, baggage loss, and trip cancellations. Also, consider the premium costs and the claim settlement ratios.
3. Customise Your Plan:
Customise the plan based on the duration and nature of your stay. Consider adding specific covers, like adventure sports coverage or pre-existing disease cover, based on your needs.
4. Read the Terms and Conditions:
Always read the terms and conditions carefully to understand the inclusions, exclusions, and the procedure to make a claim.
5. Make the Purchase:
Once you have finalised the plan, you can usually purchase it online through the insurance provider's website. Fill in the necessary details, make the payment, and the policy will be emailed to you.
How to Select the Right Travel Insurance for the USA?
Choosing the right travel insurance is crucial to ensure that you are adequately covered during your trip. Here's how to make an informed decision:
1. Determine Your Needs:
Consider the nature of your trip, whether it is for tourism, business, or study. Also, consider any specific activities you plan to undertake, like skiing or hiking.
2. Coverage:
Look for comprehensive coverage that includes medical emergencies, baggage loss, trip cancellations, and other potential risks.
3. Consider the Duration:
Choose a plan that aligns with your travel duration. Some plans offer flexibility for extensions, which could be beneficial.
4. Review the Claim Process:
Select an insurance provider with a straightforward and hassle-free claim process. Customer reviews and ratings can be insightful in this aspect.
5. Consider the Network of Hospitals:
Ensure that the insurance company has a wide network of hospitals where cashless medical services can be availed in the USA.
6. Budget:
Consider your budget and choose a plan that offers the best coverage at a reasonable premium.
Selecting and buying the right travel insurance is a meticulous process that requires careful consideration of various factors. Making an informed decision ensures that your travel insurance acts as a reliable safety net, allowing you to have a worry-free and enjoyable trip to the USA.
Visa Information for the USA
Getting a visa is a critical aspect of your travel preparations for the USA. For Indian citizens, here is a general overview of the visa application process:
1. Determine Your Visa Type:
Different visa categories cater to various travel purposes, such as tourism, business, study, or work. The B-1 and B-2 visas are popular for business and tourism purposes, respectively.
2. Complete the DS-160 Form:
Fill out the DS-160 form available on the Consular Electronic Application Center (CEAC) website. Ensure that all information is accurate and complete.
3. Pay the Visa Application Fee:
Pay the non-refundable visa application fee. The fee amount may vary based on the visa category.
4. Schedule Your Visa Interview:
Schedule an appointment for your visa interview at the U.S. Embassy or Consulate. Remember to book well in advance to secure a convenient date.
5. Gather Necessary Documents:
Prepare all necessary documents, such as passport, photographs, DS-160 confirmation page, application fee payment receipt, and other supporting documents relevant to your visa type.
6. Attend the Visa Interview:
Attend the visa interview on the scheduled date. Be punctual, dress appropriately, and answer all questions honestly.
Entry Information for Indian Citizens Travelling to the USA
Once your visa is approved, here's what you need to know about entering the USA:
1. Arrival:
On arrival in the USA, you will be inspected by U.S. Customs and Border Protection (CBP) officers. Ensure you have all necessary documents, such as your passport and visa.
2. Customs Declarations:
You may need to complete customs declaration forms, declaring items that you are bringing into the USA.
3. Duration of Stay:
CBP officers will determine the length of your stay in the USA. Usually, tourists and business visitors are allowed a stay of up to 6 months.
4. I-94 Form:
The I-94 form, documenting your arrival and departure, is automated but can also be accessed and printed from the CBP website if needed.
5. Comply with Visa Conditions:
Ensure you comply with all conditions of your visa to avoid issues with immigration authorities, including overstaying beyond the allowed duration.
Understanding the visa process and entry information is essential to ensure a smooth journey to the USA. Ensure that you comply with all regulations, and carry all necessary documents to facilitate a hassle-free entry and stay in the country.
Best USA Tourist Places to Visit
The USA is a huge nation with many different types of landscapes as well as a wealth of historical and cultural sites. Indian tourists should think about visiting the following popular tourist destinations:
1. New York City: With its famous sites like the Statue of Liberty, Times Square, and Central Park, New York City is a vibrant metropolis with a wide variety of international cuisine, art, and culture.
2. Grand Canyon, Arizona: The Grand Canyon is a must-see for its amazing natural splendour. Huge, untamed landscapes provide trekking opportunities and breathtaking vistas.
3. San Francisco, California: Known for the historic cable cars, Alcatraz Island, and the Golden Gate Bridge, San Francisco provides a beautiful blend of bustling urban life and natural beauty.
4. Los Angeles, California: Home to Hollywood, gorgeous beaches, and well-known sites like Universal Studios and the Getty Centre, Los Angeles is the global centre of entertainment.
5. Las Vegas, Nevada: Known for its exciting nightlife that revolves around casinos and entertainment performances open around the clock, Las Vegas provides a distinctive and exciting experience.
6. Walt Disney World, Orlando: This enormous amusement park in Orlando is a dream come true for many people, providing both kids and adults with a magical experience.
7. Yellowstone National Park: Featuring geysers, hot springs, and a wide variety of species, Yellowstone is America's first national park.
8. Washington, D.C.: There are several museums and historical sites in the nation's capital. The White House, the US Capitol, and the Smithsonian museums are important sites.
Tips and Precautionary Measures When Visiting the USA
Travelling to a different country requires preparation and adherence to certain precautions to ensure a smooth and enjoyable trip. Here are some tips and precautionary measures for visiting the USA:
1. Health and Safety:
Consider getting vaccinated as per the CDC recommendations. Always have your travel insurance details handy in case of emergencies.
2. Local Laws and Customs:
Familiarise yourself with the local laws and customs of the places you are visiting to show respect and avoid inadvertently breaking any rules.
3. Money and Payments:
Have some US dollars on hand in case of minor costs. Nonetheless, credit and debit cards are commonly recognised throughout the nation.
4. Transit:
Using public transit, including buses and subways, is an affordable option for getting around. Additionally well-liked are ride-sharing services like Uber and Lyft.
5. Connectivity:
To keep connected when travelling, think about purchasing an international roaming package or a local SIM card.
6. Weather:
Take note of the country's diverse climates and pack clothes appropriately after consulting the weather prediction for your intended location.
The United States of America provides a wide range of tourist experiences, and you may make your vacation enjoyable and trouble-free by taking careful planning and safety measures. Recall to honour regional laws and customs, be ready for any emergency, and fully enjoy the rich diversity of American culture and natural beauty.
Indian Embassy Information Travellers Should Know
Having information about the Indian Embassy or Consulates in the USA can be quite useful during your travels. Here's what you should know:
1. Embassy Location:
The Embassy of India is located in Washington D.C. There are also several Consulates located in various cities like New York, San Francisco, Chicago, Houston, and Atlanta.
2. Services Offered:
The Embassy and Consulates provide various services such as passport renewal, visa services, OCI services, and assistance in emergencies.
3. Emergency Assistance:
In case of emergencies like loss of passport or any legal troubles, the Embassy or the nearest Consulate can be contacted for guidance and assistance.
4. Contact Information:
It's advisable to keep the contact information of the Embassy and nearest Consulate handy. You can find this information on their respective websites.
5. Registration:
It might be a good idea to register with the Embassy or a Consulate to keep updated with any advisories or information pertinent to Indian citizens.
International Airports in the USA
The USA is well connected to various parts of the world, and there are several major international airports where you might land or take connecting flights. Here are some key international airports:
1. Hartsfield-Jackson Atlanta International Airport (ATL), Atlanta:
One of the busiest airports globally, offering numerous international and domestic flights.
2. Los Angeles International Airport (LAX), Los Angeles:
A major gateway for international travellers, especially from the Asia-Pacific region.
3. Chicago O'Hare International Airport (ORD), Chicago:
Well-connected to various global destinations, with extensive services to Europe and Asia.
4. John F. Kennedy International Airport (JFK), New York:
A prominent airport with extensive international services, including several direct flights to and from India.
5. San Francisco International Airport (SFO), San Francisco:
Offering a variety of international flights, including several services to Indian cities.
6. Newark Liberty International Airport (EWR), Newark, New Jersey:
Convenient for travellers heading towards New York City, with multiple international services, including flights to India.
7. Dallas/Fort Worth International Airport (DFW), Dallas:
A significant hub with a good number of international flights, including services to various parts of Asia.
Having essential information about the Indian Embassy and international airports will make your journey more comfortable and secure. It ensures that you have the necessary support and connectivity during your travel to the USA. Remember always to keep important contact details and airport information handy to deal with unexpected situations efficiently.
Things to do in the USA
The United States is a vibrant tapestry of cultures, landscapes, and attractions. Each corner of this vast nation offers unique experiences that are sure to captivate and enthral. Here are some activities and experiences you shouldn't miss:
1. Exploring National Parks:
Dive into the natural beauty of the USA by visiting its stunning national parks like Yellowstone, Yosemite, and the Great Smoky Mountains.
2. Touring Iconic Cities:
Explore the iconic cities such as New York, Los Angeles, and Chicago. Each city boasts its own distinctive landmarks, museums, and cultural attractions.
3. Beach Bumming:
Relax on some of the world's most beautiful beaches in Florida, Hawaii, and California.
4. Indulging in Culinary Delights:
Try out the diverse culinary scenes. From the deep-dish pizza in Chicago to the clam chowder in Boston, every city offers unique dining experiences.
5. Visiting Theme Parks:
Have a fun-filled day at famous theme parks such as Walt Disney World, Universal Studios, and Disneyland.
6. Experiencing Broadway:
If you find yourself in New York, attending a Broadway show is a must-do activity.
7. Enjoying the Festivals:
Participate in various festivals to experience the multicultural fabric of the USA, such as Mardi Gras in New Orleans or the Albuquerque International Balloon Fiesta.
Money Saving Tips for Travellers in the USA
Travelling can be expensive, but there are ways to make the most of your trip without breaking the bank. Here are some money-saving tips for travellers:
1. Plan and Book in Advance:
Planning your trip and booking flight tickets and accommodations in advance can help you get better deals and choices.
2. Utilise Public Transportation:
Make use of public transportation such as buses and subways, which are quite affordable and convenient in most cities.
3. Eat Like a Local:
Try eating where the locals eat. Not only does it offer a more authentic experience, but it is often more affordable as well.
4. Look for Discounts and Offers:
Keep an eye out for discounts, special offers, and coupons for various attractions and dining.
5. Stay Outside Major Tourist Areas:
Consider staying slightly outside the main tourist areas, where accommodation can be cheaper.
6. Free Attractions and Events:
Look for free attractions, museums, and events. Many museums offer free entry on specific days or times.
The USA has a plethora of experiences to offer, and with some thoughtful planning and smart choices, you can make the most of your trip without overspending. Ensure you explore, engage with the local culture, and most importantly, enjoy your journey!
Best Time to Visit the USA
Choosing the right time to visit the USA is essential for making the most out of your trip. Given its vast geographical diversity, the USA experiences varied climates, making some times of the year more favourable for travel than others.
1. Spring (March to May):
Spring brings mild temperatures across most parts of the country. It's a great time to explore cities like Washington D.C., where cherry blossoms famously bloom.
2. Summer (June to August):
The summer months are ideal for visiting destinations like New York City, national parks, and beach destinations. However, be prepared for crowds and higher prices in popular tourist spots.
3. Autumn (September to November):
Autumn is a fantastic time to travel, with pleasant weather and beautiful fall foliage, especially in the northeastern states. It's also a time when you can experience various harvest festivals.
4. Winter (December to February):
Winter is perfect for snow sports in places like Colorado and Utah. You can also consider visiting warmer states like Florida and Hawaii during this time.
Foreign Currency Information
When travelling from India to the USA, it's important to understand the currency exchange aspects to manage your finances smoothly during the trip.
1. Currency Used:
The official currency of the USA is the United States Dollar (USD).
2. Exchanging Currency:
Consider exchanging some currency before leaving India. You can also use currency exchange services at airports, banks, and separate currency exchange offices in the USA.
3. Credit and Debit Cards:
Credit and debit cards are widely accepted across the USA. Inform your bank about your travel dates to avoid any transaction issues.
4. ATMs:
ATMs are readily available, but be mindful of transaction fees when withdrawing money.
5. Travel Cards:
Consider getting a prepaid travel card in USD, which you can reload as per your need. It is a secure and convenient way to manage your money.
Identifying the best time to visit the USA helps in experiencing the country at its best, and having clear information about currency management ensures a hassle-free travel experience. So, plan wisely, and you're all set for an exciting and enjoyable trip!
Final Thoughts
Travelling from India to the USA is an exciting journey, filled with endless possibilities and experiences waiting to unfold. Whether it's the awe-inspiring landscapes, dynamic cities, cultural melting pots, or the spirit of exploration that captivates you, the United States has something to offer to every traveller.
In this guide, we've aimed to cover all the essential aspects, from getting the right travel insurance and navigating the visa processes to choosing the best travel times and managing your finances efficiently. Armed with this information, you can plan a trip that's not just memorable but also secure and hassle-free.
So go ahead, plan meticulously, embark on your adventure, and make the most out of every moment in the diverse and astonishing landscapes of the USA. Remember, the key to a successful trip lies in planning, awareness, and adaptability. Here's wishing you an incredible journey ahead! Safe travels!
Frequently Asked Questions (FAQ)
Is it necessary to buy travel insurance in the USA for students?

Most universities in the USA ask for travel insurance. This is because while living in the USA for two or more years, a student may face any medical problem that can burden him financially.

Can I buy a travel health insurance policy while living in the USA?

Yes, people from abroad can buy a travel health insurance policy in the USA by paying a higher premium. The insurance plan will provide you with coverage for trip delays, cancelled flights, loss of baggage, and more.

As a tourist, can I avail cashless medical facilities in the USA?

Yes, you can avail yourself of the benefits of cashless medical facilities in the USA if you are admitted to the network hospital of your respective health insurance company.

What are the parameters I should consider while purchasing travel insurance for the USA?

While choosing travel insurance for the USA, you should consider factors like premiums, coverage, the policy period, and the claim process.

Can I live permanently in the USA?

Yes, you can immigrate to the United States by receiving a green card from the authorities. This immigrant visa allows you to work in any profession and can easily be renewed.
Insurance Dekho Contact Details
Reach us for help anytime
Insurance Dekho

755 1196 989

Mon to Sun 10:00 AM to 7:00 PM