Claim, renew, manage & more
Login
Dubai Visa
Dubai, a city of superlatives, never ceases to enchant visitors with its stunning skyscrapers, immense shopping malls, and a plethora of dining options. Each corner tells a tale of astonishing innovation, and every structure holds within it marvels that defy the ordinary. For Indians looking forward to experiencing the opulence and luxury of Dubai, getting your visa sorted is paramount. Navigating through the visa process might seem daunting, but we are here to make it a breeze for you. Get ready to dive deep into the guidelines and get equipped with essential information to ensure your visa application process to Dubai is smooth and successful.

Buy Best Travel Insurance Plans for your Overseas Journey from Just ₹552 Onwards*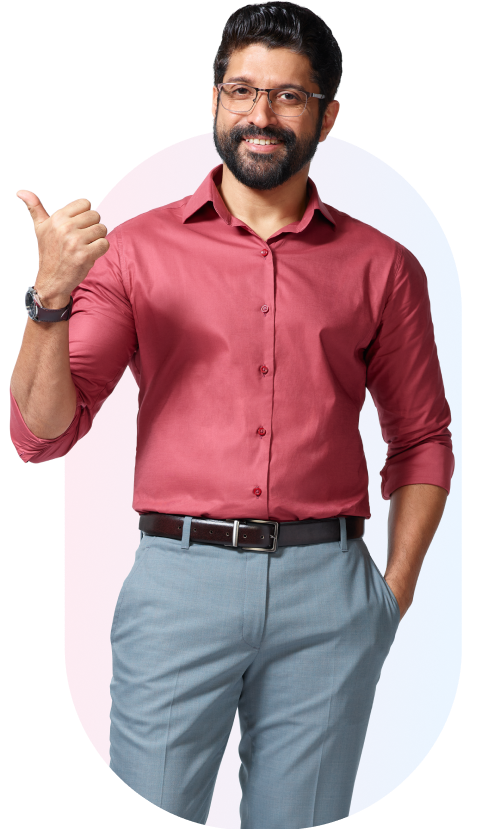 Loss of passport

Emergency Medical cover

Trip delay cover

Loss of baggage cover
*Standard Terms and Conditions Apply.
Things to Know About Dubai Visa Guidelines
Before you start dreaming of standing atop the Burj Khalifa or wandering through the lanes of the Old Dubai Souk, it's essential to acquaint yourself with the visa guidelines to make sure your journey to this glamorous city is without any hiccups.
1. Types of Visas
Dubai offers various types of visas based on the purpose of your visit. You might apply for a tourist visa, transit visa, or visit visa. The tourist visa is commonly used and usually valid for a short term that could be 30 days or 90 days.
2. Visa Duration and Validity
Dubai visas come with different validity periods. A short-term visa typically allows a 30-day stay, while a long-term visa can be valid for 90 days, both from the day of entry.
3. Online Application
Visa applications for Dubai are mostly done online. Various authorised agencies facilitate the electronic visa application process, ensuring it is straightforward and user-friendly.
4. Essential Documents
Ensure that you have all the necessary documents ready before applying. Typically, you would need a valid passport, passport-sized photographs, confirmed flight booking, and proof of hotel reservations.
5. Sponsorship
For obtaining a visa, sponsorship is usually required. Hotels, airlines, and tour operators in Dubai, or relatives/residents of Dubai, can act as sponsors.
6. Processing Time
Visa processing can take anywhere from 3 to 5 working days. It is advisable to apply at least two weeks before your intended travel date to accommodate any unforeseen delays.
7. Visa Fees
Visa fees can vary based on the type and duration of the visa. Make sure to check the updated fees and the inclusion of any additional service charges or processing fees.
8. Overstay Penalties
Be mindful of the validity of your visa to avoid overstaying. Overstaying can result in hefty fines and complications in obtaining visas in the future.
How to Apply for a Dubai Visa from India Online?
Navigating through the online visa application process might seem like a task, but worry not! Here's a step-by-step guide to applying for your Dubai visa online, ensuring you're well-prepared for a seamless journey to the city of gold.
1. Choose the Right Type of Visa
Before diving into the application process, identify the visa type that suits your travel needs best. Whether it's a short-term visit, a long-term stay, or merely a transit, choosing the correct visa type is crucial.
2. Find a Reliable Visa Facilitator
Various authorised agencies and travel companies facilitate online visa applications for Dubai. Choose a reliable one to avoid any hassles and ensure a smooth application process.
3. Gather Necessary Documents
Ensure you have all the essential documents in place. Typically, these include:
- A valid passport with at least six months' validity from the time of travel
- Passport-sized photographs as per the specified dimensions and guidelines
- Confirmed return flight tickets
- Proof of hotel reservation or stay details
4. Fill the Online Application Form
Visit the official website of the chosen facilitator or agency. Start filling out the application form with accurate details as per your documents. Any discrepancies might lead to visa denial.
5. Submit the Documents
Upload the scanned copies of the required documents carefully. Double-check to ensure all documents are clear and as per the specified guidelines.
6. Make the Payment
Proceed to pay the visa fees online. The modes of payment would usually include credit/debit cards or net banking. Keep the payment confirmation receipt saved for future reference.
7. Track Your Application
Most agencies allow you to track your visa application status online. Use the application reference number to keep tabs on the progress.
8. Receive Your Visa
Upon approval, you'll receive the visa via email. It is usually sent as an electronic document (e-Visa) that you need to print and carry along with your travel documents.
Tips for a Successful Application
- Ensure all the information provided is accurate and matches the documents.
- Keep soft copies of all documents handy for easy upload.
- Make sure to apply at least two weeks before your intended travel to accommodate any unexpected delays or issues in the application process.
Dubai Visa Types for Indians
Dubai, a dream destination for travellers, offers a range of visa options to accommodate various needs and purposes of visitors. Here's a detailed rundown of the different types of visas available to Indian citizens planning to travel to Dubai:
1. Study Visa
For those aiming to pursue educational opportunities in Dubai, a study visa is the gateway. This visa is specifically tailored for students and is usually linked with the educational institution where one has secured admission.
2. Service Visa
Service visas are typically short-term visas issued to individuals such as company representatives, sales representatives, or other types of travellers on a brief professional visit to Dubai.
3. Visit Visa
This type of visa is suitable for those who intend to stay in Dubai for a more extended period, whether for visiting family or a long-term vacation. It allows travellers to stay for up to 90 days, which can be extended under specific conditions.
4. Transit Visa
Transit visas are for travellers who have a layover in Dubai and wish to step out of the airport to explore the city briefly. These are short-duration visas, allowing a stay of up to 48 or 96 hours, based on the type chosen.
5. Work Permit
Individuals seeking employment opportunities in Dubai require a work permit or employment visa. This permit is generally arranged and sponsored by the employer in Dubai, facilitating the employee's stay during their employment period.
6. Tourist Visa
Tourist visas, the most common type, cater mainly to travellers visiting Dubai for tourism. They are generally valid for a short duration, enabling travellers to soak in Dubai's wonders and explore its opulent culture and architecture.
7. Medical Permit
A medical permit is issued to individuals seeking medical treatment in Dubai. Accompanied by necessary medical documentation and hospital details, this visa ensures travellers can access the medical facilities and treatments they require during their stay.
Each visa type serves a distinct purpose, ensuring that travellers have a smooth and tailored experience during their time in Dubai. It's imperative to choose a visa that aligns with the intention of your visit to avoid any complications or legal issues during your stay.
Dubai Visa Fees and Validity for Indians
When planning a trip to Dubai from India, it's crucial to understand the various visa costs involved and the validity of each visa type to make an informed decision. Here's a breakdown of the visa fees and validity to guide you through your application process:
1. Tourist Visa
- Validity: 30 days (short-term) or 90 days (long-term)
- Fees: The fee for a short-term visa might range from ₹6,000 to ₹7,000, and for a long-term visa, it might vary between ₹13,000 to ₹15,000.
2. Transit Visa
- Validity: 48 hours or 96 hours
- Fees: The 48-hour visa is usually free, while the 96-hour visa may cost around ₹1,200 to ₹1,500.
3. Visit Visa
- Validity: 90 days
- Fees: The visit visa cost can range between ₹13,000 to ₹15,000.
4. Work Permit
- Validity: Typically aligned with the employment contract
- Fees: Fees are variable and often borne by the employer, but they might range significantly based on the job type and sector.
5. Study Visa
- Validity: Valid for the duration of the course or one year, renewable annually.
- Fees: Fees may vary based on the educational institution and course but expect significant variations.
6. Service Visa
- Validity: 14 days
- Fees: It usually costs between ₹7,000 to ₹9,000.
7. Medical Permit
- Validity: Depends on the treatment
- Fees: Charges may vary based on medical requirements and duration of stay.
8. Other Charges
- Processing Fee: A nominal processing fee might be applicable.
- Extension Fee: Fees for extending the visa validity might also be applicable, based on the type of visa.
Dubai Visa Requirements for Indian Citizens - Eligibility and Documents
Navigating through the visa process can be a tad overwhelming, but understanding the essential eligibility criteria and necessary documents can make the journey more straightforward. Here's a comprehensive guide on the requirements and eligibility criteria for Indian citizens applying for a Dubai visa:
1. Passport Validity
- Your passport should be valid for at least six months from the date of travel to Dubai.
2. Passport Pages
- Ensure that your passport has enough blank pages for visa stamps.
3. Photographs
- Provide recent passport-sized photographs with a white background. The photo should meet the specifications laid out by the UAE authorities.
4. Confirmed Return Ticket
- A confirmed return ticket is necessary for tourist, transit, and visit visas to ensure that you intend to return after your stay.
5. Hotel Booking or Accommodation Proof
- Proof of accommodation or a hotel booking confirmation reflecting the details of your stay is essential.
6. Financial Proof
- Bank statements or other proof of funds may be necessary to show your ability to sustain the stay.
7. Invitation from a Resident or Company (if applicable)
- An invitation letter may be needed if you are visiting family, friends, or for business purposes.
8. No Objection Certificate (NOC)
- For work or study visas, NOCs from the respective employer or educational institution may be required.
9. Medical Insurance
- Valid medical insurance covering the duration of your stay in Dubai might be necessary for certain visas.
10. Visa Application Form
- A duly filled and signed visa application form is essential, following the guidelines provided by the consular services.
Special Requirements for Specific Visa Types:
- Work Visa: Employment contract, educational certificates, and employer details.
- Study Visa: Admission confirmation, details of the course, and educational institution.
- Medical Permit: Medical records, hospital confirmation, and treatment details.
Each visa type comes with its specific set of requirements, and it's prudent to check with the official UAE visa website or consult the visa handling agencies to get detailed and updated information tailored to your visa type. Ensuring that you meet all eligibility criteria and have the necessary documents in place is crucial for a seamless application process and visa approval.
Dubai Visa Application Centres in India
Applying for a Dubai visa from India is made convenient with multiple visa application centres spread across the country. These centres facilitate the application process, making it more streamlined and accessible. Here are some visa application centres where you can apply for various Dubai visas:
1. Mumbai:
- Address: Trade Centre, Bandra Kurla Complex, Bandra East, Mumbai, Maharashtra.
- Contact: +91-22-12345678
2. New Delhi:
- Address: Shivaji Stadium Metro Station, Connaught Place, New Delhi, Delhi.
- Contact: +91-11-12345678
3. Chennai:
- Address: Fagun Towers, Ethiraj Salai, Egmore, Chennai, Tamil Nadu.
- Contact: +91-44-12345678
4. Kolkata:
- Address: Rene Tower, Kasba, Kolkata, West Bengal.
- Contact: +91-33-12345678
5. Bangalore:
- Address: Prestige Atrium, Central Street, Bangalore, Karnataka.
- Contact: +91-80-12345678
6. Hyderabad:
- Address: 1-8-313, Chiran Fort Club Lane, Begumpet, Hyderabad, Telangana.
- Contact: +91-40-12345678
7. Pune:
- Address: Sohrab Hall, Tadiwala Road, Pune, Maharashtra.
- Contact: +91-20-12345678
8. Ahmedabad:
- Address: Gujarat Chambers Building, Ashram Road, Ahmedabad, Gujarat.
- Contact: +91-79-12345678
9. Kochi:
- Address: Gateway Malabar Building, Marine Drive, Kochi, Kerala.
- Contact: +91-484-12345678
10. Chandigarh:
- Address: Elante Offices, Industrial & Business Park, Phase-1, Chandigarh.
- Contact: +91-172-12345678
11. Goa:
- Address: Edcon Towers, M.G. Road, Panaji, Goa.
- Contact: +91-832-12345678
Dubai Visa and Travel Insurance
Understanding the Connection:
When you're planning a trip to Dubai from India, obtaining a visa is a critical step in your preparations. But there's another aspect that demands your attention – travel insurance. Having a comprehensive travel insurance policy is not just a safety net but also a requirement for visa applications in many cases.
Why is Travel Insurance Essential?
1. Medical Emergencies: Travel insurance is a safeguard against unforeseen medical emergencies during your stay in Dubai. Hospitalisation or medical treatment abroad can be exorbitantly expensive; travel insurance ensures that you're covered.
2. Trip Cancellations and Delays: If your trip gets cancelled or delayed due to unforeseen circumstances, your travel insurance can cover the financial losses incurred due to hotel or flight booking cancellations.
3. Loss or Delay of Baggage: Travel insurance can be a lifesaver in scenarios where your baggage is lost, delayed, or stolen, helping you manage expenses and inconveniences.
4. Legal Liabilities: In case you find yourself amidst legal troubles while in Dubai, a robust travel insurance policy will cover the legal expenses, guiding you through such situations.
Is Travel Insurance Mandatory for a Dubai Visa?
Travel insurance is not strictly mandatory for obtaining a Dubai visa for Indian citizens. However, it is highly recommended. Certain types of visas, like the Schengen visa, explicitly require travel insurance, but the Dubai visa regulations are slightly more relaxed in this regard.
Selecting the Right Travel Insurance:
When choosing travel insurance for your Dubai trip, ensure it aligns with the nature and duration of your visit, whether it's for tourism, business, or study. Evaluate the policy based on the coverage offered, including medical expenses, trip cancellations, loss of baggage, and other unexpected occurrences.
Pairing your Dubai visa with a comprehensive travel insurance policy enhances the security of your journey, allowing you to explore the opulence and excitement of Dubai with peace of mind. It's an investment in safety, ensuring that unexpected hurdles don't disrupt your travel experience. Consider it as essential as your visa in the travel planning process.
Frequently Asked Questions (FAQ)
Can the Dubai visa be extended?

Yes, certain types of Dubai visas can be extended. However, eligibility for extension and the process may vary based on the type of visa. Check with the local immigration office or your travel agency for specific details.

What are the eligibility criteria for applying for a Dubai visa for Indian citizens?

Eligibility criteria might vary based on the type of visa you are applying for. Generally, a valid passport, confirmed return tickets and hotel reservations are some of the basic eligibility criteria.

Is travel insurance mandatory for a Dubai visa?

While travel insurance is not mandatory for a Dubai visa, it is highly recommended to have a comprehensive travel insurance policy to cover unexpected medical or non-medical emergencies during your stay.

How much does a Dubai visa cost for Indian citizens?

The cost of a Dubai visa varies based on the type and duration of the visa. It's advisable to check the latest fees on the official Dubai immigration website or consult your travel agency for the most accurate and updated information.

What are the different types of visas available for Indians travelling to Dubai?

Indians can apply for various types of Dubai visas such as Tourist Visa, Visit Visa, Transit Visa, Work Permit, Study Visa, Service Visa, and Medical Permit, each serving different travel purposes like tourism, work, transit, etc.
Insurance Dekho Contact Details
Reach us for help anytime
Insurance Dekho

755 1196 989

Mon to Sun 10:00 AM to 7:00 PM