Claim, renew, manage & more
Login
Thailand Tourist Visa for Indians
Travellers from all over the world find happiness in Thailand, the nation of smiles. Many people are drawn to it every year. They want to experience its exciting nightlife, stunning beaches, beautiful landscapes, and rich cultural heritage. Moreover, Thailand is a popular travel destination for Indians. This is not because it is close by but also because of its friendly atmosphere and wide range of experiences.
It's important to understand that a part of visiting overseas is understanding the visa application procedure. Thus, you've come to the correct spot if you're thinking of visiting Thailand and are wondering about the necessary visa requirements!

Buy Best Travel Insurance Plans for your Overseas Journey from Just ₹552 Onwards*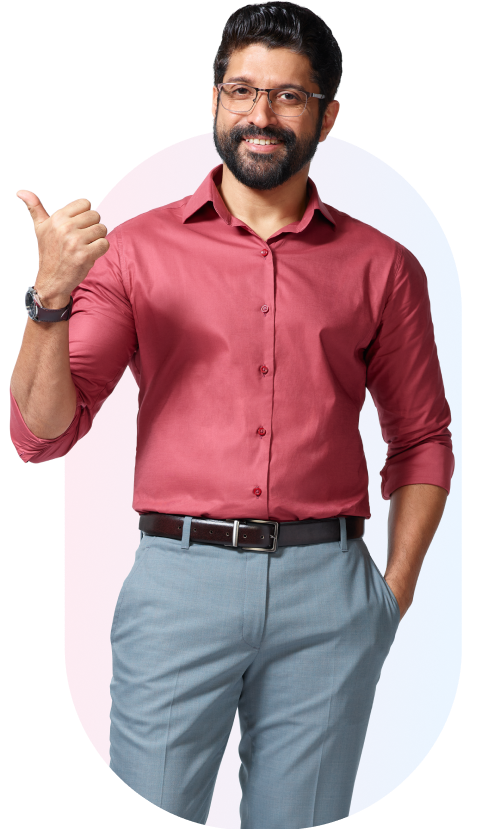 Loss of passport

Emergency Medical cover

Trip delay cover

Loss of baggage cover
*Standard Terms and Conditions Apply.
Is a Thailand Tourist Visa for Indians Required?
Technically speaking, Indians don't require a visa if they plan on staying in Thailand for 15 days or less. India falls under the list of countries that are allowed a visa exemption or visa on arrival by Thailand. This implies that travellers from India may apply for a visa at specific airports in Thailand upon arrival. However, you would need to apply for a tourist visa at the Royal Thai Embassy or Consulate in India if you planned to remain longer than 15 days.
It's crucial to remember that the visa on arrival is often only valid for travel, and you must have a confirmed return ticket as proof that you intend to depart Thailand within the allotted 15 days. Although visa exemption and visa-on-arrival programmes appear easy, they have specific rules and limitations that must be carefully fulfilled to guarantee a seamless entry and stay in Thailand. Therefore, it could be a good idea to familiarise yourself with all the details and procedures required to use this feature.
Does Thailand Offer a Visa on Arrival for Indians?
Yes, Thailand does offer Visa on Arrival (VoA) services for Indian citizens, but it comes with certain conditions. Indian tourists can avail themselves of the Visa on Arrival service at various international airports across Thailand. This provision is generally applicable for short stays, meaning that you can stay for up to 15 days if you enter Thailand via an international airport.
However, suppose you are entering through a land border checkpoint from a neighbouring country. In that case, the Visa on Arrival allows you to stay in Thailand for 15 days, and it can be extended under certain conditions.
Thailand Tourist Visa Requirements
When applying for a Thailand tourist visa or a Visa on Arrival, here are some essential requirements that Indian citizens must comply with:
1. Passport: Your original passport with at least six months of validity from the time of entry into Thailand, with at least two blank pages for visa stamps.
2. Photographs: Recent passport-sized photographs (4x6 cm) against a white background. Ensure that the photographs are not older than three months.
3. Visa Application Form: A fully completed and signed visa application form.
4. Flight Itinerary: Confirmed round-trip flight tickets, showing entry and exit from Thailand.
5. Hotel Bookings: Proof of accommodation, like hotel reservation receipts, for your entire stay in Thailand.
6. Financial Means: Proof of your financial means, indicating you have adequate finances to cover the stay. This could be recent bank statements or traveller's cheques.
7. Visa Fee: Payment of the visa application fee. The fee varies depending on the type of visa you are applying for.
8. Travel Insurance: Although not always mandatory, it's recommended to have travel insurance that covers your trip's duration.
Remember that the visa requirements may change based on the specific type of visa you are applying for and any changes in the immigration policies, so it's advisable to check the latest updates from the Royal Thai Embassy or Consulate or their official website.
Thailand Tourist Visa Fees for Indians
The visa fees for Indian citizens applying for a Thailand tourist visa vary depending on the type and duration of the visa. Below is a general guide to the visa fees:
- Tourist Visa (Single Entry): Approximately INR 2,500 (valid for tourism purposes and allows a stay of up to 60 days).
- Tourist Visa (Multiple Entries): Approximately INR 12,000 (valid for tourism purposes, each entry allows a stay of up to 60 days, and the visa itself is generally valid for six months).
- Visa on Arrival: Approximately INR 2,000 (allows a stay of up to 15 days).
Please note that visa fees are subject to change, and it might be best to check with the Royal Thai Embassy or Consulate for the most current fees.
How to Apply for a Thailand Tourist Visa?
Here's a step-by-step guide on how to apply for a Thailand tourist visa for Indian citizens:
1. Choose the Type of Visa: Determine the type of visa you need, whether it's a single entry, multiple entries, or Visa on Arrival.
2. Collect Necessary Documents: Gather all the required documents such as your passport, photographs, flight itinerary, hotel booking, proof of financial means, and others.
3. Visa Application Form: Complete the visa application form with accurate details. The form can usually be downloaded from the official website of the Royal Thai Embassy or Consulate.
4. Submit Application: Submit your visa application and required documents at the Royal Thai Embassy or Consulate. Some cities also have visa application centres where you can submit your application.
5. Pay the Visa Fee: Pay the applicable visa fee through the accepted payment modes. Keep the receipt for reference.
6. Wait for Visa Processing: After submitting your application, wait for the processing to be completed. It generally takes a few working days, but it can vary.
7. Collect Your Visa: Once your visa is approved, you'll be notified, and you can collect your visa from the place where you submitted your application.
Remember to always check the latest guidelines and requirements from the official websites to ensure that you have the most accurate and up-to-date information.
Should I Purchase Thailand Travel Insurance?
Purchasing travel insurance when travelling to Thailand is not a legal requirement, but it is highly recommended. Here are some reasons why investing in a good travel insurance policy can be beneficial for Indian tourists travelling to Thailand:
1. Medical Emergencies: Medical costs in Thailand can be quite high. Having travel insurance ensures that you're covered in case of sickness or accidents, allowing access to quality medical care without financial stress.
2. Trip Cancellations or Delays: Unforeseen circumstances such as flight cancellations or delays can disrupt your travel plans. Travel insurance can cover the costs associated with these disruptions.
3. Loss of Passport or Theft of Belongings: Travel insurance can provide protection against the loss or theft of your valuables, such as passports, electronic gadgets, or luggage.
4. Adventure Sports and Activities: If you plan to indulge in adventure sports and activities, having insurance can be a lifesaver in case of any accidents or injuries.
5. Legal Liabilities: Insurance can offer coverage against legal liabilities or accidental damages to third parties during your stay.
6. COVID-19 Coverage: In light of the global pandemic, choosing a travel insurance policy that covers COVID-19-related medical expenses and trip disruptions is wise.
7. Ease in Visa processing: In case you are planning to get a visa on arrival or planning to extend your stay beyond 15 days, having international travel insurance becomes very important for visa purposes.
Final Thoughts
Thailand is a beautiful and inviting destination, but ensuring a smooth and secure trip should always be a priority. Armed with a tourist visa, supported by a comprehensive travel insurance policy, Indian travellers can experience the best of Thailand with peace of mind.
Understanding and following the visa application process meticulously is essential for a successful application. Simultaneously, investing in travel insurance can safeguard you against various uncertainties, ensuring that unexpected hitches don't hamper the enjoyment of your Thai experience.
Before planning your trip, always check the latest travel advisories, visa requirements, and insurance policy options to ensure a well-prepared and delightful journey to Thailand.
Frequently Asked Questions (FAQ)
What documents are required for a Visa on Arrival?

Key documents include a valid passport, return flight ticket within 15 days, proof of accommodation, and proof of funds, along with a duly filled visa application form and visa fee.

Does Thailand offer a Visa on Arrival for Indian citizens?

Yes, Thailand does offer Visa on Arrival services to Indian citizens, which allows a stay of up to 15 days.

What are the fees for a Thailand tourist visa for Indian citizens?

The visa fees can vary based on the type and duration of the visa. It's best to check the latest fee structure on the official website or contact the Royal Thai Embassy or Consulate.

How can I apply for a Thailand tourist visa from India?

You can apply for a Thailand tourist visa by visiting the nearest Royal Thai Embassy or Consulate in India. Ensure you have all the required documents, correctly filled application forms, and relevant fees.

Is a visa required for Indian citizens travelling to Thailand for tourism?

Yes, Indian citizens do require a visa to travel to Thailand for tourism purposes. However, Thailand does offer a Visa on Arrival (VoA) service to Indian passport holders.
Insurance Dekho Contact Details
Reach us for help anytime
Insurance Dekho

755 1196 989

Mon to Sun 10:00 AM to 7:00 PM