Claim, renew, manage & more
Login
Travel Insurance for Mauritius from India
Mauritius, renowned for its idyllic beaches and natural beauty, is a dream destination for travelers. However, to truly enjoy your journey, it's crucial to have travel insurance that can protect you from the unexpected. Let's explore the world of Mauritius travel insurance and why it's your trusted companion when visiting this paradise.

Buy Best Travel Insurance Plans for your Overseas Journey from Just ₹552 Onwards*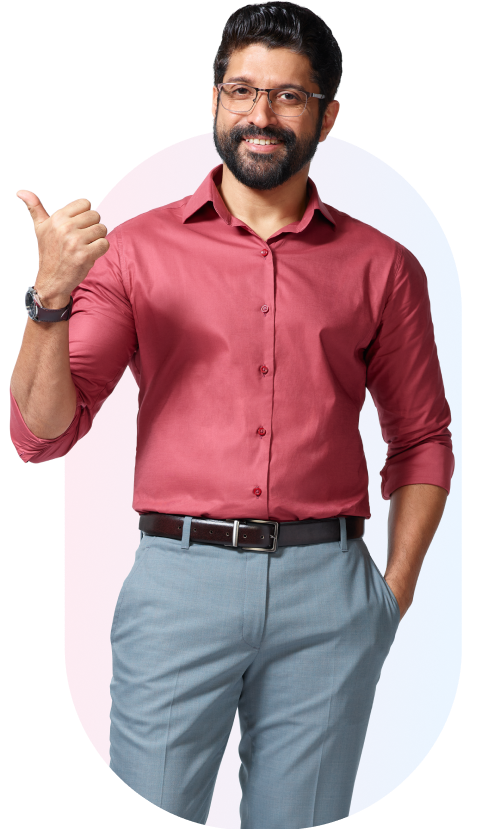 Loss of passport

Emergency Medical cover

Trip delay cover

Loss of baggage cover
*Standard Terms and Conditions Apply.
Is Travel Insurance Mandatory to Visit Mauritius?
While Mauritius doesn't make travel insurance mandatory, it's a wise choice to have it. It's your safety net in a foreign land. Medical emergencies, travel hiccups, and lost baggage can turn a dream vacation into a nightmare. Travel insurance ensures you're covered when life throws unexpected curveballs your way.
Why Should You Get Travel Insurance to Mauritius?
Your journey to Mauritius deserves the best protection, and travel insurance provides just that. Here's why it's a must-have:
Protection Against Trip Interruptions: Whether it's a delayed flight or a sudden cancellation, travel insurance compensates you for the inconveniences.
Safety for Your Belongings: In case your checked-in baggage is lost or delayed, travel insurance eases your worries by offering financial compensation.
Medical Expenses Covered: Falling ill or facing an accident during your trip can be daunting. Travel insurance ensures you receive proper medical care without the financial burden.
Peace of Mind: With travel insurance, explore Mauritius without worrying about unexpected mishaps. It also covers injuries to third parties, all at an affordable rate.
Benefits of Travel Insurance for Mauritius
Travel insurance is your passport to a worry-free journey in Mauritius:
1. Compensation for Trip Cancellation: If your trip is disrupted, you'll be reimbursed for incurred expenses.
2. Lost or Delayed Baggage Coverage: In the unfortunate event of lost or delayed luggage, travel insurance covers the replacement of essential items.
3. Medical Expenses: Illness or injury will be covered, ensuring you receive the medical attention you need.
4. Secure Travel: You can explore Mauritius confidently, knowing you're financially protected. It even covers injuries to third parties, and it's budget-friendly.
Inclusions & Exclusions of Mauritius Travel Insurance
Understanding what's covered and what's not is vital:
Inclusions:
Flight delays, cancellations, or hijacks

Compensation for lost, stolen, or damaged baggage

Emergency cash allowance for unforeseen situations

Cashless hospitalization for medical issues

Coverage for COVID-19-related expenses

Personal liability coverage
Exclusions:
Pre-existing medical conditions

Illness due to ignoring medical advice

Injuries from self-inflicted harm or intoxication

Injuries from adventure sports

Knowing these details helps you pick the right plan for your specific needs.
Why Opt for InsuranceDekho for Your Mauritius Travel Insurance from India?
When you choose InsuranceDekho, you're choosing convenience, transparency, and competitive pricing:



1. Competitive Pricing: We understand the value of cost-effective insurance. Our travel insurance plans offer great coverage at reasonable prices.




2. Extensive Coverage Options: We provide various plans from top insurers to cater to different needs and budgets.




3. Effortless Comparison: Our platform makes comparing insurance plans a breeze, helping you make an informed decision.




4. Expert Guidance: Our insurance experts are ready to assist you, ensuring you select the right coverage for your trip.




5. Hassle-Free Claims Process: In the unfortunate event of a claim, InsuranceDekho supports you through a smooth and stress-free process.
Tourist Places To Visit In Mauritius
Mauritius is a picturesque paradise with a plethora of must-visit places that will leave you in awe:
1. Port Louis: As the capital of Mauritius, Port Louis is a historical treasure trove, boasting a blend of tradition and modernity. Explore French architecture, gaze at the Indian Ocean, and visit magnificent forts.
2. Belle Mare: Known for its pristine beaches, Belle Mare offers a tranquil escape. The sandy shores and crystal-clear waters make it a haven for beach lovers and adventure enthusiasts.
3. Underwater Waterfall: Mauritius is famous for its natural wonder, the underwater waterfall. Witnessing a waterfall beneath the sea is a surreal experience that attracts visitors from around the globe.
4. Grand Baie: A lively hub in Mauritius, Grand Baie offers local markets, unique souvenirs, and a vibrant nightlife. Don't miss this cultural hotspot during your stay.
5. Black River Gorges National Park: Located in the southwest of Mauritius, this national park is a paradise for nature enthusiasts. With diverse flora and fauna, it's a must-visit for wildlife and nature lovers.
Essentials For Indian Citizens Traveling To Mauritius
Whether you're planning a holiday or a family visit to Mauritius, there are some essential steps you need to follow:
Mauritius Visa: Indian citizens require a visa to enter Mauritius. You can apply for a Mauritius Tourist Visa, Business Visa, or Student Visa based on your purpose of travel.
Requirements for Mauritius Visa:
To obtain a Mauritius visa, you'll typically need the following documents:



- A duly completed Mauritius visa application form

- Two passport-size photographs

- A valid Indian passport

- Copy of your flight tickets

- Accommodation details in Mauritius

- A copy of your current bank statement

- Proof of income to cover your expenses in Mauritius




Ensure you meet these requirements to secure your Mauritius visa.
How to Buy Mauritius Travel Insurance?



When planning a trip to Mauritius, buying the right travel insurance is an essential step to ensure you can enjoy your holiday without worry. Here's how you can buy Mauritius travel insurance:




1. Determine Your Coverage Needs:

- Analyse the nature of your trip, activities you'll participate in, and your personal health needs to understand the kind of coverage you'll require.

- Decide if you need additional coverages like adventure sports, high-value personal items, or extensive medical coverage.




2. Start Shopping Early:

- Look for travel insurance as soon as you've booked your trip. Some policies cover cancellations from the moment you purchase, so the earlier, the better.




3. Compare Policies:

- Use online comparison tools to compare different travel insurance policies. Pay attention to coverages, exclusions, deductibles, and limits.

- Check if the policy has specific coverage for Mauritius if it's known for certain activities or circumstances.




4. Read Reviews:

- Check customer reviews and testimonials about the insurers' service, especially the claims process and customer support.




5. Check for Recognized Insurers:

- Ensure the insurer is recognized and has a good network within Mauritius. This will be beneficial if you need assistance or need to make a claim.




6. Understand the Policy:

- Read the fine print to understand the terms and conditions, what's covered, and what's not.

- Verify that the policy covers Covid-19 related incidents if this is a concern for you.




7. Online Purchase:

- Most insurers offer a simple online process to buy the policy. Fill out the necessary forms, choose your coverage, and make a payment.

- Ensure that you input all details accurately, such as your travel dates, personal information, and any pre-existing medical conditions.




8. Review Your Policy:

- Once you receive your policy document, review all the information to ensure it's accurate and that you understand how to make a claim.




9. Purchase Early for Extra Benefits:

- Some policies offer additional benefits if purchased within a certain timeframe after making your initial trip deposit, such as coverage for pre-existing conditions or financial default of travel suppliers.




10. Keep Proof of Insurance:

- Print a hard copy or save a digital copy of your policy document to carry with you to Mauritius. Some providers also offer apps where you can access your policy and assistance services.




11. Contact the Insurer with Questions:

- If you have any questions or need clarifications, contact the insurer directly before purchasing the policy.




12. Consider Annual Insurance for Frequent Travel:

- If you travel several times a year, consider buying an annual multi-trip policy that could save you money and time.




13. Confirm Payment Methods:

- Ensure you're comfortable with the payment method and that it's secure. Most insurers accept credit cards, debit cards, and sometimes even online wallets.




Once you've successfully purchased your Mauritius travel insurance, you can rest assured that you have the necessary protection in place. Remember, it's not just about fulfilling a requirement but about investing in your peace of mind while exploring the beautiful island of Mauritius.



How to Claim Mauritius Travel Insurance?



Claiming your Mauritius travel insurance should be a straightforward process if you understand the steps involved. Here's a guide on how to go about it:




1. Immediate Notification:

- In the event of an incident, notify your insurance provider immediately or as soon as possible. Many insurers have a time limit for reporting an incident.




2. Know Your Policy:

- Review your policy to understand the claims process and the documents required. This information is usually provided in your policy documentation.




3. Collect Documentation:

- Gather all necessary documentation related to your claim. This may include medical reports, police reports, receipts for expenses, travel documents indicating trip delay or cancellation, proof of valuables for lost or stolen items, and any communication with airlines or other authorities about your incident.




4. Complete Claim Form:

- Fill out the claim form provided by your insurance company. Provide complete and accurate information to avoid any delays in processing your claim.




5. Provide Full Details:

- Describe the incident clearly and thoroughly. Include dates, times, and any other parties involved.




6. Stay Organized:

- Keep copies of all documents and correspondence related to your claim. This includes the claim form, notification emails or letters, and any communication with the insurer.




7. Follow Up:

- After submitting your claim, follow up with the insurance company to check the status of your claim. They may have online portals or customer service lines for such inquiries.




8. Cooperate with the Insurer:

- If the insurance company requires additional information or documentation, provide it promptly. They may also request an independent medical examination or an assessment for damaged goods.




9. Know the Turnaround Time:

- Ask your insurer about the expected time frame for claim processing. This can vary depending on the complexity of the claim.




10. Dispute Resolution:

- If your claim is denied or you are dissatisfied with the outcome, inquire about the insurer's dispute resolution process. This often involves a review or appeals process.




11. Legal Advice:

- If disputes cannot be resolved satisfactorily with the insurer, you may need to seek independent legal advice.




12. Emergency Assistance:

- In the case of an emergency, use the contact number provided by your insurer for immediate assistance. They can guide you through the immediate steps and how to proceed with your claim.



Tips for a Smooth Claims Process:



- Act Promptly: The sooner you notify the insurer and submit your claim, the better.

- Accuracy is Key: Make sure all information is accurate to avoid any potential disputes.

- Keep Communication Open: Maintain open lines of communication with your insurer throughout the claims process.

- Understand Policy Limits: Be aware of your policy's limits and deductibles as this will affect your claim's outcome.

- Follow Instructions: Adhere strictly to the instructions provided by your insurer for claim reporting and documentation.




Remember that having travel insurance is meant to alleviate your stress during unforeseen events. Knowing the claims process can ensure that you make the most of your coverage and get the help you need without delay.



Documents Needed While Travelling to Mauritius from India



When travelling to Mauritius from India, you need to have a set of essential documents to ensure a smooth journey and compliance with both countries' travel regulations. Here's what you typically need:




1. Passport:

- A valid Indian passport with at least six months of validity from the date of entry into Mauritius.




2. Visa:

- Depending on your stay duration and purpose, a visa may be required. However, for short stays (up to 60 days for tourism and not more than 90 days for business), Indian nationals do not need a visa to enter Mauritius.




3. Travel Itinerary:

- Confirmed return flight tickets or onward journey details, if applicable.




4. Accommodation Proof:

- Details of where you will be staying in Mauritius, such as hotel bookings or a letter from your host.




5. Travel Insurance:

- Proof of comprehensive travel insurance that covers the duration of your stay in Mauritius. Ensure that it includes coverage for medical emergencies, accidents, and repatriation.




6. Vaccination Certificate:

- Depending on the current health regulations, you may need a Yellow Fever vaccination certificate if you're travelling from or have transited through a country with a risk of Yellow Fever.




7. COVID-19 Related Documents:

- A negative COVID-19 PCR test report if required at the time of your travel, vaccination certificate, or any other health declaration forms as mandated by Mauritian health authorities.




8. Financial Proof:

- Evidence of sufficient funds to cover your stay in Mauritius, such as recent bank statements, travellers' cheques, or a declaration of currency.




9. Emergency Contact Information:

- A list of emergency contacts, including details of friends or relatives in Mauritius (if any), the Indian embassy, and local emergency services.




10. Additional Supporting Documents:

- For those travelling for business or special purposes, relevant documents like invitation letters, conference registrations, or work permits may be required.




11. Photocopies of All Documents:

- Keep photocopies or digital copies of all documents in a safe and easily accessible place separate from the originals.




12. Identification Proof:

- Some form of photo identification other than your passport, like a driving licence, could be useful.



Tips for Documentation:



- Double-Check Requirements: Always check the most current travel requirements for Mauritius as regulations can change.

- Prepare in Advance: Gather and prepare these documents well in advance to avoid last-minute hassles.

- Keep Digital Copies: Store digital copies in your email or on a secure cloud service in case of loss or theft of the original documents.

- Confirm with Airline: Some airlines have specific documentation requirements. Confirm with them before your departure.




Remember, proper preparation and ensuring you have all the necessary documentation will contribute to a more pleasant and less stressful journey. It's also a good idea to check with the Mauritius High Commission or consulate in India for any updates on travel requirements before your departure.



Indian Embassy in Mauritius Details
If you're traveling from India to Mauritius, it's always a good idea to have the contact details of the Indian embassy. In case of an emergency, such as losing your passport, or in the unfortunate event of facing legal difficulties, the Indian embassy can provide assistance and support.



Embassy of India in Port Louis, Mauritius:



- Address: 6th Floor, Life Insurance Corporation of India Building, President John Kennedy Street, P.O. Box 162, Port Louis, Mauritius.

- Telephone: +230 208 3775 / +230 208 3776

- Emergency Helpline: (For Indian nationals in distress)

- After Office Hours: +230 5253 4801

- During Office Hours: +230 211 1400

- Fax: +230 208 8891

- Email: hoc.portlouis@mea.gov.in, cons.portlouis@mea.gov.in (Consular queries)

- Office Hours: Monday to Friday, 9:00 AM to 5:30 PM (Consular section working hours may differ)



Services Offered by the Embassy:



- Passport services (new, renewal, and miscellaneous services related to passports)

- Visa services (for non-Indian nationals seeking to travel to India)

- OCI (Overseas Citizenship of India) card services

- Assistance in emergencies, such as medical situations or loss of passport

- Notarial services and attestations

- Assistance in cases of distress or death of Indian nationals in Mauritius

- Facilitating matters concerning welfare of Indian citizens in Mauritius




Website: [Indian Embassy Mauritius](http://indianembassy-mauritius.org) (for more information and online services)



Consular Services Registration:



- Indian nationals visiting or living in Mauritius are encouraged to register themselves with the Embassy's online portal, which can be beneficial in cases of emergency.



Tips for Indian Travelers:



1. Keep Embassy Information Handy: Save the contact details in your phone and keep a hard copy with your travel documents.

2. Follow the Embassy's Social Media: For updates on services, events, and any travel advisories.

3. Register Your Stay: If you're going to be in Mauritius for an extended period, consider registering with the Embassy. This can expedite assistance in case of emergencies.

4. Respect Local Laws: Abide by Mauritian laws and customs to avoid legal complications.

5. Travel Insurance: Ensure you have comprehensive travel insurance that covers the entire duration of your trip.




In the unlikely event that you do need to contact the embassy, remember that it's there to support Indian citizens abroad, so don't hesitate to reach out if you find yourself in need of assistance.



Currency and Foreign Exchange Details



Understanding the local currency and foreign exchange details is crucial for any international travel, including a trip to Mauritius from India. Here's some essential information and tips to help you manage your finances smoothly while abroad.



Currency Information:
- The currency of Mauritius is the Mauritian Rupee (MUR).

- Notes are available in denominations of MUR 2000, 1000, 500, 200, 100, 50, and 25.

- Coins come in denominations of MUR 20, 10, 5, and 1, and there are smaller cents as well.



Exchange Rates:
- The exchange rate between the Indian Rupee (INR) and the Mauritian Rupee (MUR) fluctuates, so check the current rate before you exchange money.
Mauritius Travel Safety and Tips
Safety should be a priority when traveling to Mauritius. Here are some essential safety tips to follow:
Avoid participating in violence or disturbing the locals.

Maintain social distance to prevent the spread of diseases, including COVID-19.

Keep all essential documents, such as your visa and passport, safe and secure.

Exchange currency before your trip to avoid financial difficulties.

Be cautious of scams and tricks that may target tourists.
Airports In Mauritius
Mauritius boasts several international airports, making it convenient for travelers from around the world to explore the island. Some of the main airports in Mauritius include:
- Sir Seewoosagur Ramgoolam International Airport (MRU)
- Sir Gaetan Duval Airport (RRG)
These airports ensure easy access to Mauritius and cater to the needs of both domestic and international travelers.
Best Time To Visit Mauritius
The ideal time to visit Mauritius is during the winter months, which run from November to February. During this time, the weather is pleasant, allowing you to comfortably explore different parts of the country.
Things To Do In Mauritius
Mauritius offers a myriad of activities and experiences for tourists:
1. Enjoy Water Activities at Blue Bay: If you're a water lover and enjoy adventure activities, Blue Bay is the place to be. Engage in water activities like snorkeling and more.
2. Hike to Le Pouce Mountain: Mauritius features numerous peaks, with Le Pouce Mountain being the third highest. Hiking to its summit rewards you with mesmerizing views.
3. Seek Blessings at the Grand Bassin Temple: Located in the heart of Mauritius, the Grand Bassin is dedicated to Lord Shiva. It holds deep Hindu religious significance.
4. Marvel at the Beauty of Citadel Fort: Citadel Fort in Mauritius showcases French architectural influence. Explore artworks and interact with locals to learn more about this historical site.
With these additional sections, your guide to Mauritius travel insurance is now a comprehensive resource for anyone planning a memorable trip to this tropical paradise.
Frequently Asked Questions (FAQ)
Why should I apply for Mauritius Travel Insurance?

Mauritius travel insurance helps to secure your trip so that your trip is protected against all the odds.

What is included in the Mauritius travel insurance?

The major inclusions of Mauritius travel insurance:

Lost and delayed baggage cover

Personal liability coverage

Coverage for lost and delayed trips

Coverage for all medical expenses

Do I need to apply for a Mauritius Visa in advance?

Yes, you need to apply for a Mauritius visa in advance as it takes time for the visa to be processed.

What are some of the factors that you need to consider while buying Mauritius Travel Insurance?

Some of the factors to consider when buying Mauritius Travel Insurance are the duration of the trip, places to visit, budget, etc.

What are the different types of Mauritius visas?

The different types of Mauritius visas are Mauritius Student Visa, Mauritius Business Visa, and Mauritius Tourist Visa.
Insurance Dekho Contact Details
Reach us for help anytime
Insurance Dekho

755 1196 989

Mon to Sun 10:00 AM to 7:00 PM