Claim, renew, manage & more
Login
Travel Insurance for Canada from India
Canada, the world's second-largest country, is a land of diverse landscapes, evolving cities, and plenty of adventures just waiting to be discovered. Whether you're planning a trip to the majestic Niagara Falls, the lovely beaches of Tofino, or the calm nature of Banff National Park, there's one document you must have on your fingertips: travel insurance.

Buy Best Travel Insurance Plans for your Overseas Journey from Just ₹552 Onwards*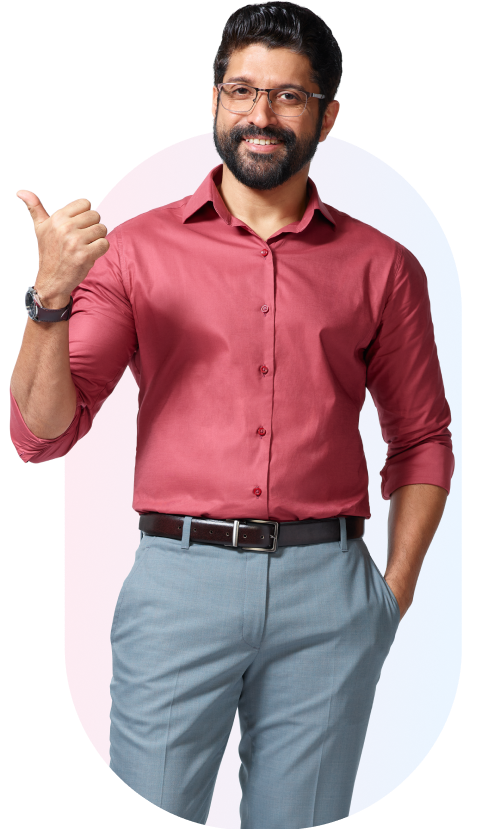 Loss of passport

Emergency Medical cover

Trip delay cover

Loss of baggage cover
*Standard Terms and Conditions Apply.
Why Do You Need Travel Insurance for Canada from India?
Many people dream of visiting Canada, but it is critical to be prepared for unforeseen situations.Here are some compelling reasons to invest in travel insurance for your Canadian adventure:
Your airline might misplace or delay your checked-in baggage during transfers.

Flights can be delayed or canceled for various unforeseen reasons, and might disrupt your travel plans.

In case of a health emergency while traveling, you might need medical assistance.

You might need to cancel or reschedule your Canada trip due to unforeseen circumstances.

You may face unexpected situations like loss of passport, theft, etc., that may lead to financial losses.

In some unusual cases, you could be liable for third-party injury, property damage, or death due to your actions.
Entry Information for Indians
When visiting Canada from India, you will need the following essential documents:
A passport with a validity of more than 6 months from the duration of your stay.

A valid Canadian visa.

Proof of identity.

International Driving Permit (if you plan to drive in Canada).
Key Benefits of Canada Travel Insurance
Travel insurance for Canada serves as your safety net in case of unexpected events during your journey. Here are some of the key benefits it offers:
Baggage Coverage:
Canada Travel Insurance provides coverage, alleviating the stress of dealing with such situations if your baggage is lost or delayed during your visit to Canada.
Journey Cover:
Any financial assistance or other forms of support needed during your trip to Canada is also covered, ensuring you have the resources to address unforeseen circumstances.
Medical Assistance Cover:
In the event of illness or any medical emergencies while in Canada, your travel insurance will provide protection and support to ensure you receive proper medical care.
What's Included & Excluded in InsuranceDekho Canada Travel Insurance?
Let's delve into the specifics of what's included and what's not covered in InsuranceDekho Canada Travel Insurance:
Inclusions:
Cashless Hospitalizations: Access to cashless hospitalization in case of a medical emergency.

Lost Passport Coverage: Assistance and coverage for a lost or misplaced passport.

COVID-19 Coverage: Many travel insurance policies now include coverage for COVID-19-related expenses.

Emergency Hospital Extension: Coverage for extended hospitalization in emergency situations.

Coverage for Delayed or Lost Baggage: Protection against the inconvenience of delayed or lost baggage.

Trip Cancellation/Delay: Coverage for expenses incurred if your trip is canceled or delayed for any reason.
Exclusions:
Pre-existing Conditions: Most travel insurance policies do not cover pre-existing medical conditions.

Travel Against Medical Advice: Medical treatment abroad is generally not covered if you're traveling against your doctor's advice.
Canada Visa for Indians
To enter Canada as an Indian citizen, you can apply for various types of Canadian visas, including:
Visitor or Temporary Resident Visa: Allows you to stay in Canada for up to 6 months.
Super Visa: Offered to parents or grandparents of Canadian Permanent Residents or citizens.
Transit Visa: Enables you to transit through Canada without incurring additional charges.
Study Permit Visa: For students visiting Canada to pursue their studies.
Work Permit Visa: For those traveling to Canada for work purposes.
Requirements for Canada Visa
Applying for a Canadian visa involves understanding and compiling a list of requirements that must be fulfilled. Below is a guide to help you navigate the process:
1. Determine the Visa Type:
First, determine the type of visa you need based on the purpose of your trip (tourist, business, study, work, etc.).
2. Valid Passport:
Your passport must be valid for at least six months beyond the date you expect to leave Canada.
3. Completed Application Form:
The visa application form must be filled out accurately. It can be found on the Immigration, Refugees and Citizenship Canada (IRCC) website.
4. Application Fee:
You need to pay the visa application fee, which is non-refundable, even if your visa is not granted.
5. Photographs:
Two recent passport-sized photographs as per the specified dimensions and guidelines.



6. Travel Itinerary:

A detailed travel plan if you're visiting as a tourist, or an invitation letter if visiting friends or family.




7. Proof of Accommodation:

Hotel bookings or an invitation letter from a host in Canada.




8. Financial Means:

Evidence of sufficient funds to cover your stay in Canada, such as bank statements or a financial undertaking by a host.




9. Employment or Study Evidence:

Proof of your employment, business, or educational enrolment in India, to ensure you have reasons to return.




10. Medical Exam:

Some visa applicants may need to undergo a medical examination by approved panel physicians.




11. Biometrics:

You may need to provide your biometrics (fingerprints and photograph) at a Visa Application Centre.




12. Police Certificate:

You may be required to submit a police certificate to prove you have no criminal record.




13. Previous Travel Documentation:

If you have traveled internationally before, copies of previous visas and entry/exit stamps can be helpful.




14. Travel Insurance:

It's recommended (and sometimes required) to have travel insurance for the duration of your stay in Canada.




15. Covering Letter:

A letter explaining the purpose of your visit and providing details about your trip.




16. Minor Travelers:

Minors traveling without their parents need a letter of authorization and proper documentation from their non-accompanying parent(s).



Additional Documents:
Depending on the type of visa, additional documents such as business invitations, letters of acceptance from Canadian educational institutions, or other supporting documents may be necessary.



Tips:



- Check Specific Requirements: Always verify the specific requirements on the IRCC website or with the nearest Canadian High Commission or Embassy as they can change.

- Use Online Tools: Utilize the document checklist provided by the IRCC when you fill out your application online.

- Early Application: Apply for your visa well in advance of your intended travel date to account for any potential processing delays.

- Keep Copies: Keep copies of all documents and forms submitted for your records.




Navigating the visa application process can be complex, so ensure that all documents are completed accurately and in full to avoid delays or rejections of your visa application.
How to Buy InsuranceDekho Travel Insurance for Canada from India?
Purchasing travel insurance for your Canada trip from InsuranceDekho is a simple and hassle-free process. Here are the steps to follow:
Visit www.insurancedekho.com

Select Canada as your destination

Specify your trip's start and end dates

Provide the necessary information about yourself and fellow passengers

Customize your protection to suit your specific travel needs

Make an online payment, and your policy document will be emailed to you instantly
How to Claim Travel Insurance for Canada?
When it comes to claiming travel insurance for Canada, the process is relatively straightforward, but it's essential to understand the steps and prepare accordingly to ensure a smooth experience. Here's how you can go about it:
1. Immediate Notification:
Notify your insurance provider as soon as possible after the incident occurs. Most insurance companies have a 24-hour hotline for such situations.



2. Know Your Policy:

Before you travel, be familiar with the coverage details of your policy, including what is and isn't covered, and the process for filing a claim.




3. Collect Relevant Documents:

Gather all necessary documents which may include:

- Medical reports if it's a medical emergency.

- Police reports in case of theft or loss.

- Receipts for expenses incurred due to delays or other covered incidents.

- Proof of travel, such as boarding passes and tickets.

- Communication with airlines in case of baggage delay or loss.




4. Complete the Claims Form:

Fill out the claims form provided by your insurer with accurate and detailed information. This form is usually available on the insurer's website or can be mailed to you upon request.




5. Provide Supporting Evidence:

Attach all supporting documents with your claims form. This may also include a personal statement detailing the incident.




6. Review and Submit:

Review your claims form and accompanying documents to ensure they are complete and accurate. Submit the claim form and documents to your insurance provider as per their guidelines.




7. Follow Up:

Keep track of your claim's progress by following up with the insurance company regularly. Keep copies of all correspondence.




8. Direct Payment or Reimbursement:

Depending on the situation, the insurer may pay the medical facility directly for emergency treatments or reimburse you for your expenditures. Understand which method applies to your claim.



Tips:



- Emergency Assistance Services: Many insurers offer assistance services as part of their travel insurance packages, which can help guide you through medical emergencies and other travel-related issues.

- Digital Copies: It's a good idea to keep digital copies of all relevant documents in your email or cloud storage in case you lose the physical copies.

- Insurance Card: Carry your travel insurance card with you at all times. It has your policy number and emergency contact numbers.

- Be Honest: Always be truthful in your claim. Fraudulent claims can result in denial and legal consequences.




By understanding these steps and preparing properly, you can ensure that if the need arises, you'll be able to claim your travel insurance for Canada efficiently and with as little stress as possible.



Documents to Carry While Travelling from India to Canada



When you're planning a trip from India to Canada, it's crucial to ensure you have all the necessary documents for a smooth journey and entry into Canada. Carrying the correct paperwork will help avoid any complications during travel or at Canadian immigration. Here's a checklist of documents you should carry:




1. Passport:

Ensure your passport is valid for at least six months beyond the date you expect to leave Canada.




2. Visa:

Depending on the purpose of your visit, ensure you have the right type of visa – whether it's a tourist visa, student visa, work permit, or temporary resident visa.




3. Travel Insurance Documents:

Carry proof of your travel insurance policy, which should ideally cover health, travel accidents, loss, and theft.




4. Flight Tickets:

Keep both your outbound and return flight tickets handy, as immigration officers may ask for evidence of your departure plans from Canada.




5. Accommodation Proof:

Documentation of where you will be staying in Canada, such as hotel bookings or an invitation letter and address if staying with friends or relatives.




6. Financial Evidence:

Proof of sufficient funds for your stay, which could include recent bank statements, traveller's cheques, or a letter from a sponsor.




7. Travel Itinerary:

A detailed plan of your trip, including any tours booked, places you plan to visit, or meetings you are scheduled to attend.




8. Health Documents:

Vaccination records or medical certificates are especially pertinent in the context of COVID-19 and other communicable diseases.




9. Emergency Contact Information:

Details of contacts in Canada and back home in India, in case of emergencies.




10. Driving License/International Driving Permit:

If you plan to drive in Canada, carry your Indian driving license and an International Driving Permit (IDP).




11. Additional Visa Documents:

For those applying for a study or work visa, additional documents such as acceptance letters from educational institutions or employment offer letters will be necessary.




12. Consent Letter for Minors:

If travelling with minors, a consent letter may be required, especially if both parents are not accompanying the child.




13. Copies of All Documents:

Keep photocopies or digital copies of all important documents separate from the originals, in case the originals are lost or stolen.



Tips:



- Organize Documents: Keep all your documents organized in a travel document holder for quick and easy access.

- Digital Back-Up: It's a good idea to have digital copies accessible in your email or a secure cloud service.

- Check for Updates: Immigration rules can change, so it's wise to check for the latest document requirements on the official Canadian immigration website before you travel.

- Inform Your Bank: Let your bank know you will be using your credit or debit cards abroad to avoid any temporary blocks on your cards due to unusual activity.

- Check COVID-19 Guidelines: With changing pandemic situations, always check for the latest health and travel guidelines related to COVID-19 before departure.




Carrying these documents will help ensure that your journey from India to Canada is as smooth as possible and that you're well-prepared for any questions by airline staff or immigration authorities.



Why Choose InsuranceDekho Travel Insurance for Canada?
InsuranceDekho Travel Insurance offers comprehensive coverage at reasonable prices, making it the ideal choice for travelers from India. Here's why you should consider InsuranceDekho for your Canadian adventure:
COVID-19 Coverage: InsuranceDekho's travel insurance includes coverage for COVID-19-related hospitalization if you test positive while abroad.

No Out-of-Pocket Expenses: You won't need to worry about spending your hard-earned money in case of unexpected situations.

Online Convenience: InsuranceDekho enables you to purchase, file claims, and manage your policy entirely online for maximum convenience.

Affordability: InsuranceDekho provides excellent coverage options at competitive prices, ensuring that your travel is protected without breaking the bank.

24/7 Customer Support: InsuranceDekho's customer support is available around the clock, allowing you to travel carefree and worry-free.
When to Visit Canada?
Canada offers unique experiences in every season. While the summer months are popular for tourists, many also visit during the winter for its stunning snowscapes. For the most pleasant weather and picturesque views, consider traveling between September and November.
What to Do in Canada?
Canada boasts a wide range of attractions and activities. Here are some of the best things to do:
Majestic Niagara Falls: A visit to Canada wouldn't be complete without witnessing the awe-inspiring Niagara Falls.
Picturesque National Parks: Explore stunning national parks like Gros Morne National Park in Newfoundland and Jasper National Park in Alberta.
Beautiful Lakes: Enjoy the breathtaking beauty of Canadian lakes, such as Lake Louise and Moraine Lake.
Dream Road Trips: Canada's excellent road connectivity across diverse terrains makes it an ideal destination for road trips, allowing you to explore the country's natural beauty and local cuisines.
Surreal Northern Lights: Head to Yukon, Churchill, or Yellowknife for an unforgettable experience of the northern lights.
Canada Visit: Safety Precautions
To ensure a safe and hassle-free visit to Canada, here are some safety precautions to keep in mind:
Keep all critical documents, such as your passport, in a secure location.

Avoid visiting remote areas, especially if you are unfamiliar with the region.

Trust official transport facilities for your travel needs.

Be aware of the validity of your visa to avoid legal complications due to overstaying.

Exercise extra caution with your belongings in crowded tourist spots.

Carry copies of your passport with you for backup.

Avoid driving in adverse weather conditions, especially if you are not accustomed to driving in such conditions.
Indian Embassy in Canada
In case of an emergency while in Canada, you can contact the Indian Embassy for assistance. Here are key contact details for reference:



For queries related to Passport, Visa, Police Clearance, etc.: +1 416 307 2237




For Visa/Passport service, serious illness, or death of a close family member: +1 647 668 4108
Currency and Foreign Exchange Details
When travelling from India to another country, managing finances is a significant aspect of your travel planning. Knowing about the currency and managing foreign exchange can save you from unnecessary expenses and confusion. Here's what you should know regarding currency and foreign exchange details:
1. Understanding the Currency:
The official currency of the destination country is a basic yet essential detail you need to know. For instance, if you are travelling to the UK, you'll be using the British Pound (GBP), whereas, in the USA, it's the US Dollar (USD).
2. Exchange Rates:
Before converting your money, check the current exchange rate. Rates can fluctuate, so look for the best rates with reputable banks or forex traders.
3. Where to Exchange Currency:
You can exchange currency at banks, airports, and authorised foreign exchange dealers in India. However, airports tend to have higher rates, so it's better to exchange a small amount there if necessary and find better rates in the city.
4. Forex Cards:
A forex card is a prepaid card that you can load with the currency of the country you're travelling to. They are a safer and often more cost-effective alternative to carrying cash.
5. Using Credit/Debit Cards Abroad:
Notify your bank before travelling to ensure your cards are unlocked for international use. Be aware of transaction fees and foreign currency conversion charges when using your card abroad.
6. ATM Withdrawals:
Check if your Indian bank has partnerships with banks in the destination country to save on withdrawal fees. Remember that foreign ATMs will dispense local currency.
7. Limit on Foreign Exchange:
As per RBI regulations, Indian residents are allowed to carry up to USD 2,500 or its equivalent in cash per trip. The overall limit for an individual, under the Liberalised Remittance Scheme (LRS), is USD 250,000 per financial year.
8. Declaration:
If you're carrying a large sum of money, you may need to declare it at customs. Check the amount limits and declaration procedures for both the Indian and the destination country's customs regulations.
9. Budgeting:
Plan a daily budget considering local costs and how you will access money. Keep track of your spending to avoid overspending or running out of funds.
10. Emergency Cash:
Always keep a small amount of emergency cash in the local currency for unexpected expenses or situations where cards might not be accepted.
Tips:
- Compare Rates: Don't settle for the first rate you see. Compare exchange rates from different banks or forex services.
- Avoid Black Market Exchanges: It might be tempting to exchange money on the black market for better rates, but it's unsafe and illegal.
- Keep Receipts: When you exchange money, keep the receipts. They might be required if you need to exchange currency or for financial tracking.
- Small Denominations: Carry smaller denominations for ease of transactions and to avoid the need for change, which can sometimes be a hassle.
- Plan Ahead: Don't leave currency exchange for the last minute. Start watching exchange rates a few weeks before your trip to get the best deal.
Remember, managing your money efficiently is as crucial as packing your essentials for the trip. With the right currency and foreign exchange details in hand, you'll be better equipped to enjoy a hassle-free travel experience.
Airports in Canada
Canada has several major airports to accommodate international travelers. Here are some of the well-known ones:
Vancouver International Airport (Vancouver)

Montreal-Pierre Elliott Trudeau International Airport (Montreal)

Toronto Pearson International Airport and Billy Bishop Toronto City Airport (Toronto)

Edmonton International Airport (Edmonton)

Ottawa-Macdonald-Cartier International Airport (Ottawa)

Winnipeg James Armstrong Richardson International Airport (Winnipeg)

Victoria International Airport (Victoria)
Tips to Buy the Cheapest Travel Insurance for Canada from India
To ensure you get the best value for your travel insurance, consider the following tips:
Compare Quotes: Request travel insurance quotes from different providers to compare prices and coverage options.

Choose the Right Sum Insured: Select a suitable sum insured based on your specific travel coverage needs.

Customize Your Policy: Customize your policy to include coverage that aligns with your travel plans and requirements.

Understand the Claim Settlement Process: Familiarize yourself with the claim settlement process in advance to avoid complications later on.
Frequently Asked Questions (FAQ)
What are the different types of Canadian visas that I can apply for?


The different types of Canadian visas that you can apply for are Transit Visas, Student Permit visas, Visitor visas, and a few more.




What are some of the important documents required for applying for a Canadian visa?


You can apply for a Canadian visa with some essential documents like a copy of your passport, coloured-size photograph, duly-filled visa application form, etc.




What are some of the best places to visit in Canada?


Some of the best places to visit in Canada are the Bay of Fundy, Okanagan Valley, Niagara Falls, CN Tower, Stanley Park, and a few more.




Why do I need travel insurance for travelling to Canada?


With travel insurance, you can stay protected against all the unforeseen events that may arise during your trip to Canada.




Can I get coverage against pre-existing conditions with Canada Travel Insurance?


No, your travel insurance for Canada does not offer coverage against pre-existing conditions.



Insurance Dekho Contact Details
Reach us for help anytime
Insurance Dekho

755 1196 989

Mon to Sun 10:00 AM to 7:00 PM