Claim, renew, manage & more
Login
Travel Insurance for France From India
France is known for its beautiful scenic destinations. Each year, a lot of tourists from around the world visit France to enjoy the beauty of this stunning country. With a lot of adventure, we often forget to take care of our belongings and, most importantly, our health. Therefore, having a France travel insurance policy will help you enjoy most of your trip without any stress. Read on to find more details.

Buy Best Travel Insurance Plans for your Overseas Journey from Just ₹552 Onwards*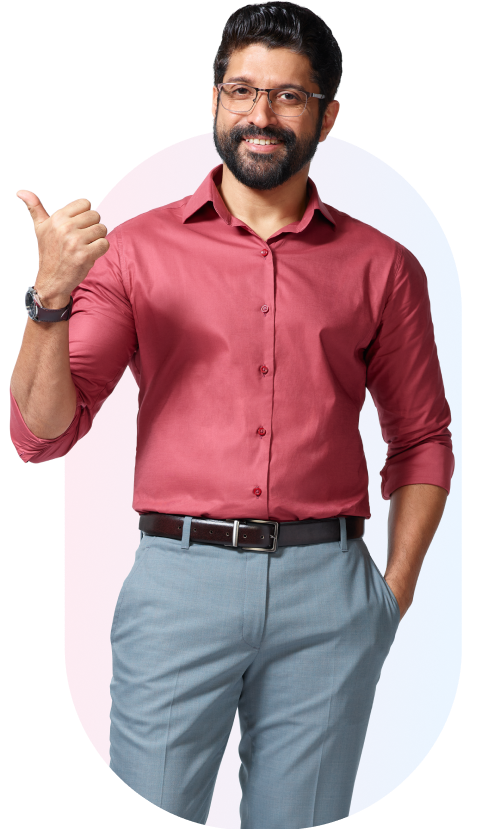 Loss of passport

Emergency Medical cover

Trip delay cover

Loss of baggage cover
*Standard Terms and Conditions Apply.
Key Benefits Of France Travel Insurance
A travel insurance policy will shield you against any mishap that may happen to you during your visit to France. Listed below are some of the benefits of purchasing a France travel insurance policy.
Protection against third-party liabilities that may occur while exploring France.

Automatic extension of travel insurance in case of emergency.

Local assistance during the journey.

Affordable plans that may fit into the budget easily.

Coverage against any kind of loss or damage.
Inclusions of France Travel Insurance
Some of the mishaps that are covered by the France travel insurance policy are listed below.
Trip cancellations and flight delays

Loss of baggage

Loss of travel documents

Hospital cash allowance

Emergency cash assistance

Personal accident coverage

Dental treatment emergencies

Hijack cover

Emergency medical evacuation
Exclusions Of France Travel Insurance
Here are some of the things that are not covered by the insurance company's France travel insurance.
Any self-inflicted harm, including suicide

HIV/AIDS treatment.

Previously undiagnosed illnesses

Drugs or other toxic substance influence

Travelling France for medical treatment

Medical conditions associated with depression, stress, and anxiety
Tourist Places To Visit in France
Whether travelling with your partner for vacation or for a business meeting, France will make you fall in love with its beautiful and delightful destinations. Listed below are some of the best tourist destinations to visit in France.
The Eiffel Tower, which represents Paris, is both a work of genius engineering and a well-known landmark. Gustave Eiffel created this 8,000-piece metallic structure as a temporary display for the 1889 World's Fair. The Eiffel Tower of France is often recognised as the "Iron Lady". Tourists come here to witness the panoramic view over brunch with their loved ones.
The Côte d'Azur, which extends from Saint-Tropez to Menton near the Italian border, is the most beautiful region of the French coastline. Côte d'Azur refers to the "Coast of Blue" as a glamorous and heart-whelming tourist destination. The beach is a popular destination for people to chillax during the summer.
The Abbaye du Mont Saint-Michel, France's popular tourism destination, is a masterpiece of medieval architecture with majestic Gothic spires. The Abbey Church's calm elegance, complete with its harmonious Romanesque nave and elaborate high-vaulted choir, astounds visitors. It is often referred to as "The Heavenly Jerusalem," which has been a popular Christian pilgrimage site ever since it was constructed in the 11th century.
Visitors are encouraged to escape to Provence's pastoral scenery of olive trees, sun-drenched hills, and rich purple fields of lavender. Villages are tucked away in the valleys and perched on rocky outcrops. Visitors travelling to Provence have a vast selection of dining options to pick from, including everything from family-run bistros to Michelin-starred gastronomy restaurants.
Chamonix is a fantastic starting point for outdoor activities like skiing, hiking, rock climbing, and resting. This charming village is one of the top destinations in France for stunning natural landscapes and mountain lodgings. Elegant mountain resorts and inviting chalets warmly greet visitors.
Essentials For Indian Citizens Travelling To France
While travelling to France it is essential for each Indian citizen should apply for a valid France visa depending on the purpose of their journey. Listed below are various types of visas for which you can apply.
Airport Transit Visa

Tourist Visa

Business Visa

Official Visit Visa

Medical Visa

Student Visa
Requirements For France Visa
Listed below is the list of documents required to apply for a France visa.
Duly filled and signed French visa application form.

Two passport-size photographs

Passport with a validity of at least 3 months.

Copy of the return flight ticket.

The conditions of France travel insurance, as well as medical coverage, are met by Schengen visa insurance.

Cover letter describing the purpose of your tour to France.

Accommodation proof in France

Receipt of payment of the fees

Bank statements as proof of sufficient funds to cover expenses.
France Travel Safety And Tips
The following precautions should be taken while travelling in France to help you stay safe and prevent any unforeseen accidents.
Keep multiple copies of your passport to avoid misplacement of the original one.

Avoid violating the laws, rules and regulations of France.

Use official transportation to avoid any inconvenience.

Register for the Smart Traveller Enrollment Program to get regular updates from the tourism authorities of France.

Be updated about the weather conditions and travel accordingly.

Get insured under a valid travel insurance policy before the commencement of the trip.

Keep your luggage and other items safe, especially in the bustling streets of France.

Learn basic french phrases to communicate with the people of France.
Airports in France
Knowing the airports in France will make your journey much smoother and more convenient. Here is a list of a few airports in France.
Charles De Gauelle Airport

Paris Orly Airport

Nice Cote D'Azur Airport

Marseille Provence Airport

Saint Exupery Airport

Euro Airport Basel-Mulhouse-Frieburg

Paris Beauvais Tille Airport

Nantes Atlantique Airport

Merignac Airport
Best Time to Visit France
Many tourists visit France during the spring season, which lasts from March to May. The warm and pleasant weather, with light rainfall, will make your tour of France enjoyable. This is the time of year when the country's natural beauty and charm are enhanced by the mesmerizing pastels of blossoming flowers. You can become a part of iconic events like the Cannes film festival, Paris fashion week, and more during spring. Apart from this, you can visit France during the summer season.
Things To Do In France
The following is a list of things you absolutely must do while visiting France.
Don't miss watching the mesmerizing shades of the sunset from the Eiffel Tower while travelling in France.

Unwind yourself in cruising the Seine River which is the most picturesque destination in France.

Indulge in famous events and festivals such as the Cannes festival, Paris fashion week, and others.

Eye-catch inspirational and deep-heartened paintings from top artists in the world at art galleries in France.

Visit the popular tourist attractions in France to immerse yourself in joy and happiness.
Frequently Asked Questions (FAQ)
How many days trip is enough to explore France?

How many days trip is enough to explore France?

When is the best time to plan a trip to France?

The best time to visit France is in the spring, summer, and autumn as the weather during these seasons is much more pleasant.




Can I use debit cards to shop in France?

Yes, various sellers in France use debit cards. Therefore, you can use your cards for shopping in France.

How can I contact the Indian embassy in Paris in case of an emergency?

You can call 00 331 4050 7070 from Monday to Friday between 9 a.m. and 5 p.m. in case of an emergency.

Is a COVID-19 certificate mandatory to visit France?

According to the latest guidelines issued by the Government of France, there is no need for a COVID-19 status certificate to travel in France.
Insurance Dekho Contact Details
Reach us for help anytime
Insurance Dekho

755 1196 989

Mon to Sun 10:00 AM to 7:00 PM