Claim, renew, manage & more
Login
Travel Insurance for Dubai from India
Embarking on a journey to the dazzling city of Dubai - a place where tradition intertwines with modern allure? Well, in the midst of all the exhilaration, let's not forget one travel essential - your travel insurance! In a foreign land where skyscrapers seem to kiss the heavens and luxury cars glide through the streets as common as clouds in the sky, you'd want to ensure that your journey is as smooth and secure as it possibly can be.
Dubai, with its flamboyant lifestyle and ultramodern infrastructure, is a place of myriad experiences. From the spellbinding grandeur of Burj Khalifa to the enchanting realms of its deserts, every corner tells a tale of opulence. And, while you weave through the tales of this enchanting city, travel insurance acts like a faithful companion, safeguarding you against unforeseen events.

Buy Best Travel Insurance Plans for your Overseas Journey from Just ₹552 Onwards*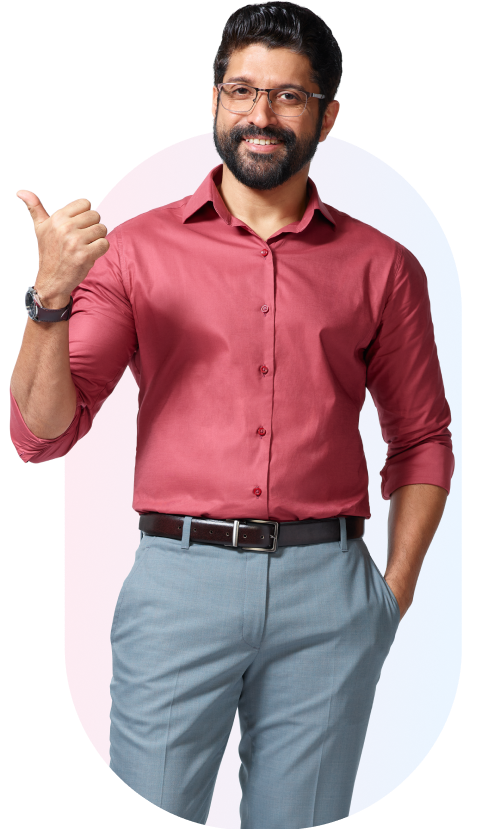 Loss of passport

Emergency Medical cover

Trip delay cover

Loss of baggage cover
*Standard Terms and Conditions Apply.
What is Dubai Travel Insurance?
Dubai travel insurance is your financial safeguard, a protective net that ensures you are covered against unexpected mishaps during your journey and stays in Dubai. Think of it as your reliable travel buddy, a companion that takes care of unforeseen medical and non-medical expenses, ensuring that your trip remains as magnificent as the city's stunning skyline.



Your Dubai travel insurance is not just a document; it's your peace of mind encapsulated in paperwork. It ensures that while you are busy exploring, shopping, or perhaps enjoying the divine taste of Arabic cuisines, worries about medical emergencies, trip cancellations, or loss of belongings are kept at bay.




Imagine having a protective shield, one that lets you explore, experience, and enjoy the vivacious vibe of Dubai without the weight of 'what ifs' bogging down your spirits. That's precisely the essence of your travel insurance for Dubai. It acts as a comprehensive protective umbrella, offering a bouquet of coverage ranging from medical expenses due to sickness or accidents, loss of passport, delayed or lost baggage, and so much more.




In the heart of the desert, where modernity and tradition dance in a harmonious ballet, your travel insurance ensures that you can immerse yourself in the experience, with the assurance of protection against uncertainties. So, as you prepare to dive into the captivating charm of Dubai, equip your journey with the robust protection of suitable travel insurance.



Why Do You Need Travel Insurance When Travelling from India to Dubai?
Embarking on a journey from India to the illustrious landscapes of Dubai brings along a suitcase of excitement but also a pinch of unpredictability. Here's why gearing up with travel insurance is essential:
1. Health Safeguard:
Healthcare in Dubai is notoriously expensive. Without insurance, medical emergencies can end up being a monumental expense, throwing your budget off the sand dune!
2. Travel Uncertainties:
From flight cancellations to lost baggage, multiple uncertainties could interrupt the flow of your journey. Insurance helps in navigating through these interruptions with ease and assurance.
3. Legal Protection:
Different countries, different rules. If you inadvertently find yourself on the wrong side of the law, your travel insurance could be a lifesaver by covering legal expenses.



4. Enhanced Experience:
With a safety net securely in place, you're free to explore, experience, and enjoy Dubai's marvels with a relaxed mind, enhancing the overall travel experience.



5. Compliance:
Some consulates make travel insurance a mandatory aspect of visa issuance. Having one ensures that your travel plans are in alignment with such requirements.




Having Dubai travel insurance is like having a reliable compass in the vast deserts of uncertainties. It guides, protects, and ensures that your Arabian adventure remains as mesmerising as the tales from the Arabian Nights!
What are the Key Benefits of Getting Dubai Travel Insurance?
Dubai travel insurance comes packed with a plethora of benefits, ensuring that your Arabian adventure remains delightful and hassle-free. Let's unveil the key benefits of arming your trip with travel insurance:
1. Medical Emergency Coverage:
Health uncertainties are like desert storms; they arrive unannounced. Having travel insurance ensures that medical emergencies, be it due to an illness or an accident, don't throw a sandstorm on your travel plans. Hospitalisation costs, outpatient care, and even medical evacuation are typically covered.
2. Baggage and Personal Belongings Protection:
Loss of baggage or personal items can be quite a hassle. With Dubai travel insurance, you're covered against such losses, ensuring that such misfortunes don't dampen your spirits or your trip.
3. Trip Cancellation and Interruption Benefit:
Sometimes, unexpected events can lead to trip cancellations or interruptions. Travel insurance ensures that you're not left stranded, covering the non-refundable parts of your trip.
4. Passport and Important Documents Coverage:
Misplacing essential documents like your passport can be quite challenging. Your insurance acts like a friend in need, assisting you through the process and covering necessary expenses.
5. Legal Liabilities and Expenses:
Your insurance also watches your back by covering legal liabilities and expenses that might occur due to causing harm to third parties or their properties.
6. 24/7 Assistance:
Assistance is like having a friendly guide by your side. Dubai travel insurance typically offers 24/7 assistance, ensuring help is just a call away, any time of the day or night.
Essentials For Indian Citizens Travelling To Dubai
When planning a bewitching journey to the landscapes of Dubai from India, securing a visa is a pivotal chapter in your travel tale. Let's embark on a brief journey through the pages of visa information for Dubai.
Tourist Visa:
For those who want to soak in the grandeur of Dubai's deserts, skyscrapers, and culture, the tourist visa is your golden ticket. Typically valid for 30 to 90 days, it's non-renewable and must be applied for before entering the UAE.
Visit Visa:
Should you wish to visit family or friends residing in Dubai, a visit visa is what you seek. Like a desert breeze, it comes with flexibility, available for 30 and 90 days, both renewable.
Transit Visa:
For travellers merely passing through the sands of Dubai en route to another destination, a transit visa is available. It allows a brief stay of up to 48 or 96 hours, adding a dash of Dubai's essence to your journey.
Entry Information for Indian Citizens Travelling to Dubai
Setting sails towards Dubai's shores? Here are some crucial entry details that every Indian citizen must bookmark:
Passport Validity:
Ensure your passport is an enduring companion, valid for at least six months from the date of your entry into Dubai's mystical landscapes.
Visa Application:
Indian citizens can apply for a Dubai visa through various airlines, travel agencies, or trusted online portals. Each road leads you a step closer to your Arabian adventure.
COVID-19 Guidelines:
In the new travel chapters, COVID-19 guidelines echo profoundly. Travellers might be required to present a negative PCR test, typically not older than 48 hours prior to departure, along with adhering to other safety protocols and regulations set by the authorities.
Customs Regulations:
Understanding customs regulations is like decoding the map of smooth entry. Be mindful of the items you carry, ensuring they align with the guidelines to avoid any desert storms in your journey.
Your voyage to Dubai is a canvas, and the visa and entry information are the essential colours you need to paint a masterpiece journey. With the right strokes of information, you're all set to craft a delightful and smooth Dubai saga!
Travel Documents Needed While Travelling to Dubai from India
Preparing for a journey to Dubai's enchanting deserts and dazzling skyscrapers is like packing a suitcase - every document plays a crucial role! Here's a checklist of essential travel documents to ensure your journey unfolds seamlessly:
1. Passport:
A valid passport is your primary travel companion. Ensure it has a minimum of six months' validity from the date of entry into Dubai.
2. Visa:
Don't forget to tuck your visa into your travel kit. It's the key to unlocking your Dubai adventures, and having it ready and correct is paramount.



3. Air Tickets:
Keep your flight tickets handy, either printed or available digitally, to ensure smooth transitions through the various stages of your journey.



4. Hotel Bookings:
Proof of accommodation, like hotel reservation receipts, paints a clear picture of your stay, assisting in various verification processes.



5. Travel Insurance:
Like a protective umbrella in the desert, travel insurance is essential. Having a copy ensures you're always covered, come rain or shine.



6. COVID-19 Related Documents:
In this new chapter of travel, carry necessary COVID-19-related documents, like a negative PCR test report, vaccination certificates, or any other required forms or declarations.



7. Currency and Cards:
Carry adequate foreign currency, and credit/debit cards, ensuring that financial necessities are well taken care of throughout the journey.
How to Buy Dubai Travel Insurance?
Venturing into the delightful terrains of Dubai? A prudent travel insurance policy is the unseen companion you should consider. Here's a streamlined guide on procuring your safeguard:
1. Online Convenience:
- Research: Commence your journey by researching various policies, benefits, and coverage.
- Comparison: Utilise online platforms to compare different travel insurance plans, ensuring you find the one that fits your needs.
- Purchase: The final step, once your decision is made, is a simple online transaction, sealing the safety deal for your journey.
2. Agent Assistance:
- Consultation: Engaging in discussions with insurance agents can offer clarity and guidance tailored to your needs.
- Guidance: Their expertise can guide you through the nuances, ensuring that the policy you choose is a comprehensive protector.
- Completion: With their assistance, complete the required documentation and formalities, stepping closer to a secured journey.
How to File a Dubai Travel Insurance Claim?
Unforeseen circumstances while travelling are like desert storms, unexpected and challenging. Here's how you can navigate through the insurance claim process:
1. Immediate Intimation:
- Contact your insurance provider at the earliest, ensuring that the necessary support and guidance are received promptly.
2. Documentation:
- Gather and organise all essential documents such as medical reports, bills, and any other pertinent proofs that substantiate your claim.
3. Claim Form:
- Fill out the necessary claim form with accuracy and care, providing a clear and comprehensive account of the incident or situation.
4. Submission:
- Submit the completed form along with the necessary documents, keeping copies for your records.
5. Follow-Up:
- Keep in touch with the insurance company, ensuring that your claim is being processed and that no additional information or documents are required.

Indian Embassy Information in Dubai
Navigating through a foreign land becomes more comfortable with familiar touchpoints. The Indian Embassy is one such oasis of assistance and guidance for Indian travellers in Dubai. Here's some crucial information:
Address:
Consulate General of India, Dubai
Al Hamriya Diplomatic Enclave, Dubai, United Arab Emirates
Contact Information:
Telephone: +971 4 397 1222 / +971 4 397 1333
Email: cgi@cgidubai.com
Services Offered:
The Indian Embassy is a multifunctional gateway offering a variety of services, including passport services, visa services, attestation services, and others, acting as a supportive pillar for Indians in Dubai.
Emergency Support:
In case of any unforeseen challenges or emergencies, the embassy offers dedicated support, ensuring assistance is always at hand for Indian travellers.
Armed with these essential documents and information, your journey to Dubai's captivating realms promises to be as smooth as the desert sands, ensuring that every experience, from the awe-inspiring architecture to the vibrant souls, is enjoyed to the fullest!
Currency Exchange Information
Embarking on a journey to the vibrant landscapes of Dubai? Having the right currency in your wallet is essential to smooth sailing through this mesmerising desert oasis. Here's your map to navigating currency exchange for your Dubai adventure:
Currency Used in Dubai:
Dubai's financial landscape flourishes under the United Arab Emirates Dirham, abbreviated as AED or symbolised as Dhs, making it your key currency.
Exchange Rates:
Keep a keen eye on the exchange rates between the Indian Rupee (INR) and the UAE Dirham (AED). The winds of the foreign exchange market are ever-changing, so it's wise to be updated.
Where to Exchange Currency:
- Airports: Step into the world of convenience right at the airport. Currency exchange counters here offer a quick and accessible route to getting your Dirhams.
- Banks and Exchange Houses: Wander through Dubai's streets, and you'll find banks and exchange houses ready to offer competitive rates.
- Hotels: Some hotels shower you with the luxury of currency exchange services, adding to the comforts of your stay.
Using Cards:
Credit and debit cards are widely accepted across Dubai's expanse. However, a sprinkle of awareness about possible foreign transaction fees is advised.
International Airports in Dubai
Dubai's skies are a gateway to wonder, hosting some of the world's most astonishing airports. Here's a glimpse into the International Airports gracing Dubai's horizons:
Dubai International Airport (DXB):
Welcoming you with open arms, the DXB stands as one of the busiest and most magnificent airports globally. It's a realm where convenience and luxury take flight, offering a plethora of services, shopping, and dining experiences.
Al Maktoum International Airport (DWC):
DWC, or Dubai World Central, offers another gateway, with grand visions of becoming the world's largest airport. Located at the heart of Dubai South, it's an evolving marvel in the aviation landscape.
Key Facilities and Services:
Both airports unveil a tapestry of services and facilities, from luxurious lounges, extensive shopping arcades, and delightful dining options, to serene prayer rooms and vital currency exchange services.
Navigating through Dubai's financial and aviation landscapes becomes a breeze with this treasury of information. So, go ahead, and let your Dubai story unfold with ease and the essence of well-preparedness!
Best Dubai Tourist Places
Dubai, the jewel of the desert, unfurls a splendid array of tourist attractions. Each corner of the city is speckled with a gem waiting to be discovered. So, embark on an exploration spree, and witness the marvels Dubai has to offer:
1. Burj Khalifa:
Stand in awe beneath the towering elegance of Burj Khalifa. With soaring skies, this architectural wonder offers a view that bridges the horizons of reality and dreams.
2. Dubai Mall:
Step into a realm where shopping meets elegance. With a mesmerising concoction of stores, cuisines, and a gigantic aquarium, it's a world in itself.
3. Desert Safari:
Embark on a thrilling voyage through the deserts. From adventurous rides to serene sunset views and traditional performances, it's a page from Dubai's vibrant saga.
4. Palm Jumeirah:
Explore the beauty of this man-made marvel. Palm Jumeirah unfolds luxurious hotels, beaches and dining avenues, casting a spell of opulence.
5. Dubai Marina:
Witness elegance at its peak at Dubai Marina. With yachts swaying gently and skyscrapers touching the skies, it's a picture of modern allure.
Dubai Travel: Safety and Precautionary Measures You Should Know
Navigating through the luxurious lanes of Dubai calls for a sprinkle of caution, ensuring that your journey is as smooth as the sands of its deserts.
1. Respect Local Traditions and Laws:
Dubai blossoms in the heart of tradition and culture. Respecting local customs, laws and religious sentiments is the key to a harmonious visit.
2. Dress Modestly:
Adorning yourself with a sense of modesty, especially in public places and religious sites, paints a picture of respect and understanding.
3. Keep Hydrated:
The desert sun is both a friend and a foe. Keeping yourself hydrated is essential to enjoy every moment beneath its warm embrace.
4. Beware of Public Behaviour:
Maintain a code of decorum in public places. Acts like public displays of affection might not align with the local cultural sentiments.
5. Stay Alert in Crowded Places:
While wandering through the bustling bazaars and crowded streets, keeping an eye on your belongings and maintaining alertness is wise.
Arming yourself with these treasures of information, your Dubai odyssey promises to be a tapestry woven with threads of excitement, wonder, and smooth sailing experiences!
Best Time to Visit Dubai
Dubai, with its enchanting desert elegance and modern marvels, beckons travellers with a delightful climate secret. Let's unveil the best time to dive into the wonders of Dubai:
November to March: The Winter Charm
- Weather: Experience the tender touch of the winter sun, with temperatures ranging from 17°C to 30°C.
- Festivities: Dubai shopping festival, an extravaganza of shopping and glamour, graces these months, making the city glitter with excitement and deals.
April to June: The Warming Trend
- Weather: As the sun gathers strength, temperatures soar between 24°C and 41°C, casting a warm embrace.
- Attractions: Indoor wonders like the Dubai Mall and Burj Khalifa make for pleasant explorations during these sunnier times.
July to September: The Summer Sizzle
- Weather: With temperatures reaching up to 42°C, summer unfolds its hot and humid chapters.
- Activities: Make a cool splash in Dubai's water parks and indulge in the chilled vibes of indoor ice rinks and skiing arenas.
October: The Transitional Treasure
- Weather: Experience a mellow warmth with temperatures fluctuating between 26°C and 36°C.
- Events: Witness the city gearing up for the winter festivities and tourist influx.
Best Things to Do in Dubai
Embark on an adventure woven with excitement, luxury, and the essence of Dubai's charm with these delightful things to do:
1. Dhow Cruise:
Sail through Dubai's elegance on a dhow cruise, letting the city's lights and night skies captivate your senses.
2. Hot Air Ballooning:
Soar through the skies and witness the sunrise sprinkling its golden hues over the vast deserts.
3. Explore Old Dubai:
Step back in time and wander through the alleys of Old Dubai, embracing the tradition, culture, and age-old charm of souks.
4. Visit Theme Parks:
Unleash the thrill-seeker in you with a visit to Dubai's spectacular theme parks like IMG Worlds of Adventure and Dubai Parks and Resorts.
5. Indulge in Culinary Delights:
Let your taste buds wander through the global and traditional flavours that Dubai's culinary landscape has to offer.
With these insights, your journey through Dubai promises to be a canvas painted with beautiful experiences, adventures, and memories that echo the essence of Dubai's captivating allure!
Conclusion
Embarking on a journey to Dubai is like stepping into a canvas painted with the hues of tradition, luxury, and modern marvels. Equipping yourself with a robust travel insurance policy adds a layer of assurance, allowing you to explore, enjoy, and experience the city's wonders with peace of mind. From the towering elegance of Burj Khalifa to the rhythmic sands of its deserts, let your Dubai saga be woven with tales of adventure, awe, and secure explorations!
Frequently Asked Questions (FAQ)
Do I need a travel insurance plan while travelling to Dubai?

Yes, you must have a travel insurance plan whenever travelling to Dubai.

What are the basic inclusion under a Dubai Travel Insurance plan?

The basic inclusions under a Dubai Travel Insurance Plan are

Medical expenses coverage

Cover for flight delays and cancellations

Coverage for delayed and cancelled trips

Loss of passport is covered

How can I choose the best travel insurance plan for Dubai?

You can choose the best travel insurance plan for Dubai by keeping in mind factors like duration of stay, age, budget, and more.

What are the different types of Dubai visas that I can apply for?

The different types of Dubai visas are Student Visa, Tourist Visa, Work Visa, Service Visa, Medical Permit, etc.

What are some of the best places to visit in Dubai?

Some of the best places to visit in Dubai are Dubai Mall, Dubai Fountain, Dubai Frame, Burj Khalifa, and many more.
Insurance Dekho Contact Details
Reach us for help anytime
Insurance Dekho

755 1196 989

Mon to Sun 10:00 AM to 7:00 PM