Claim, renew, manage & more
Login
ICICI Lombard Travel Insurance
A leading insurance company, ICICI Lombard was founded in the year 2002. The ICICI Lombard Insurance company is headquartered in Mumbai and is a joint venture between ICICI Banka and Fairfax Financial Holdings Limited. While ICICI Bank has a 64% stake, Fairfax Financial Holdings Limited on the other hand has the remaining 365 holdings.
ICICI Lombard offers a range of insurance products such as health insurance, motor insurance, travel insurance, and more. Moreover, due to its efficiency in settling claims and catering to the insurance needs of customers from all over, ICICI Lombard has managed to build the trust of 4 crore customers. Read on to know more about ICICI Lombard's Travel Insurance.

Buy Best Travel Insurance Plans for your Overseas Journey from Just ₹552 Onwards*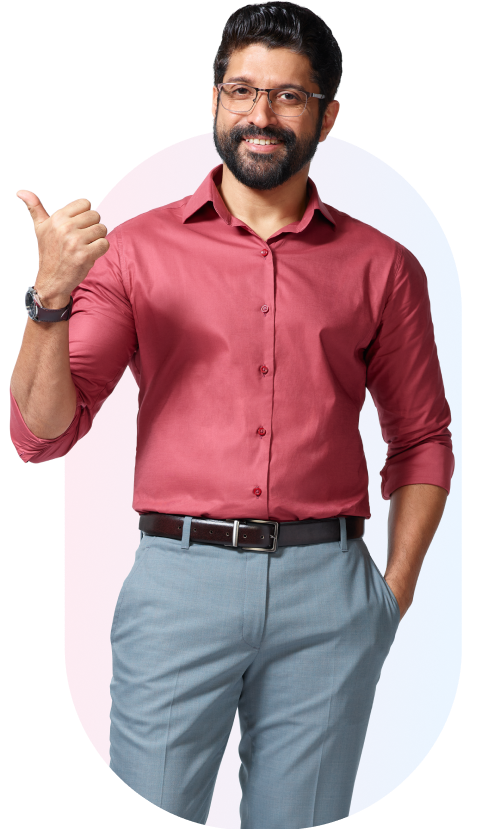 Loss of passport

Emergency Medical cover

Trip delay cover

Loss of baggage cover
*Standard Terms and Conditions Apply.
Why Choose ICICI Lombard Travel Insurance?
ICIC Lombard offers travel insurance plans which offer protection against any unfortunate event that may occur during the trip. Be it trip delays or any property damage during any travel, with a travel insurance plan you can stay protected against all. At present, many insurance companies offer travel insurance plans, including ICICI Lombard. Here are some reasons why you should choose to buy ICICI Lombard travel insurance over others:
Provides compensation in case you lose or misplace your luggage during the trip.
There is no medical test required before you choose to buy ICICI Lombard travel insurance.
If any medical emergency occurs, then ICICI Lombard provides a cashless facility for immediate help.
Provides coverage for individuals aged between 3 months to 85 years.
ICICI Lombard has 24*7 customer service so that you can get answers to your queries anytime and anywhere. You just need to call the toll-free number, 18002666.
Features of ICICI Lombard Travel Insurance
Some of the features of ICICI Lombard Travel Insurance are as follows:
Offers multi-trip travel plans to secure your yearly trips.
ICICI Lombard offers travel plans that are tailored to Schengen visa requirements.
Secures your travel plans with a total sum insured of up to ﹩500,000.
Travel Insurance Plans Offered By ICICI Lombard
Some of the travel insurance plans offered by ICICI Lombard are as follows:
Gold Multi-trip Travel Insurance Plan:

A multi-trip travel insurance plan as the name suggests is one that provides coverage for a plethora of trips. This type of travel insurance plan is especially useful for frequent flyers. So, buying ICICI Lombard Gold multi-trip travel insurance plan also saves time and effort to buy travel insurance, each time you travel.
Single-trip Travel Insurance Plan:

A single-trip travel insurance is one that protects against losses during travel. This type of plan as the name implies is restricted to single-trip.



Senior Citizen Travel Insurance Plan:

ICICI Lombard also offers senior citizen travel insurance for individuals aged between 71 to 85 years.



Asia Plan: The Asia plan offered by ICICI Lombard provides coverage in case you are travelling to Asian countries like Malaysia, Singapore, etc.
Eligibility Criteria for ICICI Lombard Travel Insurance



Eligibility criteria for travel insurance policies can vary slightly depending on the provider, the type of policy, and the specific product being offered. For ICICI Lombard Travel Insurance, the general eligibility criteria typically include:



Age Limits
- Children: Travel insurance through ICICI Lombard is often available for children as young as a few months old. There may be policies that provide coverage for children under two years of age at no additional cost when they are accompanied by an insured adult.

- Adults: The insurance is generally available to adults up to a certain age, which may be 60, 70, or even higher for senior citizen policies.

- Seniors: ICICI Lombard may offer specific senior citizen travel insurance policies with eligibility extending to older age groups. These policies might have different terms and coverage options suitable for older travellers.



Purpose of Travel
- The insurance should cover the specific purpose of your visit, whether it is for leisure, business, or education. The applicant must declare the nature of the trip accurately to avoid any issues during the claim process.



Health and Pre-existing Conditions
- Applicants should be in good health and free from pre-existing medical conditions that could result in a claim unless these have been declared and accepted by the insurer, possibly with an additional premium or specific exclusions.



Destination-Specific
- The travel insurance policy should be applicable to the destination country or countries. For instance, policies may differ between Schengen countries and the rest of the world.



Policy Duration
- The policy should cover the entire duration of the trip. Policies can often be purchased for short-term travel (days to weeks) or long-term travel (months).



Nationality and Residence
- The policyholder should generally be an Indian citizen or a resident of India, holding a valid passport. Some policies may also be available to non-residents or expatriates living in India.



Type of Trip
- The insurance can be for a single trip or multiple trips within a year (annual multi-trip insurance), and eligibility may differ for each type.



Documentation
- Valid travel documents, like a passport and visa (if required), are necessary to purchase travel insurance.



Payment
- The applicant must be able to pay the insurance premium in full before the policy is issued.




It's crucial to read the specific terms and conditions of the ICICI Lombard Travel Insurance policy to understand the eligibility criteria thoroughly. If you have any doubts or special circumstances, it's best to contact ICICI Lombard directly or discuss with an insurance advisor to ensure that you meet the eligibility requirements before purchasing the policy.
Inclusions And Exclusions Of ICICI Lombard Travel Insurance
Listed below are the inclusions and exclusions of ICICI Lombard Travel Insurance:




Inclusions
Medical coverage that includes daily allowance during hospitalisation, medical tests, and others
Compensation for lost or delayed checked-in baggage and misplaced passport
Political Risk & Catastrophe Evacuation
Coverage against delayed or cancelled trip
Offers emergency cash allowance during the time of distress
Exclusions
Any claim arising out of pre-existing medical condition/ailment whether declared or undeclared is not covered.
For detailed information on inclusions and exclusions, it is a good idea to also keep a check on the ICICI Lombard travel policy.
How To Buy ICICI Lombard Travel Insurance
Here are some of the steps you need to purchase ICICI Lombard Travel Insurance:
Visit the official website of ICICI Lombard.
Next, enter your preferred travel date and region of travelling.
Then, enter details like the number of co-passengers, mobile number, email id, and others,
Based on the information entered, you will be redirected to the quotes page that will provide plan details on the screed.
Select the desired plan, and then enter your mobile number. On your registered mobile number and email id, you will receive OTP that you need to enter.
Finally, pay the premium amount, and later after successfully buying, you will receive an instant notification about the same.
How to Renew ICICI Lombard Travel Insurance?
Renewing your ICICI Lombard Travel Insurance is a straightforward process that can ensure you remain covered for your travels without any gaps. Here's how you can renew your policy:



Online Renewal Process
1. Visit the Official Website:

- Start by navigating to the ICICI Lombard website. Look for the travel insurance section or the renewal page.




2. Enter Your Policy Details:

- Enter your existing policy number or registered mobile number/email address to retrieve your policy details.




3. Verify Policy Details:

- Once your policy details are displayed, check the expiry date, coverage details, and any other relevant information to make sure everything is correct and as per your needs.




4. Update Information (if needed):

- If there are changes in your contact information, travel plans, or if you want to upgrade your coverage, update the information accordingly.




5. Review the Renewal Premium:

- The system will calculate your renewal premium. Review the premium amount to ensure it fits your budget and requirements.




6. Make Payment:

- Pay the renewal premium online using a credit/debit card, net banking, or any other online payment method available on the portal.




7. Receive Confirmation:

- Once the payment is successful, you will receive a confirmation of the renewal on your registered email address along with the details of your renewed policy.



Offline Renewal Process
If you are unable to renew your policy online or prefer to do it offline, you can:




1. Call Customer Service:

- Dial the customer service number provided by ICICI Lombard. An agent will assist you with the renewal process.




2. Visit a Branch:

- You can visit the nearest ICICI Lombard branch and get help with your policy renewal. Carry your previous policy details and any other relevant documents that might be needed.




3. Through an Agent:

- If you have purchased your original policy through an agent, you can contact them to facilitate the renewal process. They can provide personalized assistance and help with any changes to the policy.



Additional Tips
- Timely Renewal:

- It's advisable to initiate the renewal process well before the expiry date to avoid any lapse in coverage.




- Review Coverage:

- Take this opportunity to review and adjust your coverage based on past experiences or future travel plans.




- Check for No-Claim Bonus:

- If your policy includes a no-claim bonus, make sure it is factored into your renewal.




- Keep Documents Ready:

- Have your passport, previous insurance documents, and any other travel-related information handy, especially if there are changes since the last policy term.




- Confirm Details:

- Ensure all personal details, destination countries, and trip durations are accurate and reflect any changes since your last coverage period.




Remember, the process of renewing your travel insurance policy is as important as the initial purchase, as it ensures continuity of coverage and peace of mind while you are travelling. Always double-check the terms and conditions during renewal, especially if your travel circumstances have changed.



How to Claim ICICI Lombard Travel Insurance?
Claiming your ICICI Lombard Travel Insurance should be a hassle-free process if you follow the correct steps. Here's a step-by-step guide on how to file a claim with ICICI Lombard for travel insurance:




Step 1: Immediate Notification




- As soon as the need for a claim arises, you must inform ICICI Lombard about the incident. You can do this by calling their 24-hour customer care number or by notifying them through their online portal.




Step 2: Documentation




- Gather all relevant documents related to your claim. This could include medical reports, police reports, receipts for expenses, travel documents, proof of travel, and any other documents that support your claim.




Step 3: Claim Intimation




- Fill out the claim intimation form available on the ICICI Lombard website or provided by the customer care representative. Provide complete and accurate details to avoid any discrepancies.




Step 4: Submission of Documents




- Send the duly filled claim form along with all the supporting documents to the address provided by ICICI Lombard. This can typically be done via email or by posting the hard copies, as instructed.




Step 5: Claim Assessment




- Once your claim is registered and the documents are received, ICICI Lombard will assess the claim based on the policy terms and conditions.




Step 6: Communication




- Maintain communication with the insurance provider for any additional information or documents they might require. The insurance company may also reach out to you for further clarification or details.




Step 7: Claim Settlement




- If the claim is approved, ICICI Lombard will process the settlement as per the policy's terms. The payment is usually made directly to the account details provided by you.




Step 8: Claim Closure




- Upon settlement, the claim is considered closed. If your claim is rejected, seek clarification on the reasons for rejection and understand if there is a possibility to appeal the decision.




Important Tips for a Smooth Claim Process

- Immediate Notification:

- Delay in notifying the insurer can result in the claim being rejected.




- Document Preservation:

- Keep all original bills, tickets, and reports safe, as they might be needed for the claim process.




- Understand Policy Coverage:

- Knowing what is covered and what is not can help set the right expectations and prepare the claim accordingly.




- Complete Documentation:

- Ensure that the documentation is complete as per the insurer's checklist to avoid back and forth and delays in processing.




- Honesty is Key:

- Provide factual and accurate information. Misrepresentation or fraud can lead to claim rejection and legal consequences.




- Follow Up:

- Regular follow-ups with the insurer can help you keep track of the claim status.




- Expert Assistance:

- If you feel overwhelmed, consider seeking assistance from a professional or legal advisor for complex claims.




Always remember to go through your ICICI Lombard travel insurance policy document in detail so that you are well-versed with the procedure and the documents required for a claim. This will not only expedite the process but also improve the chances of a successful claim settlement.



Documents Required to Claim ICICI Lombard Travel insurance
When filing a claim with ICICI Lombard for travel insurance, having the correct documentation ready is crucial for a smooth process. Here's a comprehensive list of documents that you may need to submit when making a claim:



For Medical Claims:
- Completed Claim Form: The claim form should be filled in with accurate details and signed.

- Medical Certificates or Reports: These should indicate the nature of the injury or illness and the treatment received.

- Original Bills and Receipts: All bills and receipts related to medical treatment, hospital stays, and pharmacy prescriptions.

- Payment Receipts: If you have already paid for the medical services, include the original receipts.

- Copy of Passport/Visa with Entry and Exit Stamp: This serves as proof of travel during the period of insurance coverage.



For Trip Cancellation & Interruption:
- Trip Cancellation or Delay Documents: Documents that prove the reason for cancellation or delay, such as a doctor's note, death certificate, employer's letter, etc.

- Booking Confirmations: Original booking confirmations and invoices.

- Proof of Refund: Documents from the service providers stating the refund amount received, if any.



For Lost, Delayed, or Damaged Baggage:
- Property Irregularity Report (PIR): Report obtained from the airline or transport provider, documenting the loss or delay.

- Original Purchase Receipts: For items that were lost or damaged.

- Baggage Delay Proof: Confirmation from the carrier regarding the delay and the duration.

- Baggage Claim Settlement: Details of any compensation received from the airline or carrier.



For Personal Liability:
- Detailed Statement: A written account of the incident causing third-party bodily injury or property damage.

- Third-party Claim Documents: Any correspondence or notices received from the third party or their representatives.

- Police Report: If applicable, for incidents such as road traffic accidents.



For Other Claims:
- Theft or Loss of Passport: Police report filed within 24 hours of discovering the incident and receipts for expenses incurred in obtaining a new passport.

- Proof of Ownership: For lost or stolen items, to establish ownership and the value of items.



General Documentation:
- Travel Itinerary: Details of your trip itinerary and travel dates.

- Policy Document: Copy of your ICICI Lombard travel insurance policy.

- Identification Proof: Any government-issued ID to prove your identity.



Additional Documents:
Depending on the nature of the claim, ICICI Lombard may request additional documentation. It's important to comply with these requests promptly to avoid delays in your claim processing.



Points to Remember:
- Report Promptly: Always report any incident that may give rise to a claim at the earliest opportunity.

- Keep Copies: Make sure to keep copies of all documents you submit for your own records.

- Follow Instructions: Pay close attention to the claims process instructions provided by ICICI Lombard to ensure compliance with their procedures.




Before submitting any documents, check with ICICI Lombard if there are any specific requirements or additional forms needed for your particular claim. The more prepared you are with the right documentation, the smoother and quicker the claim process will generally be.



ICICI Lombard Contact Details
Frequently Asked Questions (FAQ)
Can I get multiple ICICI Lombard travels insurance plans?

Yes, ICICI Lombard offers a plethora of travel insurance plans such as single-trip travel insurance, gold multi-trip insurance, Asis travel insurance plan, and more.

Is there a different travel insurance plan for senior citizens?

Yes, ICICI Lombard offers a separate travel insurance plan for senior citizens aged between 71 to 85 years.

How can I contact the customer team of ICICI Lombard for any queries related to my travel insurance plan?

You can contact the customer team of ICICI Lombard through call or email. You can simply write an email to customerssupport@icicilombard.com or call on the toll-free number 18001025721/18002666.

Is there coverage for pre-existing conditions with the ICICI Lombard travel insurance plan?

No, there is no coverage for any pre-existing condition that is covered under the ICICI Lombard travel insurance plan.

Can I get coverage against delayed trips with ICICI Lombard Travel Insurance?

Yes, ICICI Lombard offers coverage against delayed trips or even trip cancellation.
Insurance Dekho Contact Details
Reach us for help anytime
Insurance Dekho

755 1196 989

Mon to Sun 10:00 AM to 7:00 PM