Claim, renew, manage & more
Login
Singapore Student Visa
Singapore has been recognized for its finest education system in Asia. Every year, a lot of Indian students travel to Singapore to pursue their education at the top-ranked educational institutions globally. Any student who is planning to pursue their education in Singapore should apply for a student visa as soon as the admission application is approved by the university. Read on to find out more about how to apply, types, and more about Singapore student visas.

Buy Best Travel Insurance Plans for your Overseas Journey from Just ₹552 Onwards*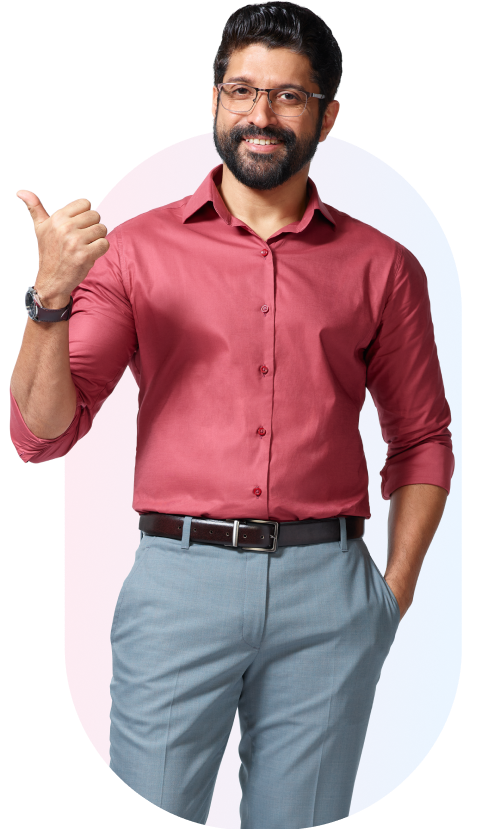 Loss of passport

Emergency Medical cover

Trip delay cover

Loss of baggage cover
*Standard Terms and Conditions Apply.
Features Of Singapore Student Visa
Singapore is the most popular destination among Indian students to learn and explore the education system. Listed below are some of the key benefits of a Singapore student visa.
You can easily convert your student visa to a visitor visa.

Earn on a student visa while working upto 16 hours per week.

Students above 20 years of age can pursue their studies from abroad.
Type of Singapore Student Visa
Singapore issues only one student visa that is applicable to all the universities that offer educational programs for international students. However, a Singapore student visa has two variants, which are listed below.
Student Pass According to the Duration:
Depending on the duration of your course, you can apply for a short or long-term student pass. If you are planning to pursue a diploma and vocational courses, then a short-term would be ideal for you, otherwise, you can opt for a long-term student visa.
Student Pass According to the Course:
Another major criterion for getting a Singapore student visa is the type of program for which you are travelling to Singapore. In Singapore, you can choose from a wide variety of long-term and short-term programs such as diplomas, bachelor's, master's, certificate courses, and more.
Singapore Student Visa Application Process
You can apply for a Singapore student visa online with a few easy steps that are listed below.
The college must first register the international student through SOLAR with the following details before the student submits an application for Student's Pass-through SOLAR.

Once the student is registered, they can log in to their SOLAR account.

Fill the form 16 thoroughly and submit it on the portal.

Print a copy of the submission of the form.
You will need the following details, including passport details, student id and password, passport-size photograph and others to log in to the SOLAR account.
Documents Required For Singapore Student Visa Application
Listed below are the documents required to apply for a Singapore student visa.
Passport with a validity of 3 months.

Duly filled Form 16 and Form V36

Receipt of payment of application fee

Bank statements as proof of sufficient funds

Educational certificates and marksheets received from India
Singapore Student Visa Fees
Students applying for a Singapore student visa will have to pay two types of fees, which are listed below.
Each candidate has to pay this non-refundable amount of $30 (roughly Rs. 1,637 in Indian rupees) to ICA. You can pay the fee either by debit/credit card or via net banking.
Each student who has been issued a student visa may have to pay $60 (roughly Rs. 3,275 in Indian rupees). The fee is due once the successful applicant has completed the necessary steps to pick up the student's pass.
Process To Check Singapore Student Visa
Here are the steps that you can follow to track your Singapore student visa application.
Browse the official ICA website.

Visit 'Check status/ Make an appointment.

Choose the visa type for which you have applied.

Click on Enquire application status.

Fill up your details such as passport number and visa reference id.

The status of your Singapore visa will be displayed.
Frequently Asked Questions (FAQ)
Within how many days Singapore student visa is processed?

Usually, your Singapore student visa is processed in 10 working days. However, it may take longer during July and August, as most universities invite applications from new students during this period.

How do I submit an application to study at a university in Singapore?

You can apply to study at a Singapore university online through the official websites of the universities and institutions.

Can I work on my student visa in Singapore?

Yes, according to the Ministry of Education, you can work up to 16 hours per week on your Singapore student visa.

Can I convert my student visa to a work visa?

After your completion of the course, you will have to convert your student visa to a visit visa if you wish to work in Singapore. A Singapore visit pass is valid for a period of up to one year. Once you are employed during this period, the employer will apply for an employment visa for you.

Is insurance mandatory for a Singapore student visa?

Yes, it is mandatory to have a health insurance policy for up to $30,000 as a shield against any medical emergency that may happen during the journey.
Insurance Dekho Contact Details
Reach us for help anytime
Insurance Dekho

755 1196 989

Mon to Sun 10:00 AM to 7:00 PM